I have had an opportunity to meet the creator of the Carcle velomobile Matěj Baláž personally last week and his passion for working ecological vehicle is more than inspiring. Here is a little interview about his project.
The material is 5 times lighter than steel and 300 times cheaper than carbon!
Why plywood?
Wood is a hi-tech material produced in trees through bionanotechnology. Production absorbs the CO2 from the atmosphere! The material is 5 times lighter than steel and 300 times cheaper than carbon! :)))But seriously: we wanted something ecological, simple and cheap. We did not want to use laminating (non-recyclable) or thermoforming (costly and energy demanding). Plywood is cheap, biodegradable, any shape can be cut by laser in seconds. The only disadvantage is the weight, but with e-assist, it is no more a crucial problem.

Is it supposed to be a commercial project as well?
In the beginning, it was a technical challenge – try if it was possible. We got it. Now we will see the response. We have too little experience and money 🙁 to bring it on the market. But maybe life will join us with somebody who will bring us further :-)Whilst other velomobile's pricing is higher than some car's (10 000€ and with electric assist even more), Carcle, thanks to its simplicity, unique construction and materials could cost one-third of this (incl. electric assist). The enormous prices of velomobiles are one of the reasons they are so rare. Carcle could overcome it so it may be interesting also as a commercial project.

Is the complete construction from plywood or is there any metal subframe?
The prototype is complete of plywood – this was our goal. Adding an aluminum subframe could save ca 6-7 kg and we have long discussions if we should do it.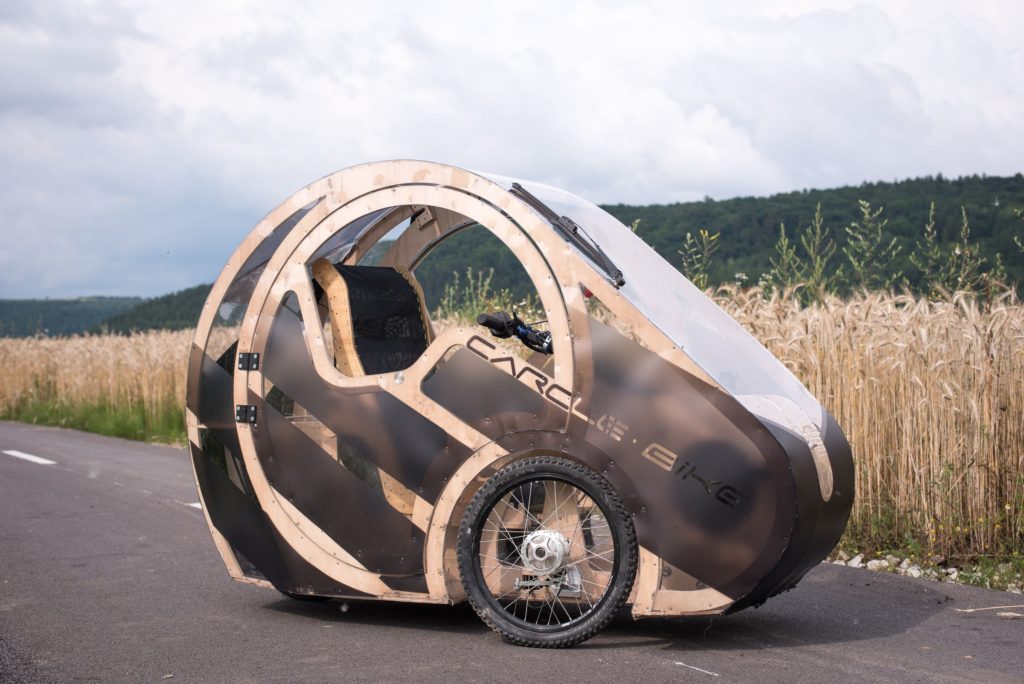 What is your solution to overheating in summer and also raindrops on the front screen?
Thanks to big side windows and a collapsible backend, you can feel the wind and will not feel separated from your surroundings. Even on hot sunny days, you will not overheat. When the weather changes, you can simply close the windows as you do in the car. The prototype has a manual viper, electric viper could be mounted if wished.

What is the expected weight and do you plan to have it with an e-assist?
Definitely yes. Prototype weights 76 kg incl. battery, we hope the next will be max. 65 kg. The construction is higher as usual (1,35m), so that the driver sits in a similar position to a car driver. This means he has a better view and is significantly more visible to other traffic but also more air drug. Therefore Carcle works with electrical assistance, which helps to overcome both – air resistance and weight. It is possible to ride without electric assistance, but it is not the right pleasure.

When do you plan to make it available for customers?
It all depends on demand. To build a Carcle is simple, if someone really wants it, we can organize a test ride, and then we can build one for him in a few days. But I am not sure if we can make Carcle to real production with all the certifications, marketing and so on.
Technical data:
Weight: ca 76kg / 168 lbs (incl. batery)
Height: 136 cm / 4′ 5″
Width: 80 cm / 31, 4″
Length: 195 cm / 6′ 4″
Payload: 100 kg / 220 lbs
Rider's height: 150-200 cm