All sorts of mental and physical problems of veterans are a big issue not only in the USA, but all around the world. Including suicides. And it is this depression and suicide that the non-profit organization Forgotten Not Gone from Las Vegas is fighting. Their weapons are mainly trikes, velomobiles, and joint rides. Peter Guidry describes how this organization works, where it is heading, and how he actually got into its founding.

Can you describe your organization and what is its goal?
Forgotten Not Gone is engaged in Suicide Prevention through Veteran Peer Support Outdoor Recreation.

How many members do you have?
We serve the 150,000 Veteran Community in our #VegasStrong Community.
Get Out The Damn House
How did you discover recumbents?
The V.A War Related Illness Center in Palo Alto, CA recommended it for overcoming physical limitations and Depression caused by it.

Why do you think recumbent trikes are good as a mean of improving the wellbeing of veterans?
From Personal experience helping me learn to socialize in our community again and helping me escape isolating home alone in pain all day.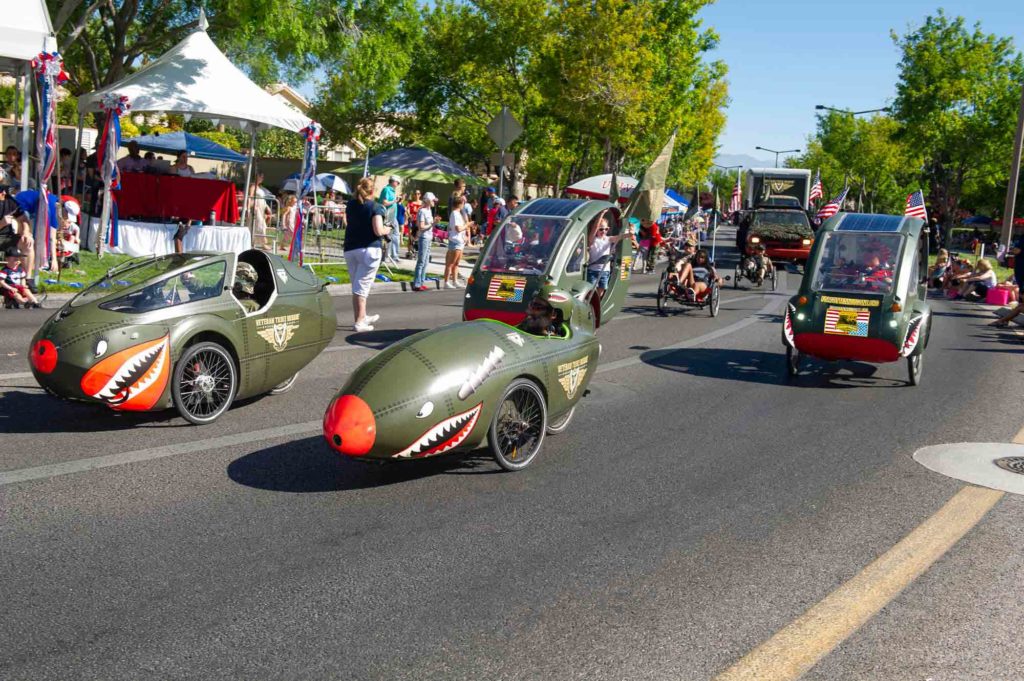 How often do you organize rides or other club events?
Weekly but due to Covid-19 all our trikes with electric assist are down for repairs. #1 problem is lack of funds to maintain our fleet of trikes which prevents us from riding daily as we used to when the trikes were new not needing repairs like today.

Do you operate only in your area or do you plan to spread your idea in other states or even nationwide?
Currently we ride in the Las Vegas Valley with Plans to open up next in D.C, Virginia. We have calls from Veterans in Florida, Texas, Okc reaching out to us about opening a shop in their town. We only lack funding to expand, We have the capacity and Team to open up FNG in any state they will provide the building to operate our program out of.

How do you choose models for your fleet?
Based on the Size and Physical limitations of the Veteran. We are working on inspiring our community to help get us a Custom Tandem built to get our Senior and Disabled Veterans who can not ride by themselves out of the isolation.

How many cycles do you have now? Also some electric one?
We Maintain a fleet of over 40 different Trikes/Bicycles now.
Do you have also some two-wheelers or only trikes?
We have 2 Donated Recumbent Bicycles and a Cannondale bicycle. We also have 2 custom 4 wheel pedal cars.

Why do you have velomobiles in your fleet? For example, the Organic Transit Elf doesn't really fit. At least not in my eyes.
Velomobile specifically because they are super cool looking which allows us to communicate with our Veterans who may be Depressed and Disabled to be inspired to try it out. I can't do that with a Hurffy Bike or any other type of bike. This is the 1st time 9.5 Out of 10 Times a Veteran has seen a trike like ours which inspires them to want to try something new and fun which is the opposite of being Depressed.

Our Elf Trikes allow a Veteran to bring their children out with them to ride together which is Priceless. You don't have to leave your kids at home to participate with us. We encourage Family participation which is a key component in our recovering. We have senior 70 plus year young Vietnam Veterans that love riding the Elf due to Electric assist and safety.
We are a TEAM. Not all Veterans will fit each bike we have but we are working at increasing our Fleet to address serving more Disabled Veterans with the Velomobiles we purchase.

Do your members transition to having their own trike often? Do you help them with this task somehow?
Yes, lots of them have them now due to the VA purchasing them but the problem remains the same 1 year later of trike collecting dust in their garage because they are bored riding by themselves. We do not help them get trikes ourselves because we provide them FREE of charge to ride. We are encouraging Veterans to help us grow Forgotten Not Gone by riding our trikes instead of Being an Individual of One. Countless Veterans over the years fall into this ME,ME,ME category Missing the Point Veteran Peer Support Outdoor recreation.

Who is supporting your organization?
We have a lot of backend Volunteer support this year from Volunteers using Catcahfire Skilled Volunteers. Financially we are supported by individual donors and local Vegas companies who want to End Veteran Suicide. We do not have monthly donations coming into Fund or Mission and keep our trikes repaired right now but are working on inspiring our community to see the value in us and our Mission "Stomping Out Veteran Suicide!"

Do you work with some other NGOs in your area or even widely? Either of the same concept or different? And why?
To End Veteran Suicide is a community effort. We are 1 wheel in the cog and partner up with other NGO's to solve this problem in America. Warrior Rising is helping us Develop a business plan to fund our NonProfit expansion. 22 Warriors Foundation
is one of our local fellow Veterans veterans we partner up with. 1 Corinthians 12:14-26 For the body is not one member, but many.

What are your plans for the future?
Leaving the Pain, Depression in the Past and focus on increasing our capacity to serve more Veterans. We are working on opening up our own Recumbent trike shop next where we can use the proceeds to Fund our nonprofit mission instead of relying on donations to keep the doors open. This will allow us to rinse and repeat our expansion to open up Forgotten Not Gone in other states.

Would you share your story and how you got to Army and later ended up in the damn house alone?
I was in the AirForce along with My Wife Kelley the Co-Founder of #FNG. This video shows my retirement award story. Military screwed me out of retirement benefits like everyone but this team of layers came in to restore justice. We are 1st ones in the country to achieve this which now opens up the doors for others.

The Pain from my service-connected injuries caused me to lose everything including myself respect after failing for 10 years. Job to Job doing my best which was not good enough any longer. Lost Hope and thought life was over. Episodes of continuing to Vomit blood losing 20 pounds in 3 days Killed my spirit and desire to continue ongoing through this pain over and over again without the Hope it could ever get better.

Anything else you would like to tell to our readers?
Thank You for investing in our Mental health and recovery from our Military service. Life was so horrible for us until this solution of riding a recumbent trikes in a Veteran Peer support environment helped Free me from the Pain and saved me from my suicidal former self. It was unbelievable that life could get better but here we are now 7 years laters with your support and encouragement Living that unbelievable life come true. If a couple of Depressed, Disabled Veterans can do this with no budget having this much fun doing so, Just wait til we get started on the next 7 years with Joy filled in our hearts.
Thank you for the interview!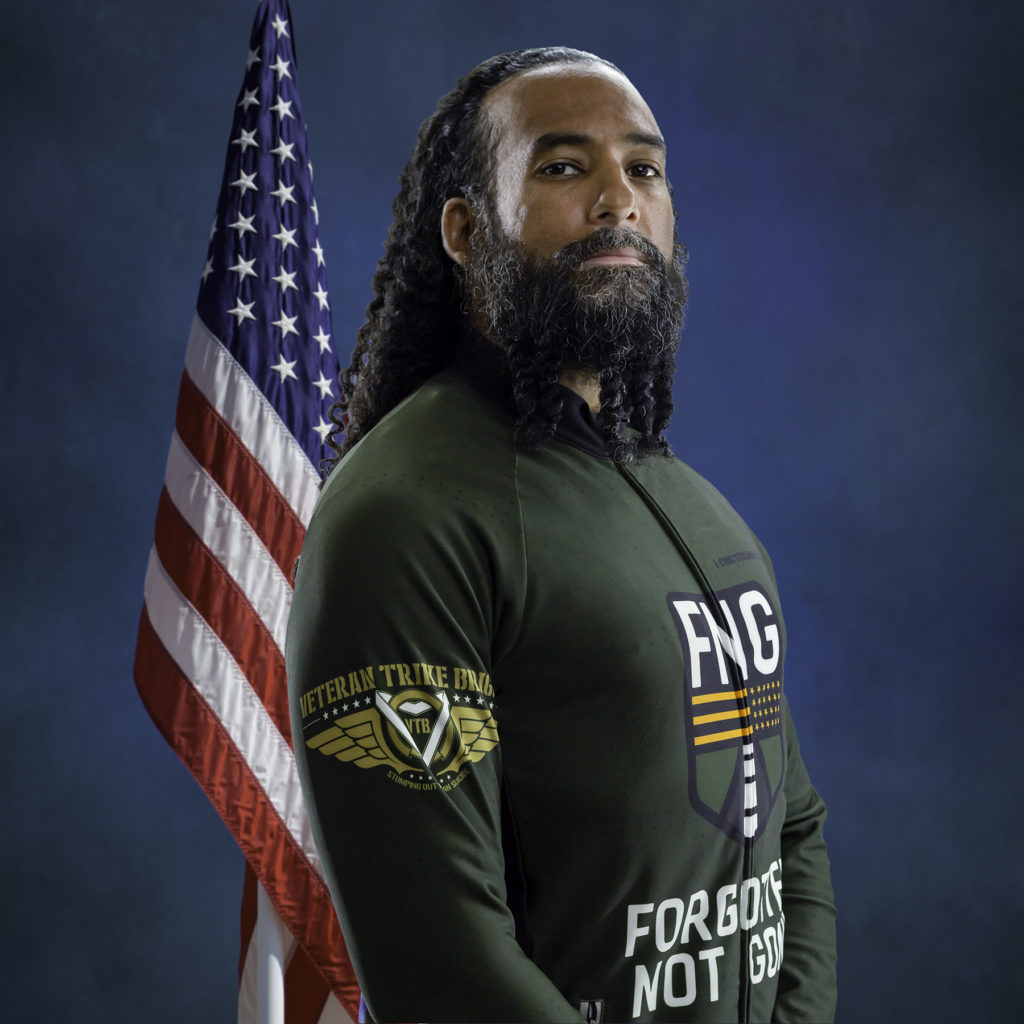 Name: Peter Guidry
Year of birth: 1977
Residence: North Las Vegas
Job: Co-Founder Forgotten Not Gone #FNG Trike Commando
Bike(s): Trisled Rotovelo Primary
Motto: #GetOutTheDamnHouse