Recumbent bikes are unique machines that differ significantly in their construction from conventional upright bikes. And so are the accessories. Many can be used from the world of classic bikes, many can be customized and used, but there are also many that are absolutely original. You won't find headrest as an accessory for upright bikes. Here is an overview of accessories that I think are useful on recumbents and are listed in order of importance. You will find a more detailed article about every single one on this website later.
Mirrors

On recumbents, the rider can turn very badly backward. It is possible, but you have to lean forward first and then turn around, which is quite uncomfortable. That's why most recumbent riders use mirrors even on very light road bikes or trikes. As a rule, you only need to have the mirror on the side facing the traffic, but if you want to be sure or ride a lot in cities and traffic, two mirrors are always good.

Another option is the helmet mirrors, or hypermodern and slowly developing smart helmets, which have a backward camera transmitting images to your cell phone on handlebars.
Mudguards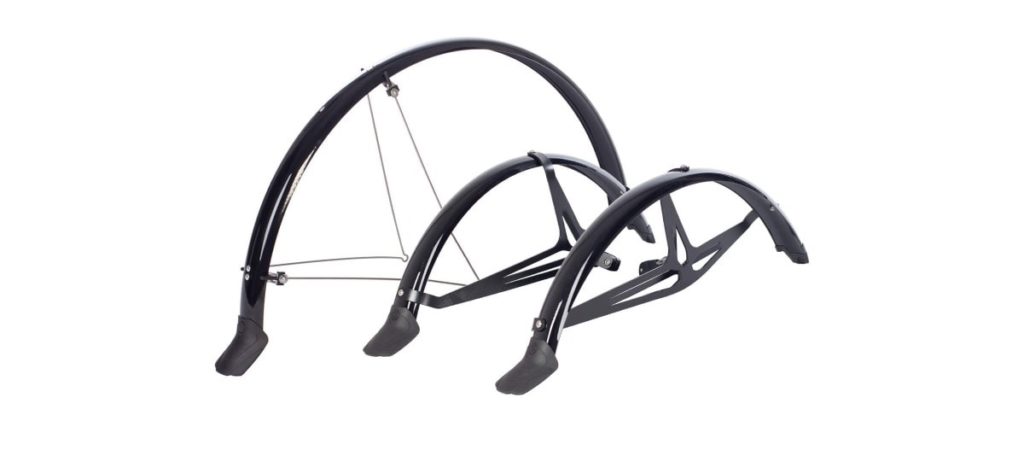 Mudguards are one of the basic items of equipment in case you get at least occasionally on a wet road, or if there is a certain chance that it will rain while riding. This is especially true for trikes and also for bikes with a mesh seat. Without rear mudguard, you get all the water from the rear wheel right on your back. I mean really directly and under pressure. On a trike, the front fast spinning wheels can also send a nice dose of water right into your face. That is why the mudguards are quite nice and therefore some manufacturers offer the rear one as standard on trikes. Like Greenspeed or Catrike on some.

On the other hand, you won't have this problem with SWB recumbent bikes with a hardshell seat. The massive front frame catches a lot of water from the front wheel and the large seat protects you from drops coming from the rear wheel. So in light rain, you will stay quite OK.
Light holders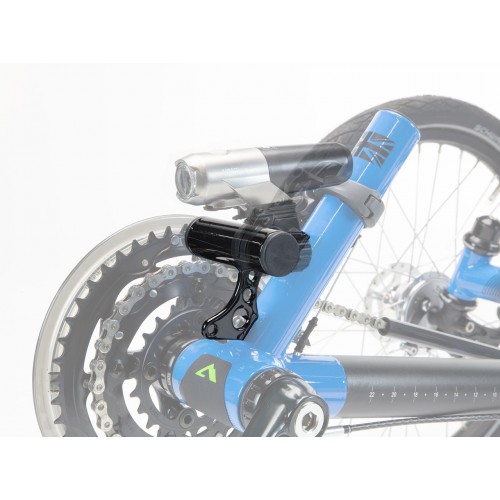 One of the problems you may encounter with recumbent bicycles is the correct placement of the lights so that they are high enough and shines in the right direction. Some companies, such as the Catrike, have a front light holder integrated into the sliding front part of the frame called boom. You can find it on the tube that holds the front derailleur. And at the rear, the light can be mounted on the seat. For two-wheelers, it is a bit worse. Especially in the back, where a sufficiently large tube is usually missing to replace the seat post of a classic bicycle. Therefore, always check with your favorite dealer where both lights are mounted.

If you are thinking of dynamo lighting, then the lights usually have brackets that are screwed into one of the welded pieces on the frame, so special brackets are not needed.
Lights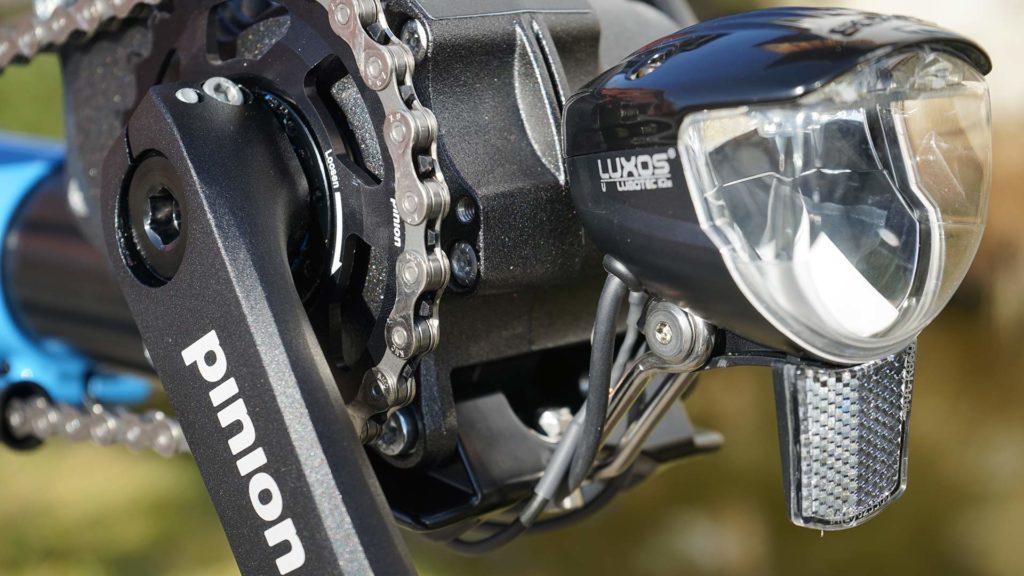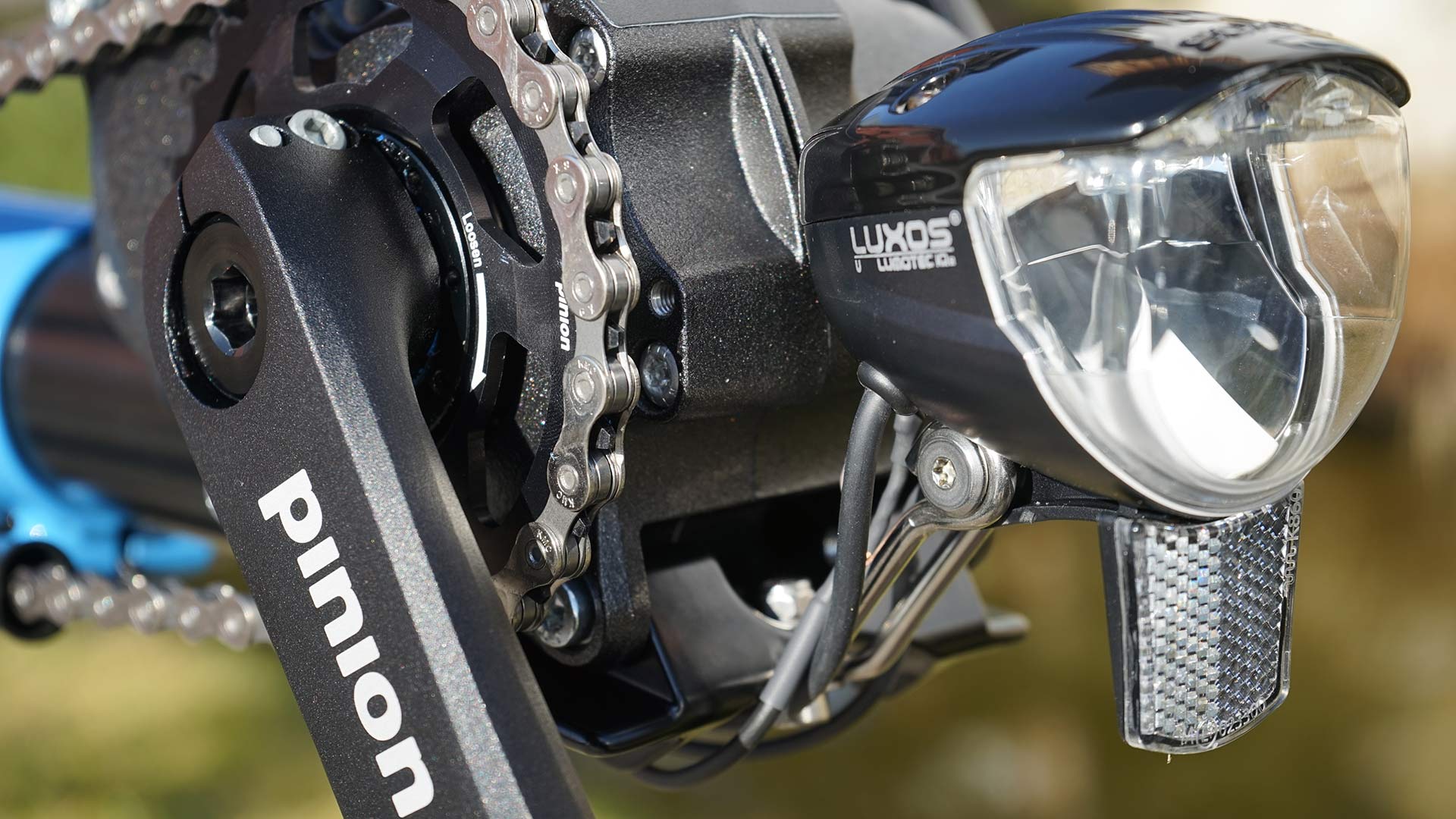 A very important addition to your bike. Even if you don't plan to ride at night. To have the light switched on or respectively flashing pays off throughout the ride as this increases your safety. What's more, you never know when you end up in a dark for any reason. That's why I like dynamo-powered lights because there's no need to deal with low or empty batteries. With a dynamo, you just keep on shining.

The choice of lights is huge today, their characteristics are changing rapidly, as are prices. It is necessary to study the current offer or ask your favorite dealer.
Flags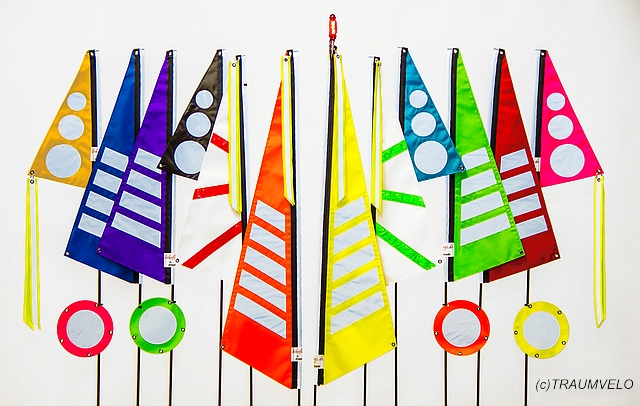 Again, one of the accessories that isn't used in the world of classic bicycles or on children's bikes only. For recumbents, however, the flag greatly increases safety and I highly recommend it at least for trikes, which are usually much lower than a two-wheeled recumbent. The offer is already really wide. From the small flags offered by the manufacturers themselves, to the huge multi-part flags that twirl and dance in the air and which can be seen from miles.
Small bag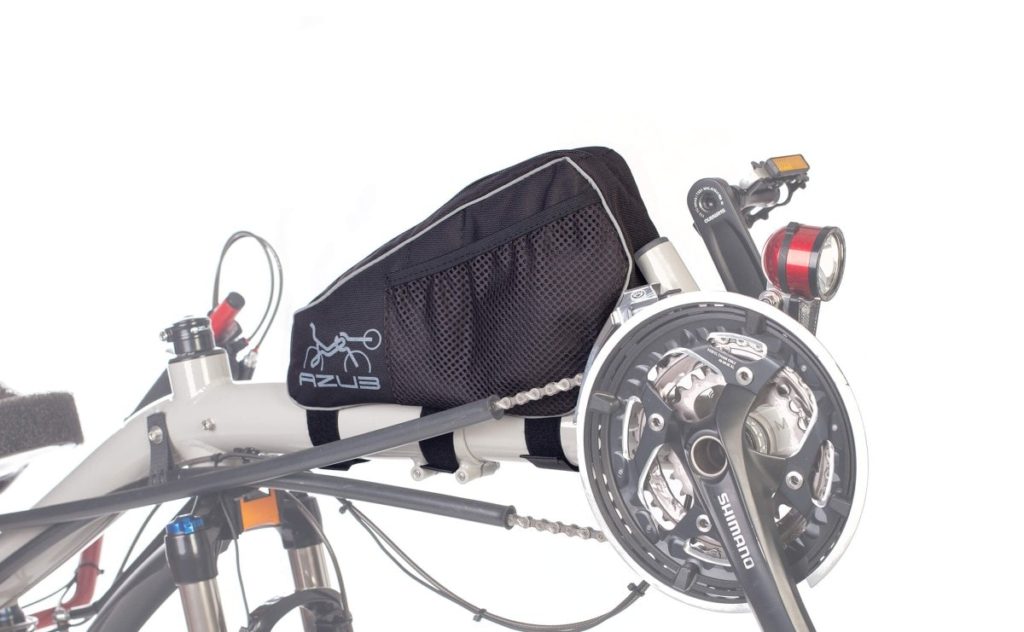 There are not many places where you can carry small items such as handkerchiefs, keys, a camera, or a GoPro camera so that they are within easy reach even when riding your bike. Or better to say there are such brags, but it is necessary to think about them in advance. In the case of two-wheelers, it is usually a small bag right behind the front derailleur tube, for trikes it can be the same place or a conventional handlebar bag next to the seat which is secured there via a special handlebar bag adapter. Some producers also offer pockets integrated into the seat cover for trikes, but these are usually not within your easy reach while riding.
Brackets for phones and other "necessities"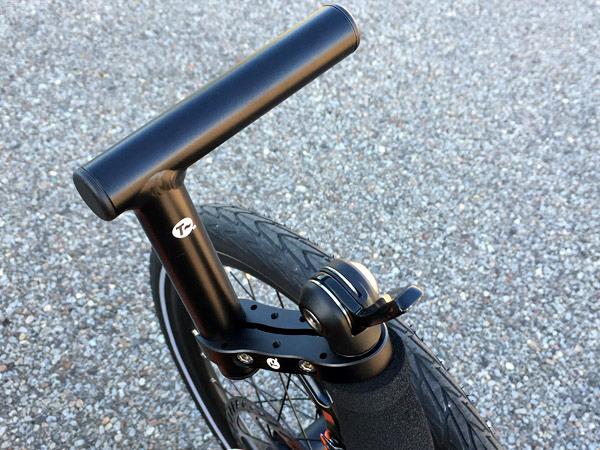 Likewise, telephones, GPS and cycling computers are not easy to fit on the handlebars of most trikes, and on bikes that have under-seat steering, they cannot be mounted on the handlebars at all. That's why there are a number of different attachments and brackets that are either offered by individual manufacturers or by the very popular Terra Cycle from Portland, Oregon, USA. With them, you can mount either the device itself or a mobile phone holder which you choose in any bike shop onto your trike.
Racks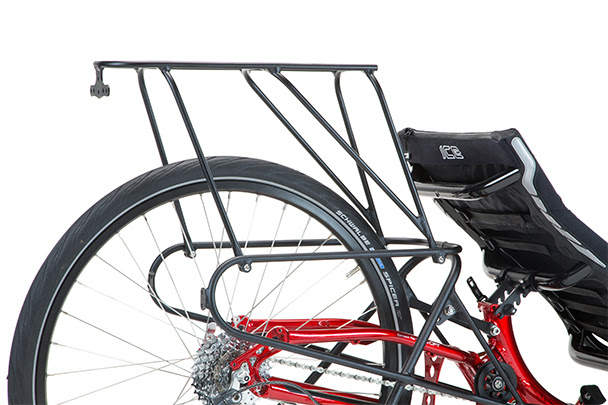 Unsprung two-wheelers and trikes make it easier with racks and most of them can be used with a conventional bike rack that you can buy in any bike shop. However, if you have a bike with rear suspension, you must choose a rack directly from the bike manufacturer, as the individual bike models do not have mounting points aligned with each other. If you have a 20" rear wheel, the racks are usually quite small, but with a 26" rear wheel, their size is growing. Especially if you want to be able to load something on the upper bed of the rack. Therefore, there are different sizes of carriers or extensions which make a simple side carrier into a carrier with an upper loading bed. The furthest in this respect is AZUB, which offers up to three different carrier sizes for different applications.

Normally, the front and rear pair of bags can be attached to the recumbent, and in some cases even a total of three pairs of bags. Or even four when talking about AZUB TWIN with above seat steering. But that is really extreme.
Bags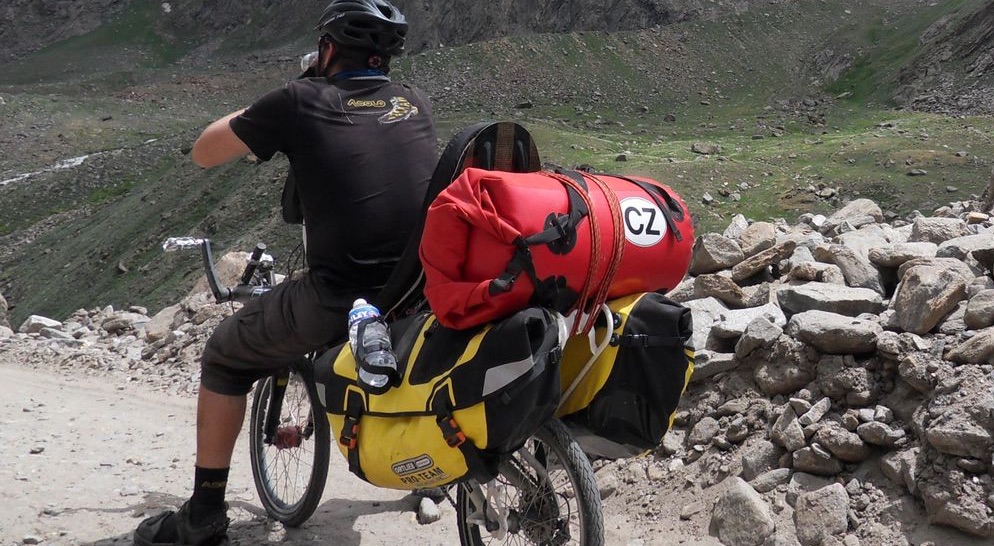 As for bags, the offer for recumbent is quite good. Either they are offered by the manufacturers themselves or by specialized bike bag companies. But on most racks, you can also attach classic bicycle bags. Whether front, rear or top. I personally prefer the classic bags, because some recumbent bags have an elongated shape that is difficult to pack. You can use the rear carrier bags for day trips, during which you need to carry more clothes, or even food and some spare parts. Also, you probably won't do without them when you commute to work on a recumbent bike or when you go shopping.
Bottle cages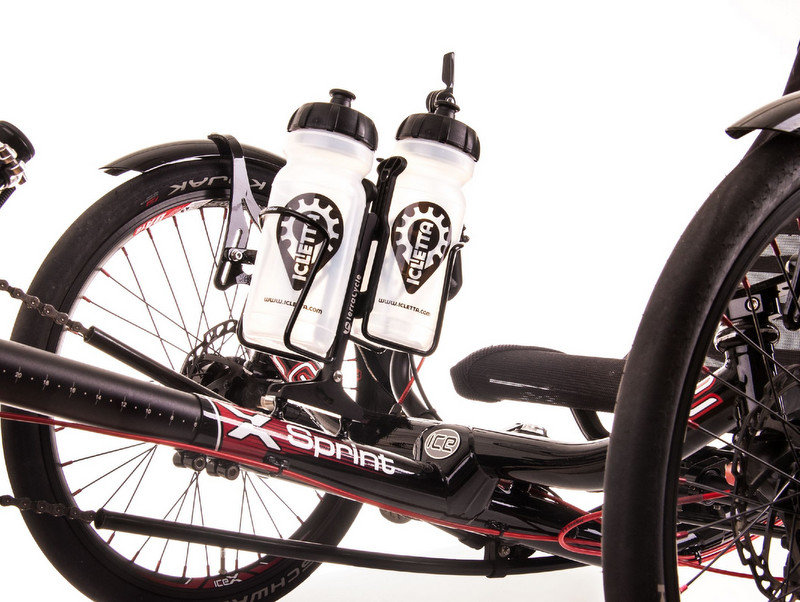 As usual with recumbent bicycles, bottle cages are not mounted in traditional places as we are used to from classic upright bikes. At the same time, the diversity of their location is really great. Bottle cages are often placed on the front of the frame between the seat and the crankset, but they are also mounted on the side of seats or on various adapters. For short trips, one cage and one bottle are sufficient, for day trips it is better to have two cages and pair or bottles.

If you prefer drinking bags, it is clear that you do not take them in your backpack, but you can put them in bags on the seat or on the carrier.
Headrest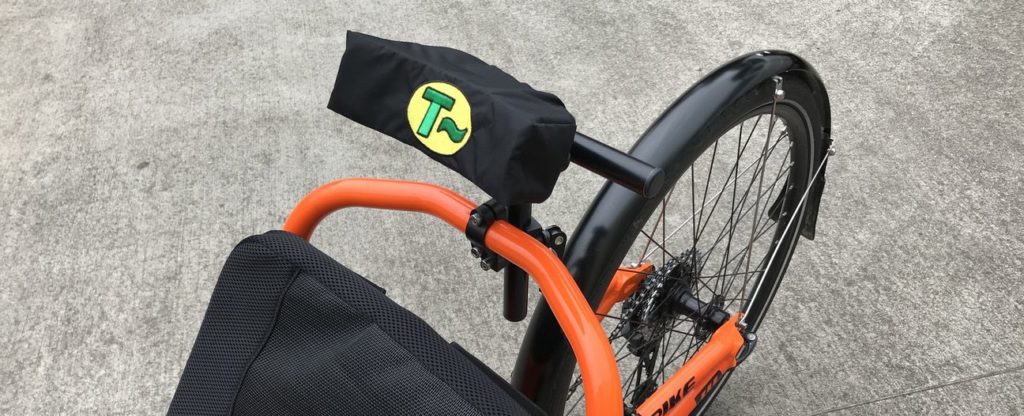 One of the accessories that can't be found in the world of upright bikes. The headrest is good if the seat is reclined a lot, or the backrest of the seat is shorter. In any case, I recommend a test-ride with headrest and even with a helmet before you decide to purchase it. Often, the helmet touches the headrest while riding and binds in the comfortable use of the helmet and eventually you may find that you will not use the headrest at all.
Wrist rest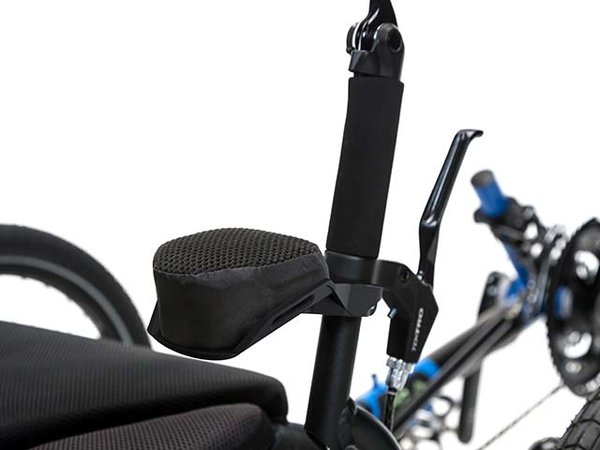 The wrist rests are also designed for trikes only and are pretty popular in the last years. They enhance the rider's comfort while riding. Especially if you have a problem with your wrist, it may be a good accessory for you.
Helping handles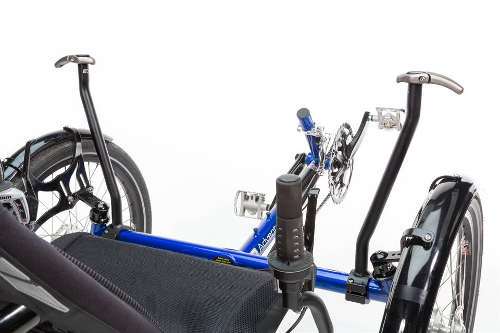 An accessory that can only be mounted on trikes and makes it easier to get on and off the bike. Many trikes have seats relatively low and just getting on is a problem for many older bikers. On the other hand, low seating significantly improves the driving characteristics of the trike so it is appreciated by many. Therefore, you need to try sitting height in combination with helping handles to find the right compromise. If you are also thinking about the future, helping handles can be mounted on a trike additionally, and some manufacturers also offer seat risers which can be mounted later.

Helping handles are also called Grab handles by some manufacturers.
Pedals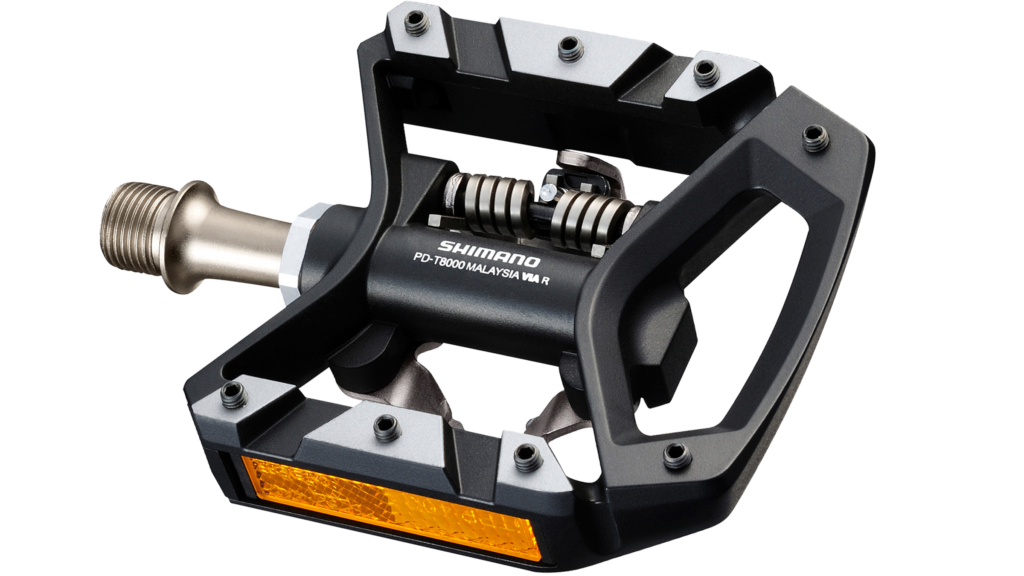 Pedals are not so much an accessory, but rather a component, but it is one of the things that you should think about when buying a new bike and possibly replace it immediately. As a standard, the bikes are mostly equipped with aluminum or even plastic pedals, and only in exceptional cases, you will find something "better". For example, Catrike supplies combo pedals that already have SPD on one side as standard.

There are many pedals on the market. You should be especially interested in versions with SPD or other clip-in systems, but you will need special shoes for them. If you are buying your bike in a small recumbent shop, I would rather go to a larger bike shop for shoes, where they usually have a much wider choice and also the necessary sizes. The SPD system ensures that your feet will not fall off the pedals and will prevent possible, but rare leg injuries on trikes.

Other options are large platform pedals, pedals with a strap around the heel to prevent the foot from falling out, a variety of large to directly gigantic pedals for comfortable pedaling, calf support for people with disabilities, or pedals with clips or just the so-called Power strap.
Clothes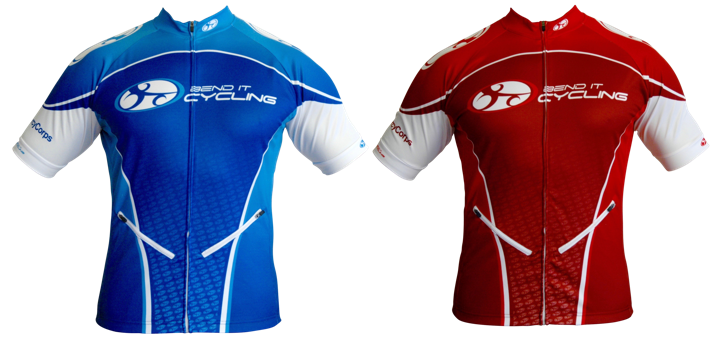 In the previous paragraph, we dealt with SPD shoes, which are quite a common cycling product. Next comes the overall clothing. There are jerseys tailored specifically for recumbent bikers with pockets at the front and a collar that is more cut out at the front. Unlike the classic cyclist, the recumbentist has his head bent forward so that's why the collar is different. Also, shorts are sewn especially for use on recumbent bikes and do not have the pad. You can also buy running leggings or narrow shorts, which will do well on a recumbent bike too.
Helmet and visor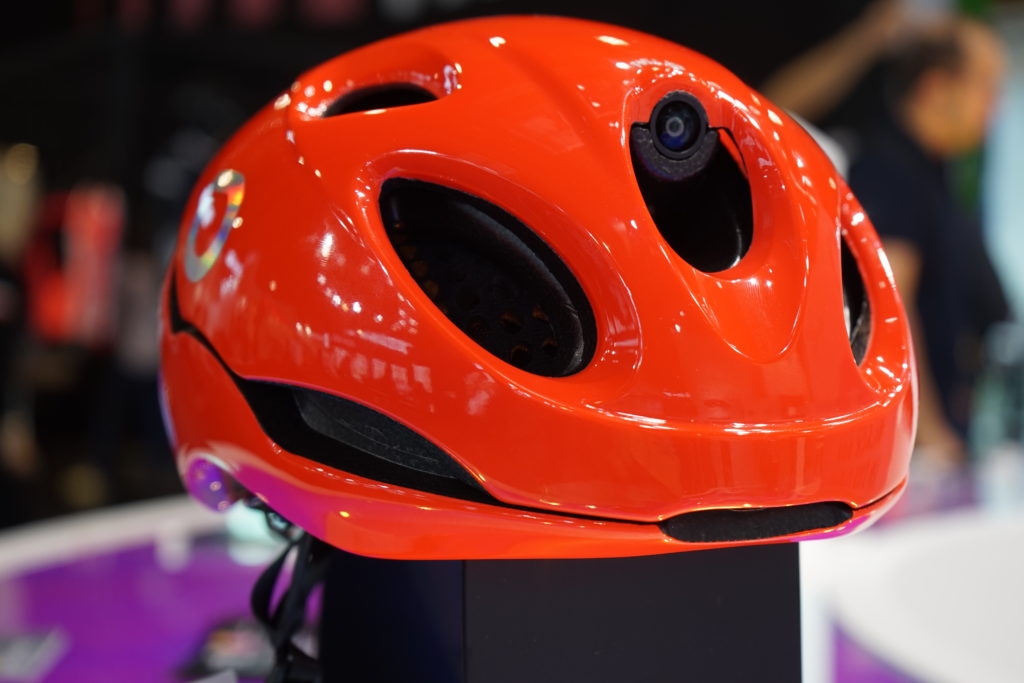 Of course, the helmet is a very important element and should probably be at the very top of this list, but eventually, it fits better here to wear. You can also choose your helmet better in a regular large bike shop, where they will have a much wider choice not only of models but also of various colors and sizes. In any case, I would ask your recumbent seller for a tip. Maybe he will have a helmet on offer, for which he will give you a very good "recumbent" reason that you will especially like.

A very specific accessory in this respect is the DaBrimm shade, which is known mostly in the USA. Put it on the helmet and it will protect your eyes, neck, and ears from the sun so that you do not burn during longer rides.
Canopy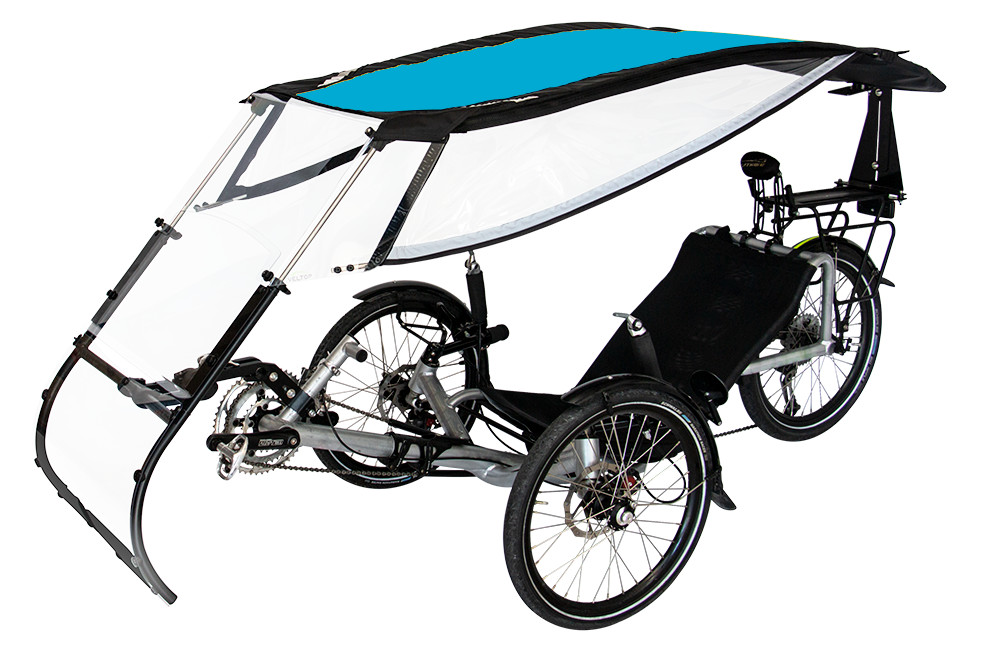 Sun and rain canopies are an increasingly frequent accessory on trikes. Some are intended only for protection against the sun, others for protection against rain as well. The best then provides complete protection, which can be further improved only by purchasing a velomobile. Especially if you want to ride in any weather or even all year round, it is an excellent accessory.
Tailboxes and front fairings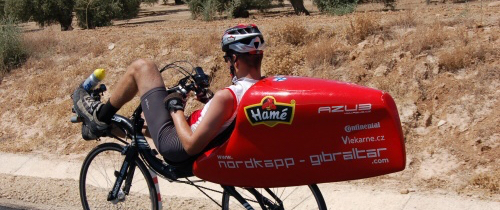 Both the front and rear fairings are an accessory that primarily increases bike speed and partly also improves rider comfort. It is generally said that the front fairing of the SWB adds a recumbent bike 1.5 to 3 km/h (1 to 2 mph) to average speed and the rear fairing called tailbox then 3 to 5 km/h (2 to 3.5 mph), which depends a lot on its size, respectively a length, and shape of it. But with LWB bikes it is the other way around. The front fairing also called windshield can also protect your feet from bad weather. The rear tailbox can also usually carry some luggage. You have to make sure with both of them that they are suitable for your bike type. If the front one is larger, it must be on a hinge when mounted on trikes so that you can get on and off trike easily. The rear ones are mostly designed for the two-wheelers only.

For maximum improvement of the aerodynamics, there is also a fabric connection of both parts. However, it is only offered by Lightning for some of their models. And as I wrote before. The maximum aerodynamic effect, including maximum weather protection, is achieved by purchasing a velomobile.

And that is really everything from recumbent accessories. I will write about individual things in the following articles.

Also let us all know in the comments which accessory you like most on your bike.