Sun Trip is a solar bike race that was organized for the first time in 2013. It then led from France to Kazakhstan and measured almost 8000 km. Two years later, the organizers were forced to change its route and instead of the Kazakh capital Astana went to Turkey and back. In 2018, it led up to Guangzhou, China, and this year it was supposed to follow the same 12,000 km long route. However, due to the current global crisis, the organizers had to postpone it for a full year.
I myself attended this event in
2013 and with my team-mate Karel finished fourth on our trikes
. We were the first two-member team to finish. In the years that followed, I was pleased to see the number of recumbent bikes participating in the race grow. Recumbent bike is a great machine for this adventure. It provides the rider with the great level of comfort required for such a long journey. At the same time, it is easier to place solar panels above the cyclist, which in turn increases his comfort. Last but not least, the recumbent bike improves the aerodynamics of the entire solar bike. This is confirmed by the victory of Bernard Cauquil in 2015 on the low-racer Optima Baron.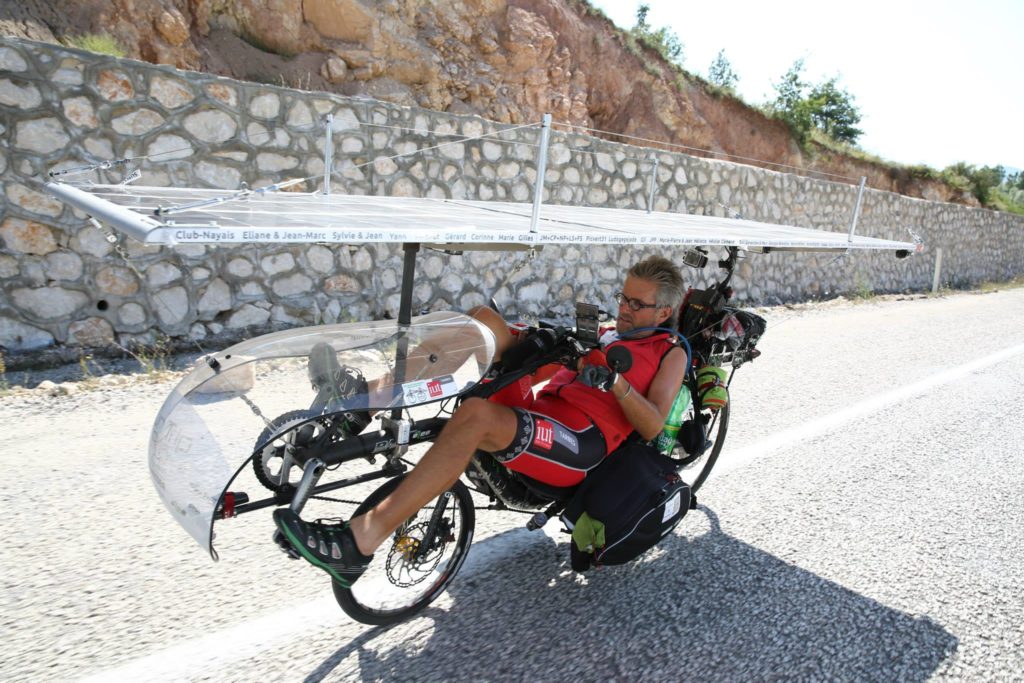 Read the press release from the organizers at the end of which you will also find out about some interesting events coming up this year.

After a long reflection phase taking into account the evolution of the global Covid19 pandemic in countries where the Sun Trip adventurers would be passing, the organizers have decided to postpone the second Lyon-Guangzhou Sun Trip. While the official departure was scheduled on May 30, 2020, it has now been delayed to 2021.

In recent weeks, we were still hoping to maintain the Sun Trip 2020 adventure in a world emerging stronger from the crisis, but today this challenge carries too much uncertainty.

We examined the option to simply postpone the departure date by a few months, but many participants would not have been able to make it. Such a long challenge requires a lot of sacrifices to put in a yearly schedule and all were prepared for an early summer departure.

Firstly, we'd like to thank our participants for their understanding. In this period of crisis, their attitude was exemplary. Believe us, the current group is simply fantastic and no doubt they will soon inspire all over the world!

We would also like to thank all our partners from both the public or the private sector for their continuous trust and support on the Lyon-Canton Sun Trip project. Their commitment will allow the event to make it through this tricky year!

Therefore, make it a date for 2021 : The Return of the Sun Trip! We'll be back with our massive Lyon-Canton adventure. Please note that the Frankfort-Lyon prologue is also postponed to 2021. Initially scheduled for late April 2020, the "Pirineos Sun Trip" is also postponed to an indefinite date.

Meanwhile, 2020 is too important a year for the Sun Trip to remain silent. We are working on two remarkable ideas: We might soon announce the creation of a Special "Tour de France" Sun Trip, this Summer in July and/or August, lasting one month. This event would depart from Lyon and end in Albertville. It would be open to thirty participants, either former Suntrippers or people who were already registered for a scheduled event. The concept is still under development but, more than ever, we want it to be unifying, supportive, and joyful. Throughout a 3,000km loop, participants will carry the mission of promoting the Sun Trip values, but also to tell you the story of "Our France, post-crisis".

Finally, we are finally working on ​​a "China squad" towards the end of this Summer, if conditions allow. This squad would basically be a group of five experienced and well-prepared adventurers riding together on the Lyon-Canton route, as if sent to scout a world under reconstruction! Their mission would be to announce the return of the Sun Trip in 2021 and, above all, to demonstrate mutual support to ensure that they arrive together in Canton within 60 days, in October. These two ideas will keep us moving forward, telling the stories of a world in need for a reinvention.

Thank you for your support, and see you soon for more adventures !