The Great Divide Mountain Bike Route is a 3,083.8 mi / 4.963 km, off-road bicycle touring route between Jasper, Alberta, Canada, and Antelope Wells, New Mexico, USA. It is considered the longest mountain bike trail in the world and it is a serious challenge to ride it all. Not only because of the terrain and length but also because of the wilderness around, lack of available services, etc. There haven't been many people who attempted to ride it on a recumbent bike or trike, and Charlie Richman is most probably the first one to finish it unsupported on a recumbent two-wheeler. The GDMBR has two versions. The older one from Banff, Canada which is 2,700 miles / 4.345 km and the current longer one. Charlie on an AZUB SIX and his friends did the shorter ones, but their adventure with the sad end is no shorter. Actually, it is very long. It is wild 69 days long.
Have you done some long-distance touring before? On an upright or a recumbent as well?
When we were younger my wife and I did a number of multi-hundred-mile self-supported tours in the US and Canada on our upright tandem bike, but that was a long time ago. We've since done a little more on a pair of Hase Kettwiesel recumbent trikes, but my other really long tour – solo on a 2-wheeled recumbent – was the Trans America Trail. That was a 4,500 mile ride East to West across the United States from Virginia to Oregon on a Bacchetta Giro 26 in 2016.
Why did you choose the Great Divide Route?
I thought I was done with long tours for a long time, but I got a promotional email from AdventureCycling.org highlighting the Great Divide. The video Highlights from the Great Divide Mountain Bike Route showed amazing scenery, and ended with "The Great Divide Mountain Bike Route is calling. When will you go?"
I showed it to my wife for the great scenery, with no idea of making the trip. She told me I was going. We don't disagree about what happened, but we disagree about interpretation. I thought she was giving me permission. She thought that I just didn't understand yet that I was definitely going.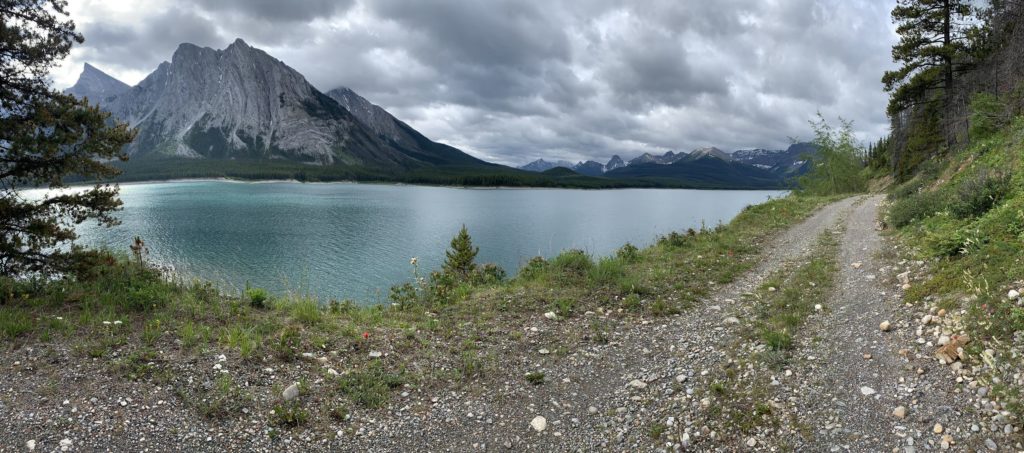 Can you describe us the conditions on the route?
The Divide route is mostly remote dirt and gravel roads, with a little single track and double track, and some paved roads. Adventure Cycling claims there's 200,000 feet / 60.960 meters of climbing along the way. There are no technical mountain bike parts, but certainly some extremely rocky and extremely steep bits.
How long it is and how many days did it take?
My companions and I rode from the traditional start of the route in Banff, Canada to the endpoint at the border with Mexico at Antelope Wells, New Mexico. (AdventureCycling.org recently extended the route north to Jasper, but we felt that 2,700 miles or so was plenty.) We mostly followed the pacing in the original guidebook created by Mike McCoy and took 69 days to do the trip.
Could you ride it all on a recumbent?
Yes. Everyone walks some parts due to steep grades, loose sand, or sticky mud. I walked a little more of the steep bits than my companions… but I might have done that no matter what I rode.
Can you compare the advantages and disadvantages of a recumbent vs. an upright bike of your friends?
My bike was heavier and slower going uphill. My 20 and 26 inch wheels probably rolled a little less well over the rough stuff than dual 26 or 29 inch wheels. But I was distinctly faster on smoother surfaces and into headwinds, and unlike my companions I was always comfortable, even after long days on washboard roads. Washboarding is an evil phenomenon where dirt and gravel pile up into regular rows across the road, and it's one place that a full-suspension bike can make you really, really happy.
Any issues with the bike?
No. I had one road puncture, one tube that failed because my error (I'd forgotten to switch tubes when I went to a wider tire) and a speedometer harness failed. (I had a spare.)
Which part was the most difficult?
I misjudged my speed on loose gravel a few times, lost control and fell, scraping my hips a bit. The climbing was hard, of course. Especially in the beginning before I was fully conditioned. The very hardest part, of course, was that one of my companions was struck and killed by a motorist. We'd completed all the hard off-road riding. We were on a razor-straight 2-lane rural New Mexico highway just 1 day short of the end of the trip when a careless motorist struck Mike Rachelson at high speed and killed him. Of course, he died doing what he loved, and given the nature of the crash he probably had no pain, but it was such a senseless crime. Visibility was infinite. The driver simply could not have been looking.
And which part is the most beautiful?
The Canadian Rockies and the lakes surrounding them are utterly magnificent, but I was really surprised by the varied topography and environments of New Mexico, which were also lovely. I expected Colorado to be gorgeous, and it was.
When have you done it?
Our trip began July 16. 2019.
Is it well marked? Or how did you navigate yourself?
I think it's only marked in 2 places. Adventure Cycling prints very good maps with directions for the whole route on one side and information on campsites, stores, and other important resources on the other. I really didn't use them for navigation. Instead, I purchased .gpx files from them for the route and used the files on my iPhone with the Gaia GPS app.
Bears are a real issue for much of this route. Black bear habitat spans most of it, but grizzly bears are a real concern for most of the northern portion of the route.
Did you do it alone or together with some companions?
I advertised for companions on the Adventure Cycling forums, in their print magazine, and on the CrazyGuyOnABike forums. Mike Rachelson and Warren Netherton and I set out together; Warren and I finished together, and Mike made it almost the whole way. Several others rode with us for significant parts of our adventure.
Can you mention the three most remarkable memories you had? Bad or good.
The bad is obvious – Mike's death. Fleecers Ridge is a stupidly steep descent in rural Montana – portions at about 40 degrees or so on loose scree and gravel. Most cyclists walk it with difficulty, traversing portions of the slope. I was able to ride down with no fuss – my reclined seat position became upright, but was perfectly stable and comfortable. My only regret was that there are no pictures of me doing this because my companions were walking down well behind me. There was a point in dry, desolate, open New Mexico where the dirt was hard-packed and good and there was hardly any slope. I was well faster than my companions and wound up well ahead. I had the opportunity to stop, soak in the silence of the desert around me, and appreciate that as a recent retiree I really felt ready for new things ahead. It's nothing you could see in a picture, but it's a moment I'll remember for a long time.
What about animals, mainly bears? How big issues are they?
Bears are a real issue for much of this route. Black bear habitat spans most of it, but grizzly bears are a real concern for most of the northern portion of the route. We carried bear spray and hung our food high every night. At one location in Wyoming where we'd planned to camp the facility said they had a bear problem and told us we had to rent a cabin instead. Their bear problem was really a human problem – one of their other guests had been leaving food outside in clear violation of the rules. When Warren went outside in the morning he backed up quickly, because an 800 pound grizzly bear was just leaving after having had his breakfast. (I slept through all of this because Mike snored, and I was wearing earplugs.)
How much gear did you carry?
My Radical Designs banana-style panniers weighed 25 pounds /11,5 kg with my gear including my tent. A separate drybag and a small feedbag carried up to about 13 pounds / 6 kg more food and cooking things for 4-5 days. I was concerned about possibly crossing desert areas slowly in hot weather, so I had lots of water storage. I had room for 2 4-liter bladders in a bag I fashioned to fit within the body of the under-seat rack on my Azub Six, in addition to a 3-liter Camelbak Unbottle and an extra 3-liter bladder. I never actually needed to fill everything, but it was reassuring to know that I could.

The bike itself weighs 47 pounds / 21 kg with full racks, stout wheels hand-built by me, and a hub dynamo. My typical rolling weight was about 95 pounds / 47 kg, but it could be up to about 120 pounds / 54 kg heading across broad desert areas.
How often did you need to sleep in your tent? Do you prefer it over a hotel?
We camped the vast bulk of the time, as was my preference. Much of the route offers no alternative for travelers who, like us, averaged only 55 miles / 88 km or so a day on steep gravel roads. I'm quite comfortable in my tent and generally prefer it – but a proper shower is nice every week or so, whether you need it or not. Near the larger towns camping isn't always a practical option, so my companions and I shared inexpensive motel rooms. There are also some "cyclist only lodging" options in key locations that can be very nice. The Adventure Cycling maps have info on those.
Is there anything more you would like to tell our readers?
As far as I can tell, I'm the first person to complete this trip as a self-supported 2-wheeled recumbent cyclist. It worked quite well for me, and I'm very glad to have had the chance to make this trip. The Adventure Cycling folks have always been quite clear – you don't need to be an athlete to do extended cycle tours. (You'll get strong along the way if you don't start that way.) This is mostly about your frame of mind. If you've prepared yourself mentally – or if you're stubborn by nature – you'll do fine.

Thank you for the interview, Charlie!


NOTE: Continue scrolling down the page. There is more interesting information. Map, gallery, video!