It is pretty common to read about people's adventures or races on bikes, but have you ever heard about a trike working as a support vehicle? A support vehicle during a challenging sports event? An extreme running attempt in Morrocco?
Abderrazzak ran across Morrocco in 26 days to celebrate an important day in Moroccan history by running a distance of 1435 km / 892 miles from his residence in the city of Tangier in northern Morocco to the town of Laayoune at the Morrocco's southern tip. He left Tangier on October 10 to reach his destination on November 6. His accompanying vehicle was a solar tandem trike, with Youssef El Haouass behind the handlebars. Youssef built his recumbent tricycle to participate in The Sun Trip race in 2018, which he completed with his handicapped friend. He had a rear position adapted as a handbike. However, Youssef modified his trike for the current expedition to have enough space in the rear for cargo.
In the end, the whole business was successful, and the couple reached their goal on time. In total, they covered 1540 km / 957 miles in 26 days. The longest distance they traveled per day was 95 kilometers / 59 miles, while during other days, the daily covered mileage was mainly determined by the hotel's location where they wanted to sleep. Abderrazzak needed quality rest and a good night's sleep for his performance, which sleeping in a tent would not give him. They also accepted the hospitality of their friends who lived along the way. The average distance was 60 km / 37 miles per day, and the speed ranged between 7 and 11 km / h (4,5 to 7 mph).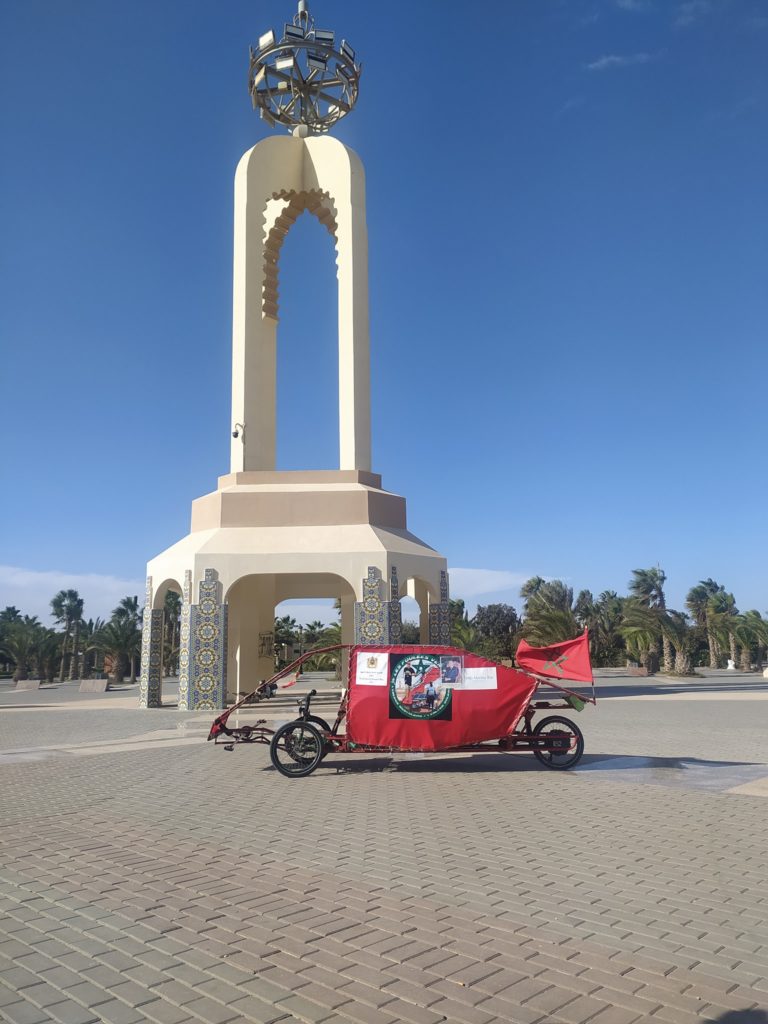 Youssef says: "It was an exciting experience. We drove through different landscapes. Mountains, lowlands, and the Sahara. We met wonderful people who helped us along the way. My tricycle has to retire now. It has already covered 40,000 km / 25,000 miles. It also carried 260 kg / 573 lbs of cargo during this trip and during the Sun Trip. "
The trike itself is definitely worth your attention. Youssef built it for the solar bike race called The Sun Trip, which in 2018 took place on the route from Lyon, France, to Guangzhou on the shores of the South China Sea. Youssef built it from stainless steel pipes with a diameter of 20 mm and a wall thickness of 1.5 mm. The total weight is about 80 kg, including solar panels, batteries, and a motor. For the race itself, the trike also had a second mid-drive engine. Both motors came from the Chinese brand Bafang. Thanks to his trike, Youssef was eventually selling his car and using only a bike instead.
This whole story is beautiful and inspiring, and I'm already looking forward to more recumbent news from somewhat exotic Morocco.