Dick is recognized as one of the 4 partners in Avatar Recumbent Bikes, elegant long wheelbase 2 wheeled recumbent bikes back in the very late 1970's, early 1980's. After Avatar, Dick started the evolutionary Ryan Recumbent's with single, tandem, and later, delta trike models.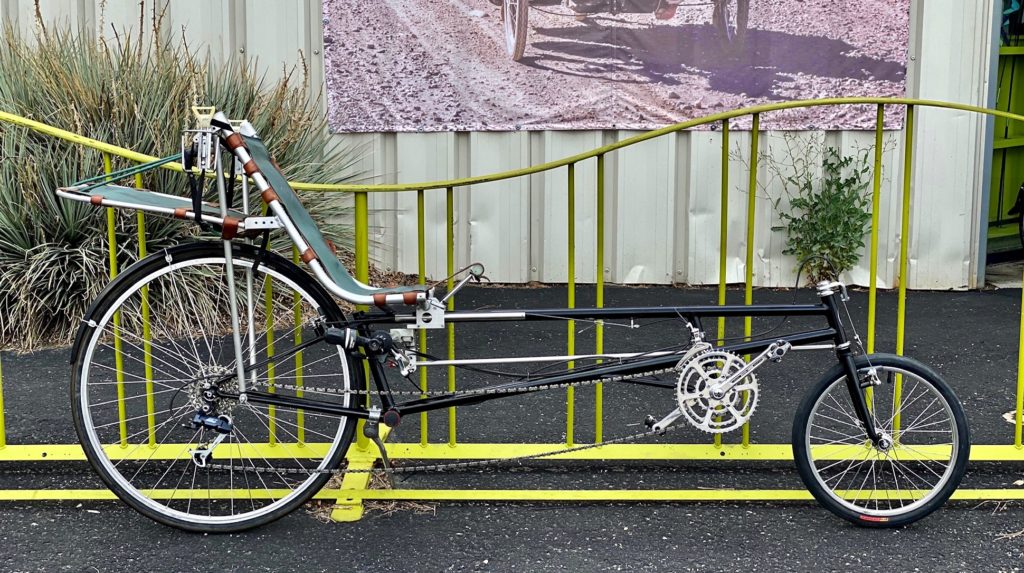 The last time I was with Dick Ryan was when he came by Angletech around 20 years ago to do an interview for Bob Bryant's Recumbent Cyclist News magazine. Recently a phone call came with the voice on the other end saying "hi, this is Dick Ryan!"
As it turned out, we were going to be driving through Boston in the near future on a road trip, so we planned to stop in.
It seemed fitting to meet up with "The Godfather of Recumbents" on Halloween (2019) for conversation and lunch.
Take aways from the day:
– When asked his age, "Ageless", with a smile.
– Citing Mick Jagger when I cited Beatles.
– Trademark quick wit and mischief in his eyes.
– Eugene, Oregon: Rednecks and political correctness.
– Love of motorcycles. Favorite a Kawasaki.
– Universal discontent for the bicycle industry.
– Fellow Avatar founders: 
The late David Gordon Wilson. "The nicest guy."
Dick Forestal, tool and die maker. Credit for setting up the production of the frames in a meticulous manner.
Harald Macejewski, whithering sense of humor.
– Dick pulls out a picture on his phone supporting the sometimes forgotten fact that there was a Ryan Trike, delta format, well before today's dominance of trikes in the recumbent world.
– Impressed with Elon Musk.
– Lunch: Fish cakes.

Kelvin Clark from Angletech
More about Dick Ryan here