Shimano has introduced the new Linkglide option for the Deore and Deore XT groupsets, intending to increase the lifetime of the drivetrain for e-bikes and hardcore MTB riders. And it is no surprise that the Japanese giant goes in this direction. Not only that its US rival SRAM introduced e-bike specific drivetrain components several years ago, but the world of e-bikes with mid-drive motors simply requires and prefers longevity over lower weight.

In the last years, the most important targets while developing new bike components were low weight and perfect shifting, so you have got that if you wanted a high-quality component. Low weight and perfect shifting. But not a longer lifetime. There was not such an option among high-quality, widely available components, which has been kind of sad. When I have seen e-bikes coming, I was hoping for more durable components. And it seems my dream slowly comes true. SRAM came first with the EX1 groupset in 2016, and now, Shimano comes with a groupset dedicated to e-bike riders. While the standard MTB technology used is called Hyperglide, the new one intended mainly for e-MTBs is called Linkglide. Chain, shifter, rear derailleur, and mainly a cassette are part of this e-bike specific puzzle. It will provide users with a longer lifetime, but still, perfect shifting even under power, and the price for such advantage is obvious – higher weight. However, for e-bike riders, but also leisure cyclists riding on non-electric bikes, the weight increase is not really an issue, I guess. The Linkglide is about 200 grams heavier. That said, this groupset can also be used on non-electric upright bikes as well as trikes and recumbent two-wheelers.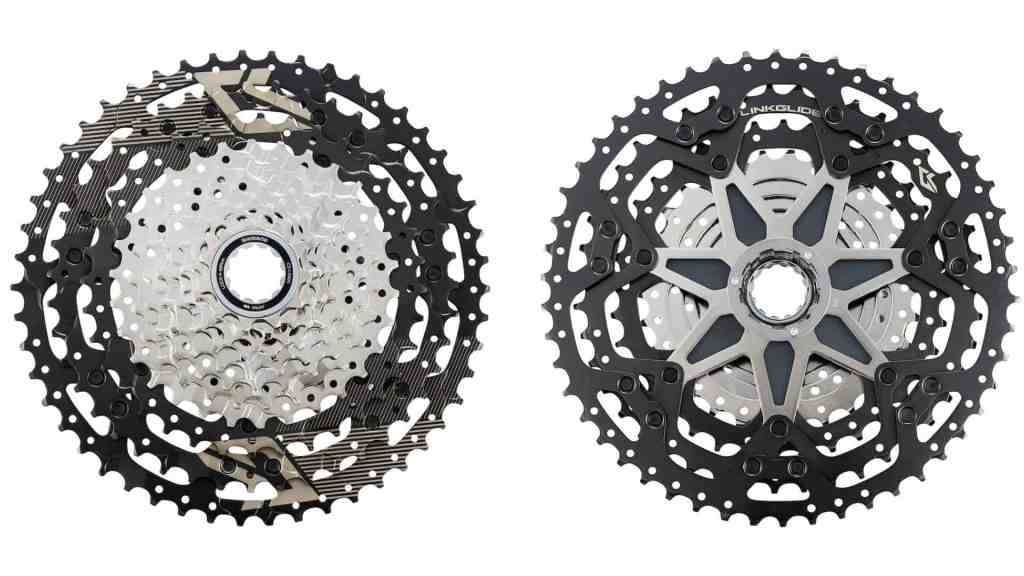 The Linkglide cassette has teeth with a wider base and adjusted tooth shape for smooth gear change under higher load. That means the distance between cogs is also bigger so the derailleur and shifter plus the chain have to be different. Shimano promotes the lifetime to increase by 300%! The Deore will be available in a 10-speed version with 11 to 43 teeth and the Deore XT will come as an 11-speed system with a cassette of 11 to 50 teeth. The Linkglide is a 1x system, of course, as the main use is in combination with Shimano Steps motors with just one chainring.

The little issue is that the Linkglide isn't compatible with Hyperglide components. Only the chainrings are. Or, better to say, it is what Shimano claims. So if you are interested in this drivetrain, you will need to change the complete system incl. shifter and derailleur. Or you will need to buy a new bike or trike with it. We will see how the recumbent manufacturers will incorporate the Linkglide groupset into their range of e-trikes and electric recumbent two-wheelers. This will also depend on their trust in Shimano's ability to really deliver it in needed numbers. As I have mentioned several times, the situation on the bike market is complicated right now, and all the manufacturers suffer from extremely long delivery times and uncertain availability.

See the video hereunder to get more information.