You may have noticed some of his perfectly processed videos, like the one I wrote about some months ago. Luca loves to ride in nature, likes to feel his body working throughout using his lowracer, likes to feel the speed. And this is an interview with him with a kind of different atmosphere than the previous ones in my 10 to 1 series.
What recumbent mean for you?
A very special and fascinating bike built in a more intelligent way that allows me to connect to my body through physical activity, quiets down the mind, feel a childlike joy, see the world from another perspective and go toward the future at high speed.
Can you remember when did you see a recumbent for the first time?
When I was a teenager I saw a recumbent in a joggling magazine, and that little image enthused me so some years ago that memory came back to me, and I said: "why not?". Immediately I fell in love with the idea of riding a recumbent bike.
What was your first recumbent?
It was an Azub Max 26/26″. At that time, I wanted a recumbent for going everywhere with my bags. It was a very good bike, and it made me feel free. Only afterward I felt more attracted to speed, and I started looking for a recumbent low racer.
Do you prefer trikes or two-wheelers, and why?
I prefer racing two-wheelers. For me, they have a more beautiful shape, and they are faster. That's my personal preference due to my style of riding, but for a dream like a long trip around the world with a lot of baggage, I might consider a trike. Everything has its own sense.
Which bike do you ride now?
I ride an Optima Baron lowracer with some upgrades and modifications. When I sit on it, I feel like it is an extension of my body. The ergonomic and the connection are amazing. When I ride it in that very low position with the gunner homemade handlebar, it is like playing a videogame or driving a spaceship at full speed through the road. I see the looks astonished but curious of the people, and I would like them to break down their own prejudices and feel this wonderful feeling. On the other hand, if I want to make a comparison with the elements of mother nature, for me, his shape and attitude look like a gorgeous cheetah.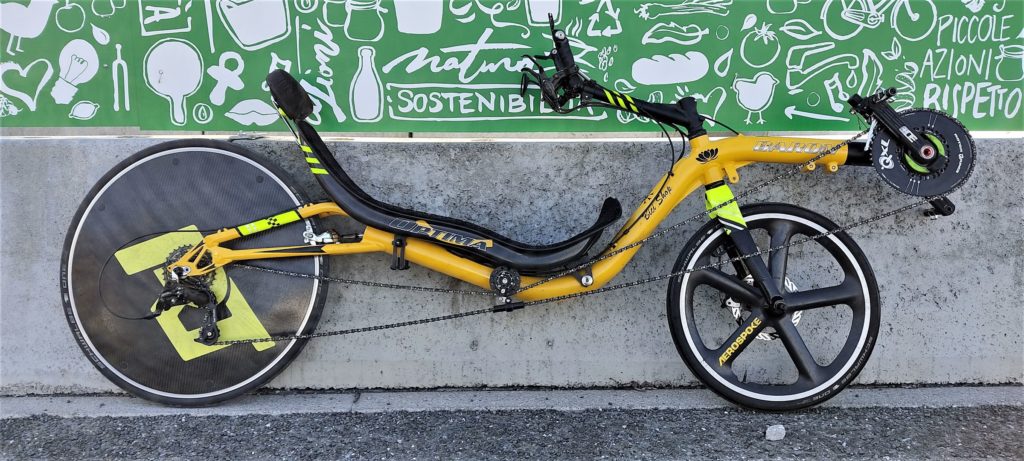 What do you think about all the e-assist boom we have around us now?
It's fascinating. I think it can change the way we look at transport. Moreover, the recumbent world is very creative, and it likes going beyond the limit. Hence, I see not the only diffusion of the e-assist recumbent but also a lot of experimentation with solar energy and other incredible things.
Where is your favorite place to ride?
I like to ride where there is nature around the road, and the sun is warm above me. The elements charge my energy and made me ride as if I were wind.
And the most unforgettable ride?
Ironically it's one in contradiction to what I have just said because it was in an artificial structure, a velodrome, but it was a lot of fun. A lot!!! I was granted permission to ride in it during the training of young cyclists with their fixed gear upright track bike. They trained in the "elimination race" (it starts with all cyclists riding together, every two laps, there is a sprint, and the last rider is eliminated and go out of the track and so on until only two riders remain for the final rush). I was like an alien with my recumbent in their world, but it was wonderful to compete with them and so easy due to the aerodynamic advantage. I had a smile on my face and that parabolic curves are so damn crazy!!!
How do you think recumbents will evolve in the next 5 or 10 years?
There is an evolutive force inside all things and beings that push them in spite of their habits and their present forms and functions. Would it be accurate to say that is a general rule, which also applies to small and ordinary things. As a result, I think we'll see a diffusion of recumbent, especially of all kinds of velomobile. The recumbent is a natural evolution of the bike.
What is your other hobby besides recumbents? Do you even consider recumbents as a hobby?
I don't like the term "hobby". In general a distinction is made between work and free time as if the second one is less important than the first. For me it is the exact opposite: work is only a compulsion imposed by society because of the need for an income and the "free time" is the life, the real life. The recumbent is part of real life and I love it.
AND ONE MORE:
Anything else you would like to tell our readers?
Go out and reconnect with nature and even add by means of a recumbent bike, change yourself and change the world!
—————————————————————
And some more questions this time 🙂
How often do you ride? And how many kilometers do you make every year on average?
Some years ago, I rode a lot, thousands of kilometers every year, but I don't ride so much now. When I go out with my Baron, I prefer to ride in time trial style, short routes, maybe 15, 20, 30, 40 km (10, 12, 19, 25 miles), but I like to push really hard.
Do you ride alone or together with some other riders?
I ride alone. I like to concentrate, and I like to have some workout.
Do you race?
No. But in a way, yes. Against my own limits.
Can you describe some of the many changes you have made on your bike?
Rotor Qxl rings 53-36, Power meter NGeco Strada Rotor 3D+ 160 mm crank arms, carbon front fork with disk brake, carbon racing seat redrilled with brackets modified to lower the seat angle (14-15°), Ventisit pad cut to 1 cm thickness, customized handmade short and narrow gunner handlebar with SRAM time trial aero shifters, Terracycle power idler set with titanium cog and ceramic bearing, customized cassette, ceramic bearings for rear derailleur pulley wheels, Aereospoke 20″ front wheels with Schwalbe One 28-406 inflated at 8 bar, stock rear wheel 26 with customized Ral Technology carbon cover with Schwalbe One 23-559 inflated at 10 bar and last but not least some beautiful handmade decorations.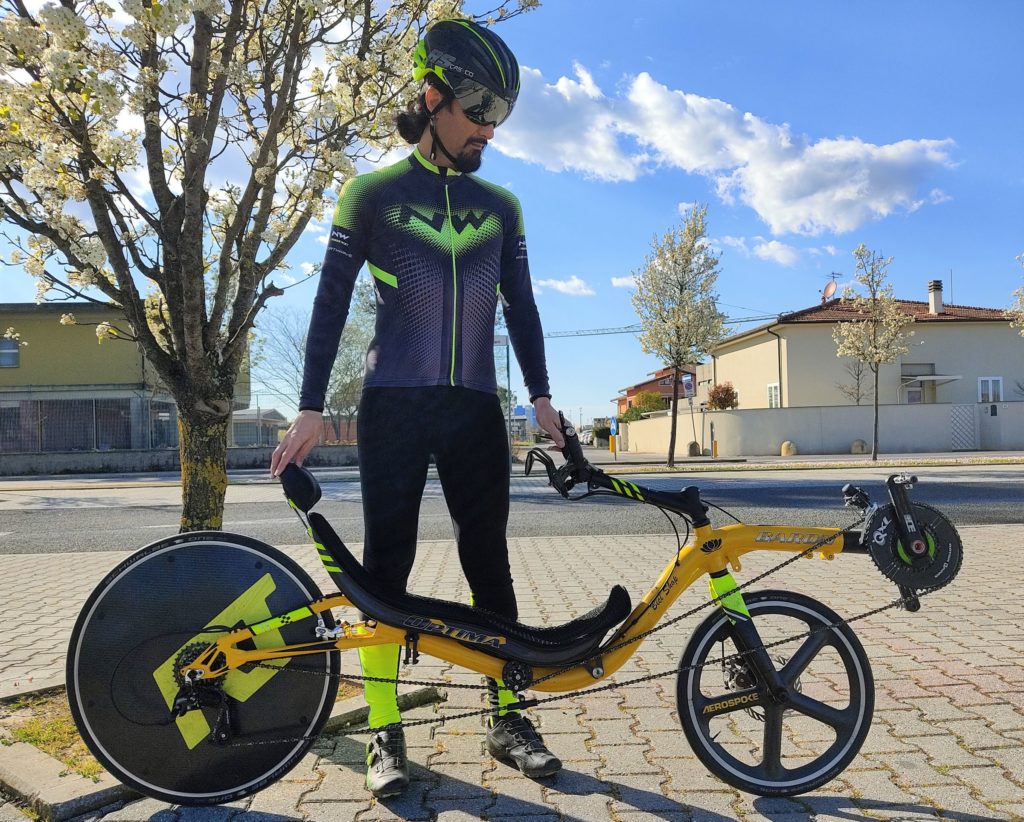 Luca Graziani
Year of birth: 1975
Residence: Calcinaia (Pisa), Tuscany, Italy
Education: High school diploma
Job: I work on an organic farm of fruits and vegetables
Bike(s): Optima Baron lowcer
Motto: I feel every motto has its limits and naturally made me think a what there is beyond it.
Web: https://www.youtube.com/channel/UCq0IyMiSQIu3D6imMR7nqEA