You could read the 10 to 1 interview with Igor Ralič a few months ago. Because he is the owner of a less-known recumbent brand called Velomotion, his two models of stick bikes are included in the comprehensive catalog of recumbents. Here is a little introduction to his brand described directly by Igor.
Here is a bit of history, how I ended up making recumbents for other people, and a few photos that I could find from that time.
Of course it's somewhat long and personal, can't get around that 😉 

The beginning
It was the summer of 2009 when I decided to get back to my original idea to build myself a highracer stickbike, after the first attempt from 2007 which turned into a SWB mid-racer by a mistake.

Between 2007 and 2009 I owned a carbon Velokraft Hi, a Raptobike MidRacer, and couple of FWD crude self-built experiments, one chain twister micro low racer with 16″ wheels, then it's midracer 26″ evolution, and even including a dual 650c MBB midracer based on the fresh French design that sprouted with the appearance of the beautiful Zockra-made Kougin Amann.

I was not fully satisfied with any of these bikes. One will have cranks collide with the wheel while turning, the other will require me to twist my leg to go around the idler or chain, with the third having a mind of it's own when it comes to steering and handling, and it would be outright deadly dangerous when going fast down a hill.

Low bikes had sand flying into my eyes and teeth, cars splashing water from the road right into my face. Stickbike did not have any of these problems. It just worked! 



Open Cocpit advantages
Open cockpit superman handlebars made getting on and off the bike very easy, and one can also rise from the seat while going up a steep hill, holding on to the handlebars and closing the hip angle, which in turn greatly improves power output. And let's not forget the issue of sweatiness inside elbows and armpits, experienced with the praying hamster handlebar position, and general discomfort on longer rides due to arm being bent at elbows. I discovered these advantages with my first OC bike, the micro-lowracer, after having my first recumbent with praying hamster tiller steering,  Velokraft and RaptoBike included. OC also makes for easier mounting of levers, shifters, mirrors, and even lights, cable routing is smooth right out of the box, no need for tweaks and fixes, or modification of controls. It was an instant revelation, loved it and would never go back to hamster type position. 

Hanging a seatbag on the back of the seat was not a problem anymore, and it would also take the usual rear pannier rack to carry a pair of standard panniers, and can have a pair of "banana bags" hanging on the seat. The relatively high position meant that it's much easier to ride with a group of DF bikes, being able to talk to them, and draft behind them when tired, and generally I felt much safer in traffic, knowing that I sit higher above the ground being more visible, and can see more or surroundings and traffic, instead of my view being limited to tall grass or crash barriers.
I fell in love with the stickbike highracer, and never looked back since.
With the highracer both sides of the chain are naturally routed above the front wheel and fork, with no additional idlers or chain tubes to rob you off power and make noise, while allowing you to actually negotiate that hairpin turn, going up the mountain through the switchbacks, because heel/wheel clearance is plentiful.

Equal and usual size wheels also made things much easier, not to mention much more efficient.It was, and still is – the only non-compromised recumbent format. You don't have to trade manoeuvrability for speed. You don't need to trade sand in your eyes for speed.

It isalso very easy to learn to ride. Even people who have never ever seen a recumbent before, can manage a start on a third attempt, and actually keep going and turning! Of-the-shelf size wheels, drivetrain parts, no need for custom built stuff. None of the drawbacks of the lower bikes, while still being as fast. It's a Road Bike, in the true sense of the word. I fell in love with the stickbike highracer, and never looked back since.

Of course, I didn't invent anything here. Highracer were long established by that time, and I was actually lusting over a Bacchetta, with plans to purchase a Strada frame set. As at one time they were selling for $500, but getting one to Europe from the States proved to be too big of a challenge for me, so at the end the only option for me was to build my own, as no European recumbent manufacturer offered a stickbike highracer at that time, and never actually did. All we got was S shaped bikes, with chains over the front wheel, and frame between the legs, or god forbid – an additional idler to route the chain over the wheel. Naturally, that evolved from building a bike for myself, to actually starting selling it to others.

What became to be a VeloMotion stickbike was of course inspired by all the established highracers of the time. Not a copying them, but rather done in my own way, with materials that were available to me. With a competitive price, especially when compared with the cheapest recumbents of any type, available in Europe.

After I've made a few hundred miles on that 2009 bike, it was clear to me that it was a much more superior bike than the Velokraft and Raptobike, so I sold both of them, because my self-built bike was much better in every way, at a fraction of the cost.
But it was mostly about the fact that it was just a much more better bike, than the fact that it was cheaper to build it.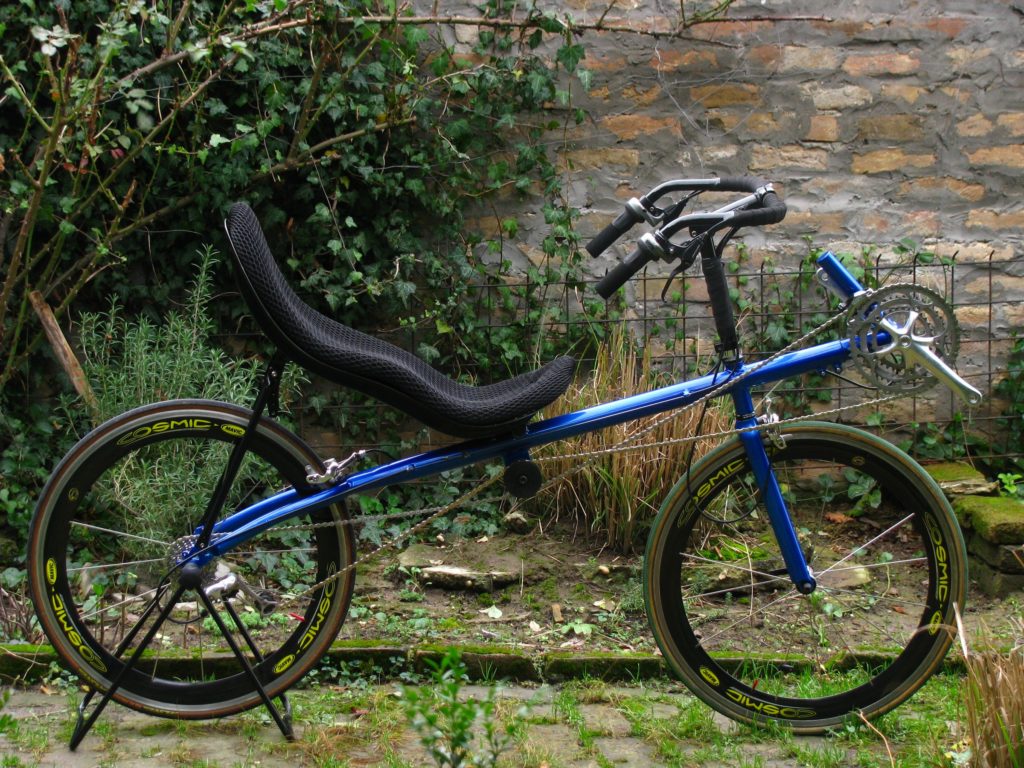 It was a lovely bike, with very fast tubular 650c wheels, Ultegra drivetrain, which were from a donor Cube road bike that had the frame crack at the headtube. That bike was not perfect, as some compromises were made in order for the build to be easier, welds were not the smoothest, so I wanted something nicer, more factory-bike looking then the garague-build homemade,
so I've decided to make another one, this time skipping the front ATB fork acting as a rear fork, get proper tubes everywhere, usual dropouts, handlebars out of aluminium, etc.

So I've posted it up for sale, to finance the next build. Blue bike found a good home in Venice, Italy. Luigi took the whole bike, except the tubular wheels, which I actually liked very much, so I began working on the next frame, also based on those 650c wheels.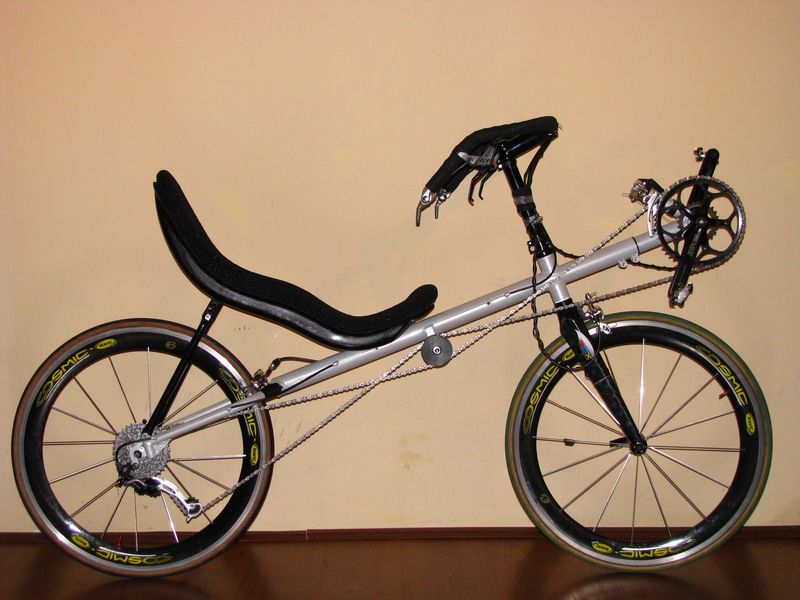 Tripple Zero
It was summer of 2011 when Triple Zero came to existence. Named Triple Zero, from the 000 "serial number" that it got. Serial number, because at the same time I made two frames. One for me, the 000, and the second one for an enthusiast from neighbouring Osijek in Croatia, which was to be his second recumbent, the second of now quite a few interesting examples in his recumbent collection. After seeing my previous build on a local internet cycling forum, he got interested and asked me if I could make one for him, to which I've said yes,  which coincided with me preparing to build one for myself, so I ended up welding two frames at the same time, and since the other one was made to order, we named it 001, making it the first VeloMotion to be produced for a customer.
TripleZero was the lightest build to date, around 10kg complete bike, with the frame + boom weighing only 2638 grams.
It used a 1mm wall tubing of the thin 22.2mm fork legs, which proved to be a bit too soft, at least with the fork design at that time, which was not lugged to the main tube, but simply welded on the sides. Nevertheless, bike is still in use today! And I was thinking that the rear fork will crack after a few thousand kilometres. Miha, the owner of the 001 still uses it today as his city bike for running errands.

Miha's 001 bike was given a beautiful deep red metallic powdercoat, and was completed as a dual 700c road bike with a Rohloff hub. He still enjoys it to this day, of course.
Fast forward to 2013, and bikes are no longer made by myself in my cousin's muffler workshop, as by then I partnered up with my friends at Steintrikes, from which I was already purchasing the fine ST52 thin-wall steel tubing anyways, otherwise unobtainable to mere mortals, who also were doing the powder coating.

Steintrikes already had an established trike production for 13 years at that time, so they had superior tooling, welding machines, and above all the experience, so practically for the same cost  they could make the same frame for me, but with much higher quality welds, etc. So in 2013. the Mk2 was introduced, featuring a completely new dual-band rear fork catering for v-brakes, ending with a custom laser-cut dropout with disc mounts.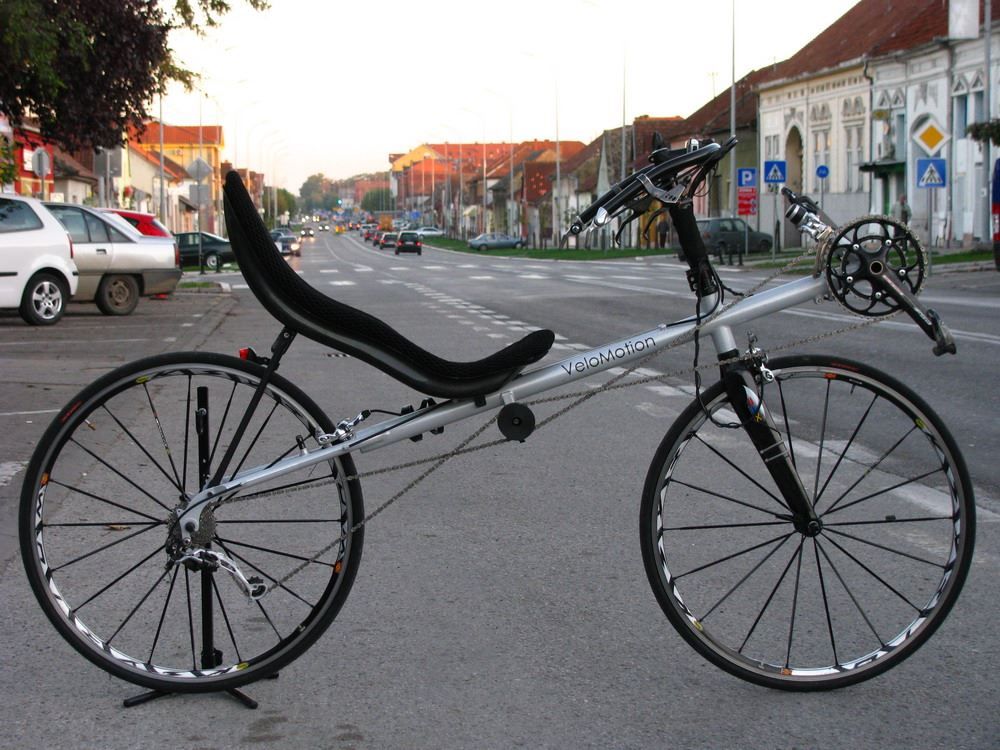 In 2016. came a special project. I'm not sure how the idea originated, perhaps it was my now good friend Tomek from Warsaw who initiated the idea, or perhaps it was me after being inspired by all the custom built bikes from small USA builders who used a fillet-brazing technique to join tubes. Anyways, I really liked the look of the brass fillets, and their smoothness, connecting the tubes with a filler that is flowed in and around the tubes, and then meticulously filed and sanded to a perfect smooth shape and tube transition. I was experienced in soldering electronic and electric components, so fillet-brazing with a oxy-acetylene sounded familiar, and it was.
So I've brazed two Scopa frames, one for me, and one for Tomek, who wanted to build an allroad bike with medium-wide 26″ tires and an Alfine hub, while I was more interested in speed so naturally I went for a classic road build based around a pair of beautiful Spengle tri-spoke 700 wheels painted with neon-orange plasti-dip. Even with those very heavy wheels (3200 grams a pair!) bike felt feather-light at 11.5kg complete, and was very very fast, especially in windy conditions.

The original idea was to have both frames clear coated in their raw polished steel form, but later I've gave up on the idea because it required quite a lot of manual work to reach a satisfying look, which was probaly not going to happen since the tubes should have been all brushed and polished evenly before the brazing. So we opted for sandblasting, which also ended up looking very nice, but with a matte look to the bike, with a delicate "metallic" effect with the sandblasted steel looking like it had metallic flakes under the clear coat.

While the frames ended up looking very nice, it proved quite expensive to produce, were only the welding rods and oxy-acetylene gas costing around 50€ per frame, let alone the long hours of manual labour of cleaning the frame and making the fillets smooth with files and sandpaper.

Although I held the oxi torch for the first time in my life, frames ended up nicely, and still serve their owners.
I sadly traded mine for a carbon loweracer, before putting quite a few thousand fast randonneuring miles on it, including my first successful 600k. I still have the wheels tho, so I might come up with a new project for them to fit 😉 

The fat bike
At that same time Tomek had another idea. A recumbent fatbike, and I was to deliver. By the end of the year it was ready. It's maiden voyage was supposed to be on a 200k Winter Solstice brevet. With tires aired up it proved to be quite fast, almost no extra effort to keep up with a fellow colleague on a regular road Scopa, but unfortunately I've made a rookie mistake. I dressed up to light for the cold conditions, and did not take any extra clothes with me, so sadly, at 20km into the ride I decided to turn back. But I got to play with it later, in the snow. Snow conditions were not perfect, too little and too wet, but the bike proved to be very able, and fun to ride on snowy fire roads in the mountains, which are usually prepared for nordic skiing. While the skies will make a significant track on the ploughed snow, riding the bike on the untreated snow on the side of the road was like riding on the bare ground. It didn't drop into snow at all. 
It was declared a success, and got it's name – Sequoia. As a stick, but a very thick stick 😉 It's very capable on soft ground, be it snow, sand, or a ploughed crop field, it just does not care what's under the wheels.

Of course, it's not to be confused with a mountain bike, as any recumbent is very limiting in such conditions because of the inability to shift weight and jump over obstacles. But as long as the path under the wheels is relatively smooth, not to bumpy, then it's a joy to ride no matter the surface you throw under it. Seat height for my 170 cm / 5'7″ body is high, but still perfectly manageable.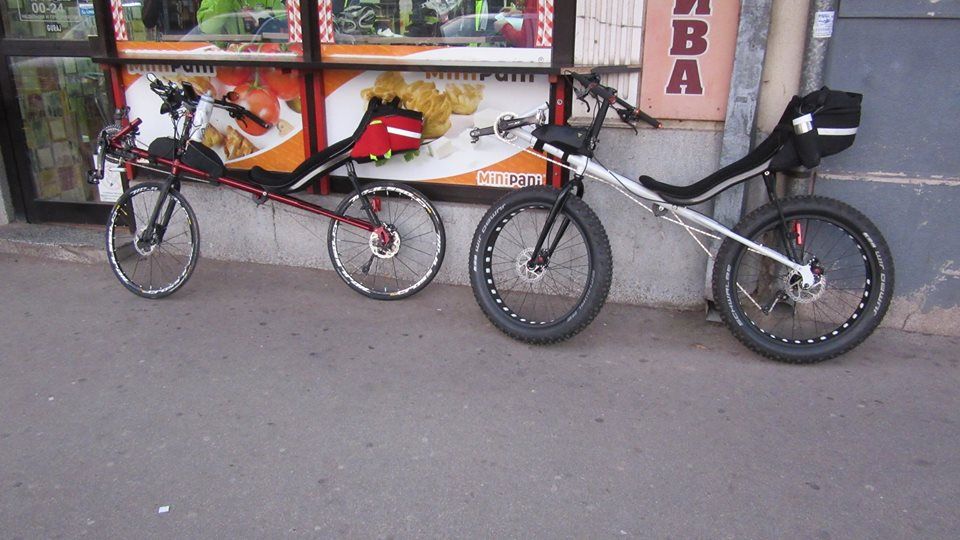 Same year brought a design change to the rear fork on the Scopa. Based on the Sequoia's fork, same design was applied to the Scopa, resulting in improved stiffness of the fork, while the connection to the main tube getting gussets to spread the load and make the stiffer frame as a whole.

There was however a price to pay – cantilever/v-brake bosses were no longer available, as the fork did not have a band that got them close to the rim. But, as we know, everyone shifted to disc brakes by then, so only the customers who planned to use an older donor bike with such brakes were disappointed.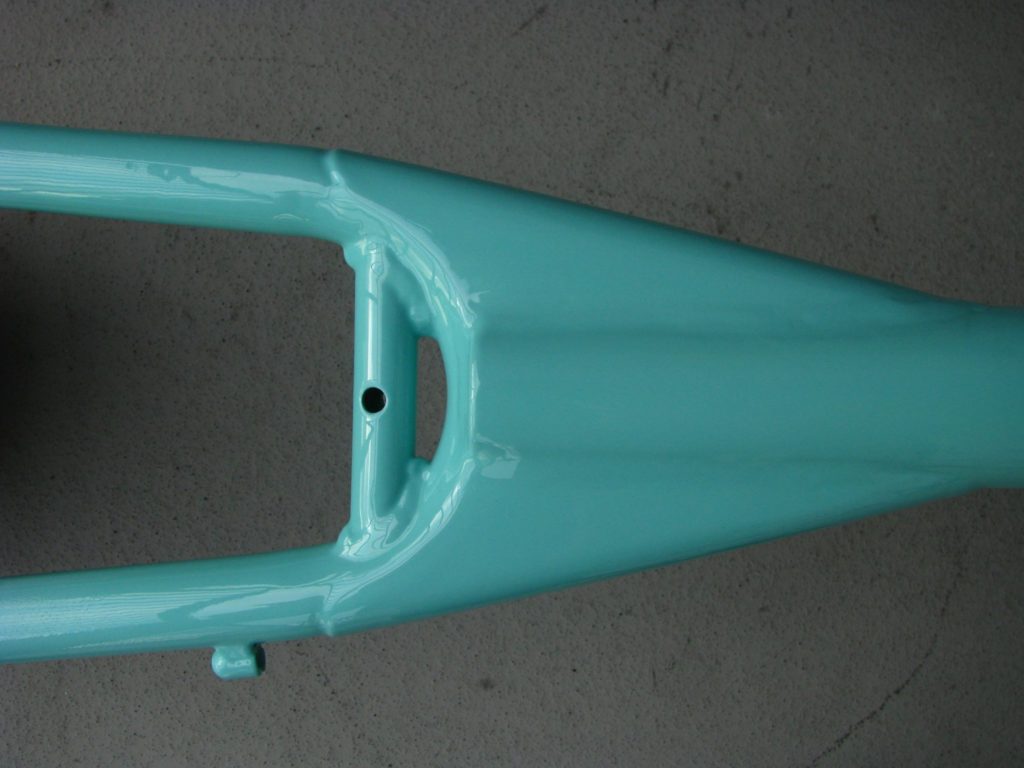 Mid 2017 I got an email from a customer, asking if I could build him a frame with a S&S coupler, so he can take the frame apart and pack it for travel. I've said no problem, but as it turned out, it's designers, selling couplers only to professional frame builders,
said they don't approve use of their couplers for use in any monotube frames, as the coupler is simply not designed to take that much concentred stress.

So I proposed a more simple solution – a sleeve. Similar to what Steintrikes already used with their modular rear frame, two tubes go one into another, and are held on by two pinch bolts. Customer gave the go-ahead, so the separable frame option came into existence, at a fraction of the coupler's price. This is not to be confused with folding, it's not that easy or practical to brake the frame apart on regular basis.

I was regurarly separating my Raptobike Midracer when I had it, so it could fit inside my small car, but that one was FWD, so it only needed the rear brake to be disconnected. But it's fine when you need to pack the bike for travel. Disconnect the brake and take off the whole rear derailleur along with the cable (or use SRAM's wireless sifters), separate the chain, and there you have your bike separated in two. Brake it down further if needed. With 20″ wheels it could be packed up into an airline-legal suitcase.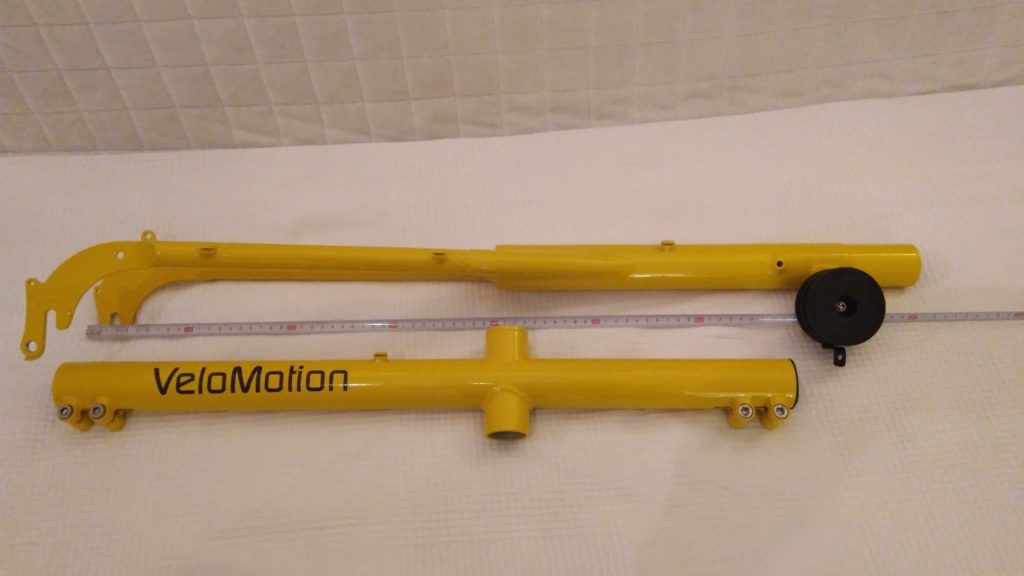 2018 brought the 44mm headtube. Previously it had a 35mm with external cups, but increasing popularity of tapered steerer forks and the actual lack of straight steerer disc forks, so both models were updated with a 44mm headtube to enable the use of tapered forks, but still keep the straight steerer compatibility. So with a straight steerer ZS type headset is to be used, and for tapered a lower cup is changed to EC44/40.

And 2020 brought an option to delete shift cable stops, if electronic shifting is to be used. 


Presence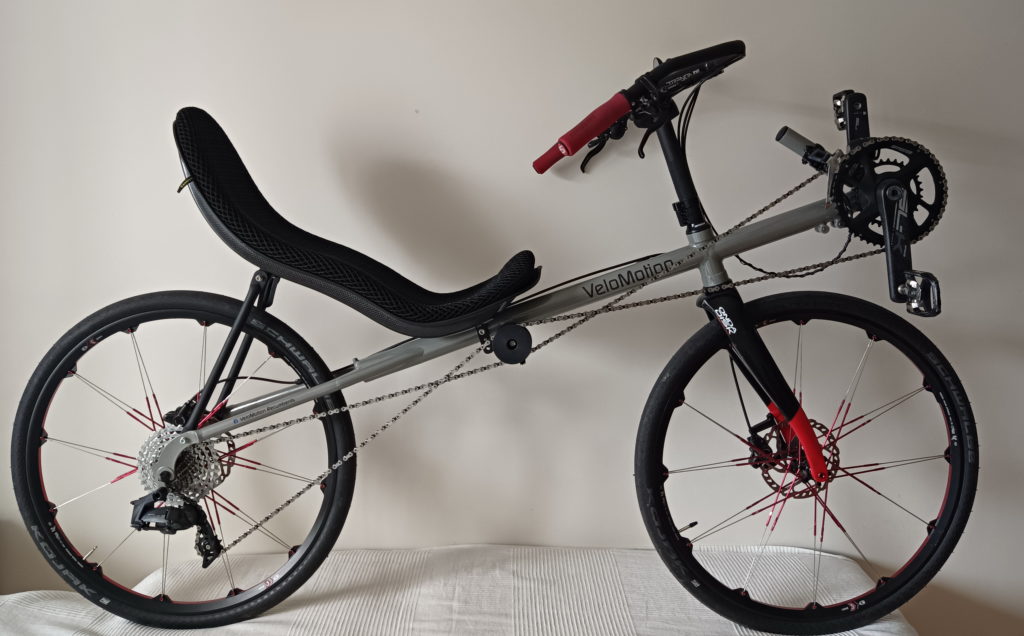 At the moment VeloMotion offers two recumbent models. Scopa is a road/audax/gravel frameset that customers can build up to their liking. Its main purpose is speed/long-distance riding. The second mode is Sequoia, a fat bike. Its main purpose is snow/sand and other types of riding where usual tire widths just don't allow you to ride at all.

Both are available as a frameset only, complete with all the specific recumbent parts, so the customer has to add just the usual bicycle parts based on their preferences and budget. Customers can buy new parts, or they can use a used donor bike for the most part. Quite handy in these bicycle parts shortage days 😉 

Scopa can be built with two same wheels of any size practically. Most popular is the highracer format, with 26/27.5/700c/29 wheels,
but it can as well be built with dual 24″, 20″ or even 16″ for shorter people. 700c can have a road caliper brake option, other sizes are disc only.

It's not specifically designed for (steering geometry-wise), but quite a few customers have built a 20″ front and 26/28″ back and report that it's just fine like that. 20″ front with a suspension fork, with a 26-29 rear is also possible.

Final seat height will depend on the wheel size and fork used, so from around 50 cm / 20 inches with 16 or 20″ wheels,  58 cm / 23 inches with skinny 26″, 61cm / 24 inches with 700c and 64 cm / 25 inches with full-size 29er, so the seat height can be mid to high.
Frame comes in two different tube wall thicknesses, the standard is for a ride up to 90 kg / 198 lbs, heavy-duty is up to 130 kg / 287 lbs. There are 3 different frame sizes and the boom is adjustable. That means the bikes are suitable for people from 150 up to 200+ centimeters / 4'11" to 6'7″+ of height. Shorter than 170 cm / 5'7″ can be limited to smaller than 700c wheel sizes to keep the cranks out of the front wheel, and have a reasonable seat height.

The frame does not fold, but a separable frame is an option for those wishing to be able to separate the frame in the middle and pack it in a bag or suitcase for travel. The weight of all the parts Igor delivers including the standard frameset, but without the seat is 4kg / 9 lbs so it's easy to calculate the final weight if you know the weight of your parts. As a road bike build it can be as light as around 10,5 kg / 23 lbs without going crazy with the budget. The average for an audax build with wider tires and disc brakes are 12 to 13 kg / 26 to 29 lbs.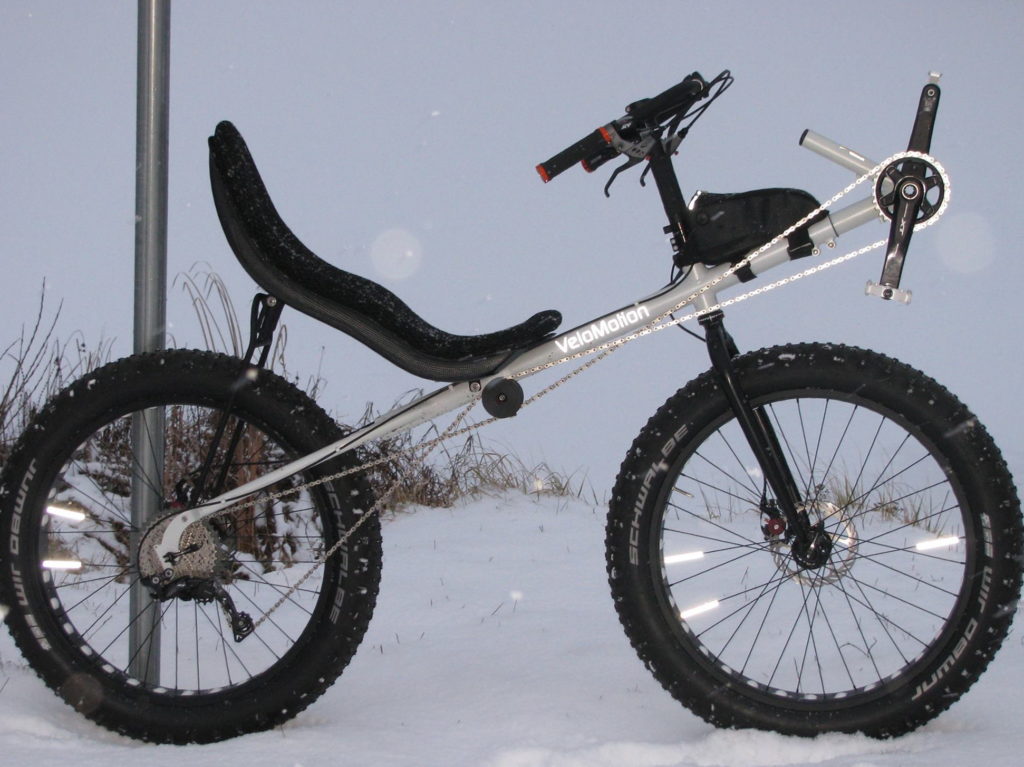 Sequoia is meant for two wheels of equal sizes, 26″ fat bike up to 5″ width.  20″ front wheel on a suspended fork, with a 26″ rear wheel would also be possible. It has the same weight limit as the Scopa and also two frame sizes plus adjustable boom are available. This bike is meant for people over 170 cm / 5'7″ tall.  Seat height is 71cm /28 inches with 4″ tires, and if you use dual 20″ wheels the seat height is 63 cm / 25 inches.  There is no separable option here. The weight of the complete frameset is 4,2 kg / 9 pounds. The price level is mentioned in the recumbent catalog.