Irina and Radu are Romanian adventurers and trikers. Radu has cycled from north to south of an entire America for three years and later moved with his adventures to New Zealand and Australia. Together with his girlfriend Irina, they are cycling around Australia using two AZUB recumbent trikes now. One fully suspended with electric motor and solar panels to charge the battery ridden by Irina. One with no suspension and no motor for Radu. Their first stretch headed to the very north point of Australia – the Cape York. And their video describing this part of their journey is just epic with beautiful drone footages.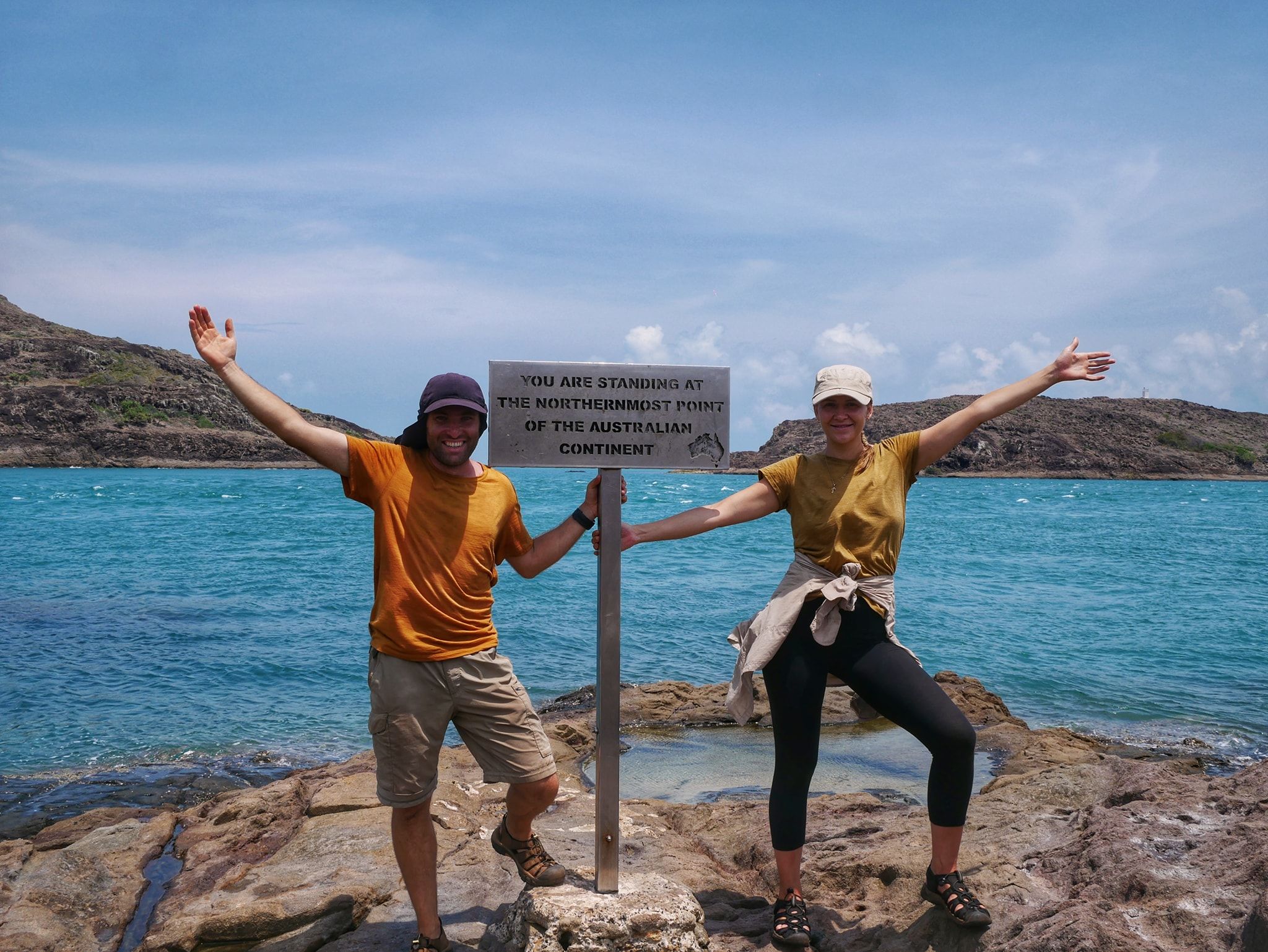 Adventurer(s): Irina Repede & Radu Păltineanu
Kilometers/miles covered: 1.600 km
Expected kilometers/miles ahead of you: 13.000 km
Bike(s): AZUB T-Tris 26 (Radu) & AZUB Ti-Fly 26 solar powered (Irina)
Web: https://www.radupaltineanu.com
Social media: https://www.facebook.com/paltineanu/ https://www.instagram.com/radu.paltineanu

Description of the tour: Cycling around Australia on a 13.000 kilometers adventure. We started in Cairns, in Far North Queensland, and reached the northernmost point of continental Australia, Cape York. The idea is to go around Australia in an itinerary that reaches both the northernmost point and southernmost point of Australia.

What do you expect from the journey: To explore the wildest and most remote corners of Australia in a journey spanning the entire continent, from the northernmost point of Australia, Cape York, to the southernmost point, South Point, near Melbourne. From the very first day of our journey, we encountered quite a few difficulties. The remoteness, the long stretches between water supplies in the Cape York Peninsula, wild and dangerous animals among which are some of the most venomous snakes and spiders on Earth. More so, getting accustomed to Irina's newly built solar trike and trying to solve problems arising with the design on the way represents another major challenge of our adventure around the red continent. Given that this is the first expedition involving a solar trike for us, there were many unknowns regarding the design and we had to deal with some on the way. On the other hand, what we really want from this expedition is to experience and learn about Australia's incredible landscape and its thousands of years old aboriginal culture and about the aborigines connection with the land. We would like to have a better understanding of the land we are exploring, this being the main reason why we opted for trikes instead of cars. 

Best moment until now: We can think of two moments so far. Just before reaching Cape York, we spotted a pair of Palm Cockatoos, a very rare type of endangered parrot and the only bird in the world that is crafting a tool similar to a drum rod to attract its potential mating partner. I think it's a privilege to see these rare species in their own habitat and we are so lucky to have had this privilege.

The second one that we can think of is having a bath in the Fruit Bat Falls after a few weeks of cycling on the dusty corrugated road that stretches the entire Cape York Peninsula. It was so beautiful and refreshing. 
Worst moment until now: A robbery attempt during nighttime in a camping area where we were resting after having reached Cape York. Two kids attempted to rob us but fortunately, we woke up on time and chased them away. They didn't get to rob anything from us.

The other would have been on the (in)famous Bloomfield Track, right at the beginning of our adventure. On one of the 30 percent incline slopes, our trikes literally broke. The T-Tris 26 rear wheel hub broke and Irina's chain snapped. Fortunately for us, we could get a new wheel and Irina's chain repaired.

Last but not the least, on the second night of camping, our tent floor and tent footprint got eaten by the ants who left not less than a dozen holes in our brand new Big Agnes tent. We had to have it replaced and fortunately for us the Big Agnes team got us a brand new tent at no additional cost to us.

The most memorable person you met until now: One of the most amazing human beings we met so far was Michael, a Torres Strait Islander who works at the Jardine River Ferry and cared for us and helped us in so many ways. It was very touching to meet such a generous person in such a remote area of Australia. Another amazing person we met is Jackie who, together with her husband, hosted us in Weipa. She is a role model of her community. Upon hearing about the tragic shooting in Tasmania that happened in 1996, she started a campaign to ban guns altogether in Australia. With lots of effort her energy and involvement paid off and automatic guns were banned forever in Australia. We were so inspired by this woman's courage to speak and act. Last but not the least, Dave and Helen Hannah from Cairns were such amazing hosts in Cairns that we ended up spending the holidays with them and their family.

Impact on your life(s): Overcoming different types of challenges in and out, team building and team cooperation between us, getting closer to nature and other forms of life, and most important of all getting to see the world in a very authentic way.

Future plans: Explore the island nations of Oceania and try to cycle back home to Europe on the very same AZUB trikes we are using on our Australia journey.