There have been some serious velomobile developments going on this year, but this one is closest to my heart and probably also the most interesting. You can find all the needed information here below, prepared by the guy behind this project. Charles Henry from Switzerland.
Project goals
Large brands have long since noticed that there is a gap in the market between so-called light electric vehicles (LEV) and electric bicycles, which they want to fill with 4-wheel human-powered hybrid concepts like Canyon with Urban Mobility Concept or Schaeffler with Biohybrid. When it comes to converting human muscle power into movement as effectively as possible, aerodynamics, rolling resistance, and, above all, weight are the decisive factors. Modern 3-wheeled velomobiles have set new standards for pedal-powered vehicles in this regard. With the 441 (pronounced four-for-one) prototype, we want to show that it is possible to adapt 4-wheel chassis technology for lightweight velomobiles to make them safer, more comfortable, and therefore more attractive to more people.
Challenge
In particular, the design of the chassis and drivetrain required a radical rethinking of the construction of the 4-wheel vehicle. Proven solutions from automotive technology were often more effective than traditional bicycle technology, and many parts, therefore, had to be developed from scratch. Digital tools such as CAD/CAM and 3D printing made it possible to plan complex solutions and implement them relatively inexpensively. Nevertheless, there is no way around the lightweight construction of a bicycle in order to achieve the riding performance because the engine remains a human being.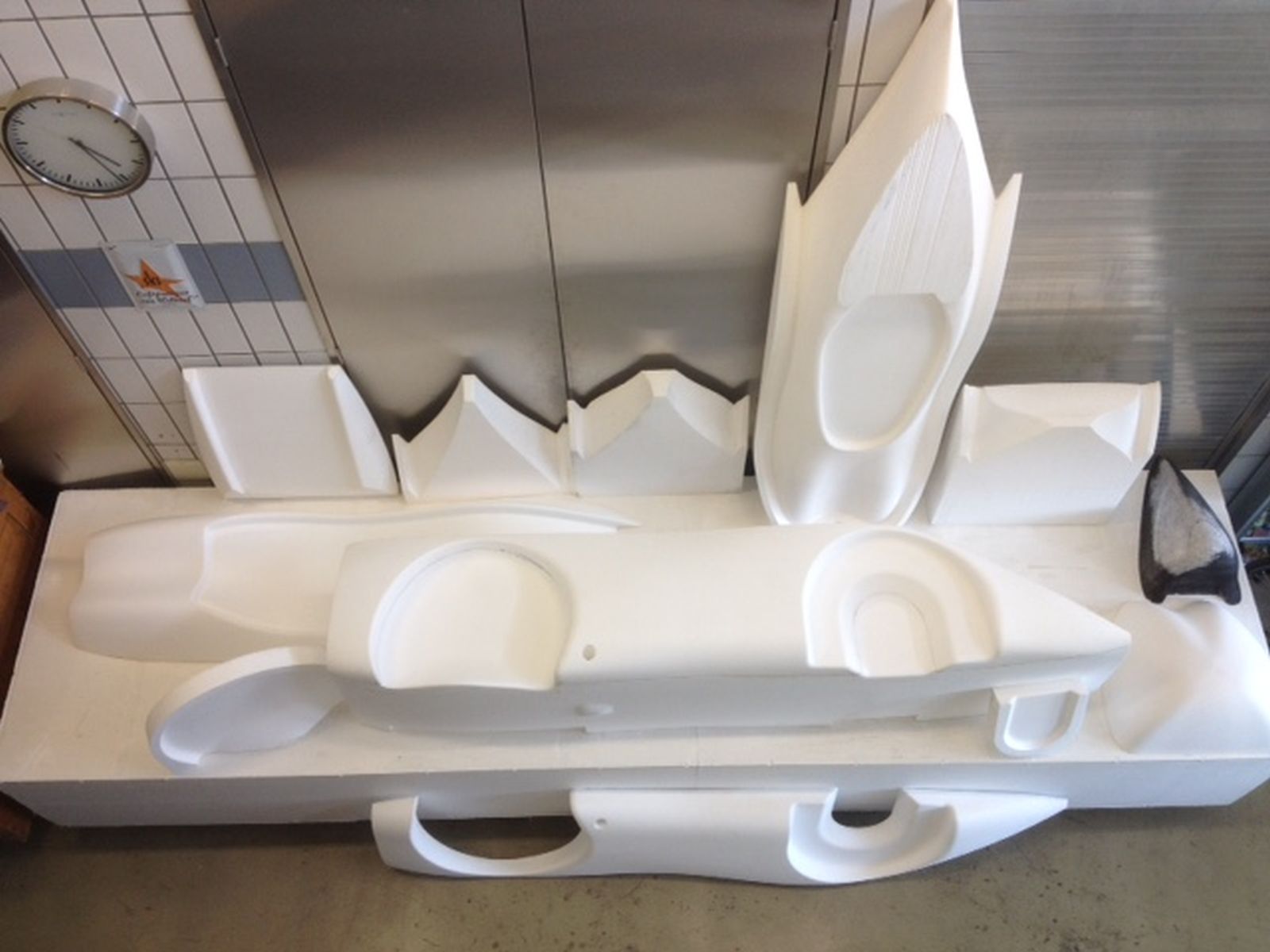 Development and manufacturing
The "441" has been developed and built since 2019 in close cooperation with Birkenstock Bicycles in Jona. I created all the construction drawings with «Rhino 5» (3D CAD). They are the basis for the CAD/CAM processing of the aluminum parts, the 3D printing of plastic components, and the styrofoam master models for the fairing, which Birkenstock Bicycles produced using a portal milling machine. Negative molds were taken from the sanded original models, and the finished parts were laminated by hand. Steel and aluminum parts (e.g., trailing arm, bottom bracket mast, rear axle) were welded by Stefan from Fahrradbau Stolz in Wallisellen, and Wolfgang Schröppel developed the microprocessor-controlled vehicle electrics.
About myself
I'm Charles Henry, and I live with my family in Zurich. I studied biology and worked part-time as a research assistant at the canton of Zurich. In my spare time, I have been working intensively with human-powered vehicles since 1999, riding and designing recumbent bikes and velomobiles with passion. My creations include the «Peregrin», a compact, suspended carbon recumbent, which has been hand-made by Birkenstock Bicycles since 2006, and the «442» (Four For Two), a prototype of a quad for 2 pedaling passengers sitting next to each other ( so-called "Sociable"). In 2011 I was able to cover a distance of 1160 km in Lausitz with my fully geared recumbent bike «PoB» within 24 hours. I won the World Championship of Human Powered Vehicles with the same vehicle in Belgium in 2015 and England in 2018. Since then, my undivided interest has been in developing my one-seater four-wheeler prototype «441».
Tech info
 Name: 441 (Four Four One)
 Year of manufacture: 2019 to 2022
 Planning, construction: Charles Henry, Zurich
 Implementation, construction: Birkenstock Bicycles, Jona
 Vehicle type: Prototype of a 4-wheeled velomobile for one person (height from 1550 mm to 1950 mm / 61 to 77″) and a lot of luggage with optional e-assist with the maximum speed of the assistance limited to 25 km/h / 16 mph. A hinged top for easy boarding can also be used as a convertible for transporting children.
 Techniques used: Designed entirely in CAD, components CAD/CAM milled, plastic parts (PA) 3D printing (Multi-Jet Fusion)

Area of ​​application
 Suitable for: everyday use, touring, sports
 Turning circle: 10.5 m / 34′ 5″ (with tires 45-406)
 Climbing ability: gradients up to 30%

Fairing
 Type of casing: self-supporting monocoque
 Construction: Carbon/Kevlar laminate in negative form wet laminated or prepreg
 Dimensions (LxWxH): 2500 x 720 x 1010 mm / 98 x 28.3 x 39.7″
 Wheelbase: 1220mm / 48″
 Ground clearance: 104 mm / 4.1″
 Weight: approx. 35 kg / 77 lbs (prototype)
 Maximum payload: 120 kg / 265 lbs

Wheels
 Front: trailing arm (like the Citroen 2CV did have)
 Rear: Rigid axle with parallel trailing arms and Panhard rod
 Suspension / damping: Rosta elements
 Tires: 28-406 to 45-406

Drivetrain
 Drivetrain via primary and secondary chain 3 x 11 gears with derailleur and self-made rear derailleur
 Both rear wheels driven by 2 freewheels / anti-slip lock
 Bottom bracket elevation: 220 mm – 280 mm / 8.6 – 11″
 Gear range: 536% range of variation
 Efficiency: > 93%
 Additional electric drive up to 25 km/h optional (i.e. approved as a bicycle)


Seat
 Seat height above vehicle floor: 20 – 80 mm / 0.8 – 3.1″
 Seat angle: 35° – 45°
 Length adjustment: 72 mm / 2.8″

Driving wheel
A driving wheel can integrate a lot of functions like blinker, light, horn, brakes (incl. brake lights) and is more confy when driving and especially when braking. You can also understand it as a proposal how to make velomobiles more attractive to people driving a car. Moreover, with 3D printing, it is easy to manufacture.

Electronics
 16 volts on-board electronics by dastore.biz, microprocessor-controlled, star wiring


Price
At that prototype state, it is not yet possible to name any price, but for the additional complexity of the hinged cover and the four-wheel drive, it will be surely above the 3-wheelers with kajak-like openings even when produced in Romania.