He was an icon of the recumbent world. A designer who was able to design an upright bike that won the Olympics and, at the same time, a recumbent enthusiast. For all of us, Mike Burrows was the embodiment of the fact that recumbents could fundamentally change the world of cycling if the UCI, the International Cycling Federation, allowed them to. Unfortunately, Mike is already racing somewhere high above us. He left this world on Monday morning, August 15, 2022, at age 79.
Who was Mike Burrows, and why did he become a legend?
Mike Burrows was a cyclist in body and soul, and already in the 1980s, he was working on a prototype of a road bike that would be made of carbon and have the ultimate aerodynamic shape. At that time, however, the rules of the UCI did not allow racing on similar bikes, so the world had to wait until 1991 when the UCI allowed bicycle designers to let their imagination run wild. At that moment, Mike started the cooperation with the world-renowned sports car manufacturer Lotus, which subsequently built a special called the Lotus 108 in collaboration with Burrows. Bikes are usually photographed from the right side so that the chainring, chain, and derailleurs can be seen, but the Lotus 108 is a must-see mainly from the left side. Why? Because something important is missing there. You can see the front and rear wheels in all their glory for a simple reason. Both wheels are attached only on one side to the frame. This fact alone gives this bike a clear aerodynamic advantage. In addition, all gaps between the rear wheel and the frame are minimal. Even the chain itself is placed outside the single-sided rear fork.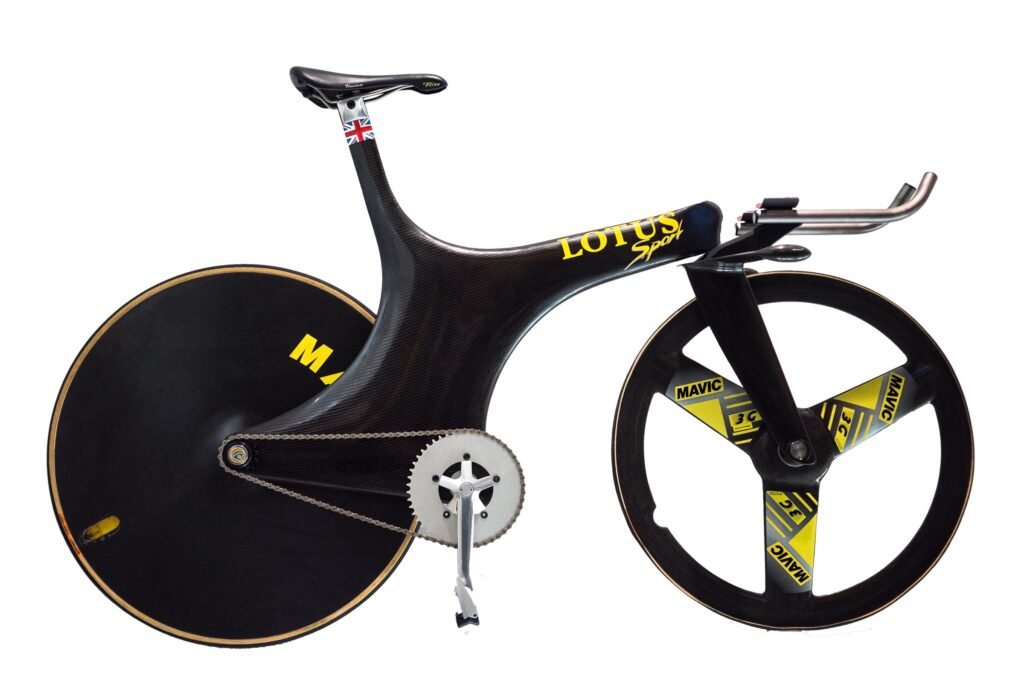 Lotus 108
The bike was developed for only one rider, Chris Boardman. Yes, the cyclist who won the Olympic gold in the 4,000 meters on this bike in 1992 in Barcelona. At Lotus, they had to optimize and produce the 108 in just half a year. And only with a minimal financial budget, in a team of only three people, and in their free time. Although the company's management permitted the development, they only offered limited resources. Even so, this machine made history and is still one of the most iconic bikes in cycling history. The Lotus 108 was to be followed by hundreds of others intended for time trials and also for sale, but that has never happened. A change of Lotus priorities stopped the project. In the same way, UCI's subsequent ban of such aerodynamic machines cut off the development of similar bikes for velodrome riding.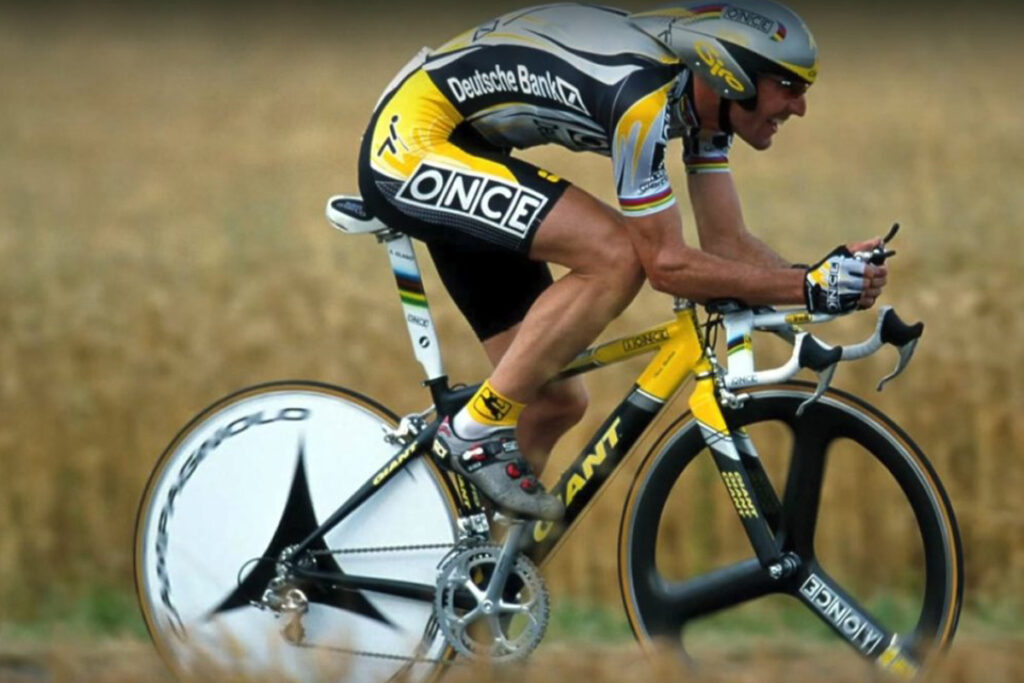 GIANT TCR
For Mike Burrows, however, the Lotus 108 and Boardman's victory at the Olympics marked a significant career shift. The Taiwanese company GIANT recruited him to their team. Until then, a colossal bicycle manufacturer, but without proper representation in road cycling. And the bet on Burrows definitely paid off for GIANT. Thanks to it, GIANT could present its first TCR model in 1995, the name of which stands for Total Compact Road. Until then, road bikes featured a horizontal top tube and were commonly offered in ten different sizes based on rider's height. But Burrows came up with a radical concept partially inspired by the rapidly developing mountain bikes. He made the upper frame tube slop which not only reduced the size of the entire frame and improved its stiffness but also reduced the size of the entire rear fork and its stiffness. To all this, an aerodynamic carbon seatpost was added so the height could be adjusted for the cyclist. The first aluminum version of the TCR did not have ten sizes but only three, improving the production flow and reducing production costs.
To give the TCR model the needed visibility, it was still necessary to convince the UCI that it was possible to race on bikes with such a geometry. GIANT succeeded, and TCR was introduced in 1998 in the Spanish team ONCE. Since then, it has been among the most successful bikes in the professional cycling peloton. And its clever design determined the development of road bikes for many decades. However, the TCR wasn't the only bike Mike Burrows designed for Giant. Others include, for example, GIANT Halfway. A folding bike that, like the Lotus 108, has both single-sided wheels that make it narrower when folded.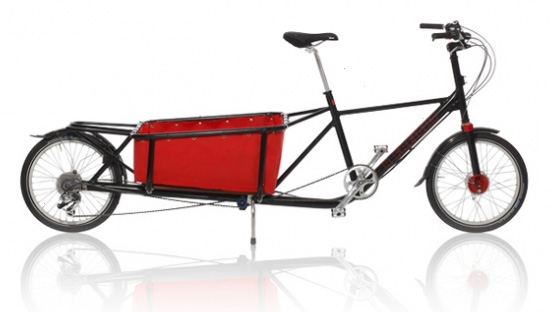 Excentric designer
And it is the Halfway that exemplifies Burrows' enthusiasm for practical and functional bikes, which are unique in their designs. No wonder he was often called an eccentric designer, but we should better call him an excentric designer. The 108 or Halfway shows his fondness for single-sided wheels. However, he often uses an offset rear wheel mounted on a central tube with a cassette located on its right side. On the Windcheetah recumbent trike, this solution may seem strange, but it is acceptable to a certain extent. (BTW, also some Greenspeed trikes have offset wheels) But what about single-tracked bikes? Can they even be ridden if they are actually not single-tracked but two-tracked? The answer is clear. It is possible. For example, the 8 Freight cargo bike Mike Burrows came up with long before the world realized the huge potential of cargo bikes.

Some of his recumbent creations had offset wheels as well, such as the Ratracer SL. But he was mostly seen either on his 8 Freight cargo bike or his Ratracer which he made in several stages of evolution, and on which he could win recumbent races even when he was over seventy. Recumbents were his true passion and for him were also an answer to many doubts and questions related to professional cycling. I love his T-shirt, which read: "Illegal drugs, 1% faster. Illegal bikes, 100% faster". That says it all.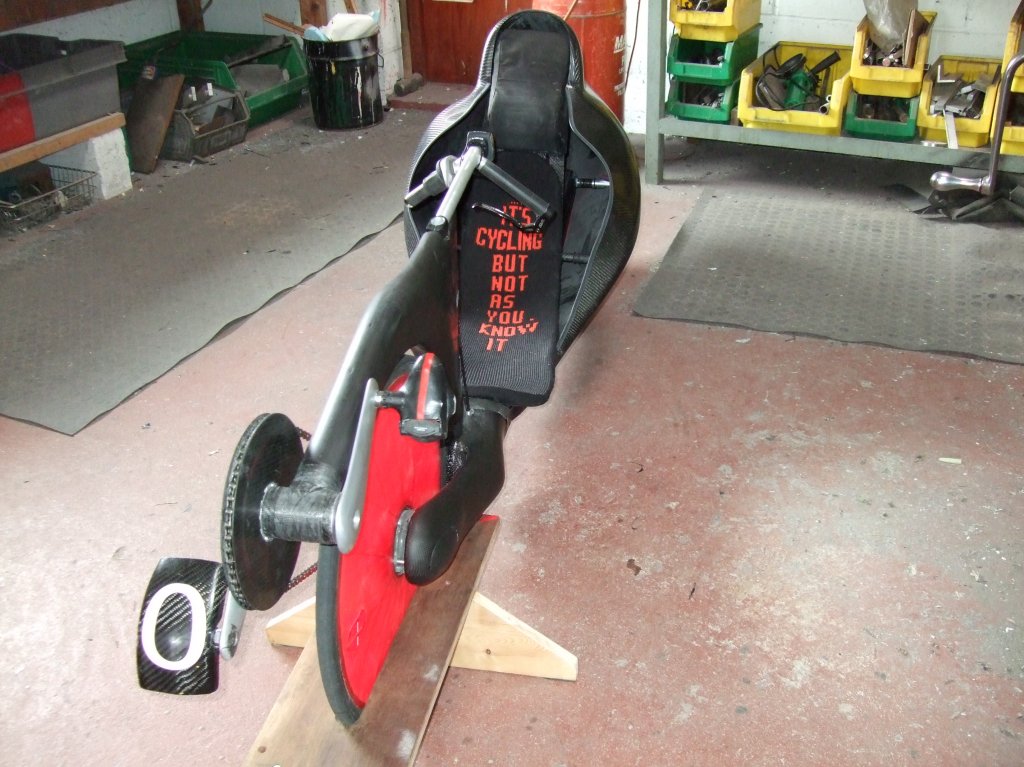 As mentioned before, Mike Burrows has a very unique approach to designing recumbents as well. His quite common creation was the Windcheetah trike special not only by its offset rear wheel but also strange looking above seat steering that significantly improves aerodynamics. Same for the very low Ratracer he built as a rear-wheel drive, but also as a front-wheel drive and even as a bike with hub-center steering design as you can see in the article from Ligfiets.net. And finally his latest creation of the Soup Dragon. A streamliner built together with London South Bank University for racing in the Battle Mountain during The World Human Powered Speed Challenge.
In short, the cycling world has lost a great innovator and visionary. The recumbent community then, an enthusiastic promoter of "our" bikes.

Thank you, and bye, Mike!
I am not really the right person to talk about all the technical finesses Mike Burrows developed, so here are a few videos in which he himself speaks about his career and bike developments. Few more will come in the following days too. Thanks to John Williams from velo-ads and also Simon Webb for making these two.