Trident just announced a new recumbent trike model and also a comfy padded seat for their trikes. All available mostly in the USA. Red the press release here under.


Entry level aluminum recumbent trike
Tomcat is a no compromise Lightweight Entry Level Trike. It uses an Aluminum Non-Folding frame, however, the frame can be separated into 2 pieces for transport. Don't let the price fool you though- Tomcat is packed full of features that you won't see in other brands at twice the price. Tomcat addresses a niche that is sorely missing in the Recumbent Trike industry. It will fit shorter people with X Seams as low as 33″ but will also fit taller riders. It weighs an incredible 32 1/2 Lbs. so it is easy to lift. Some notable features of Tomcat include Trident's exclusive Aluminum Seat that adjusts for both height– 14 5/8 Inches (370mm) to 16 1/2" (420 mm) and angle (42-52 degrees), an Aluminum Powder Coated Frame, an Anodized Aluminum Boom, , Shimano 7 Speed Derailleur/Shifter, Mechanical Disc Brakes, a Safety Flag and Alloy pedals- all STANDARD.
The Base Price of a Tomcat is $1399.00!
Tomcat Enviolo/380 is our Upgraded Tomcat model for those who would rather not have a derailleur system. It features the Nuvinci /Enviolo TR system. The TR System is far superior to the cheaper CT system -310% Gear Range for the CT vs 380% for the TR. In addition, the TR system can handle more torque which is important if you decide to install a Mid Drive Motor in the future. Schwalbe Big Apple Tires and Avid BB5 Brakes are standard. Tomcat 380 retails for $1899.00
Many accessories are available for the Tomcat including fenders, rear racks, and a 21 Speed Upgrade Kit.
All Tomcats have Direct Steering. It is only available in Yellow.
The Tomcat is in stock, and available for order directly or through any Trident Trike Dealer.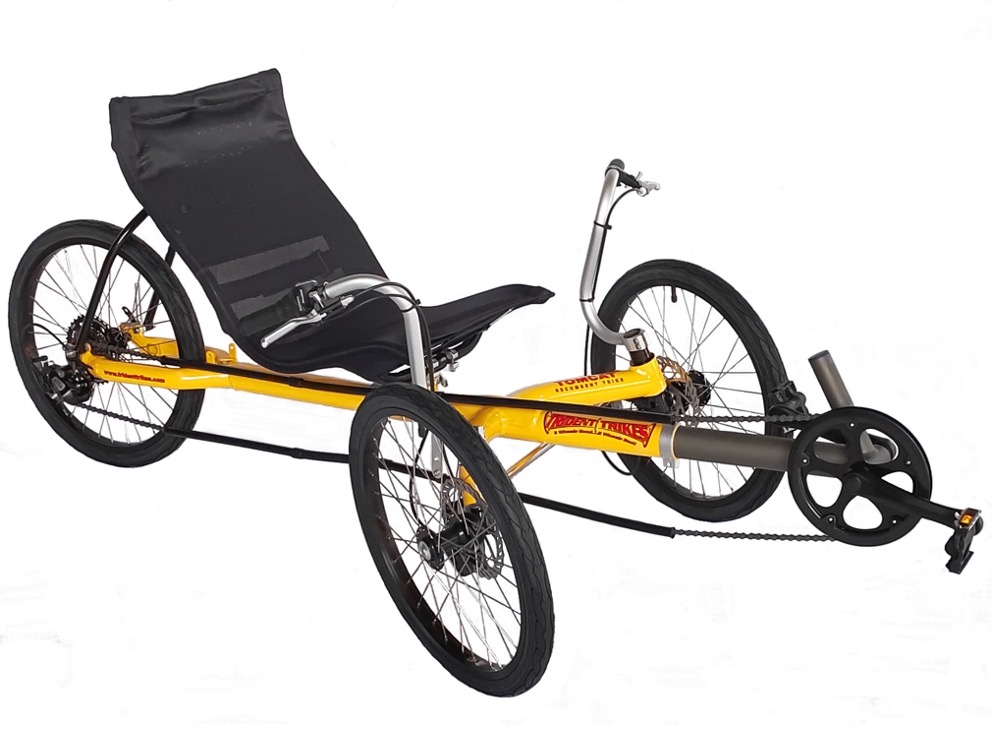 Deluxe Seat Cover
Trident is also pleased to announce, that the Deluxe Seat Cover with Removeable Side pocket is also now in stock.
The New Deluxe Seat cover is a replacement cover for existing seat frames. It is an incredibly comfortable padded seat. In addition, this cover comes with a removable zippered side bag which you can take with you to use as a fanny pack. The Deluxe Seat cover retails for $199.00.