Parts of this article are the same as for the
recent post
, but it is ment for trikes and compares disc brakes with drum brakes. The drum brakes, however, do not occur much on recumbents so here we will compare V-brakes with discs and my experience with them.
The development of recumbent bikes, as well as those for long-distance cycling, is largely determined by the development of mountain and road bikes, which are essentially the mainstream. Especially when it comes to components. Whether we want it or not, it is modern to have the lightest components possible, which can shift perfectly, brake brilliantly and exceptionally transmitting power. But what if we would rather sacrifice a tiny part of these certainly very good features and prefer easy serviceability, longer lifetime, or the minimum need to adjust the component?
Discs rule the world
And here we come across the fundamental difference between V-brakes and disc brakes. The discs are without a doubt a trend of today's cycling. Especially hydraulic ones. Excellent braking, no fading in long descents and only minimal power needed to control them. These are all qualities for which all mountain bikers and today's roadies love them. But their adjustment is often quite difficult, if not impossible, a slightly bent disc usually means a stop sign and most of their owners have experience with all sorts of clinking or other similar sounds. You also need to be prepared for the fact that there are many types of brake pads in the world, and therefore you need to have a spare set exactly for your bike in case you need to replace them. And if you are going on a long journey, then preferably two sets or even more.
Underestimated V-brakes
It should be acknowledged that V-brakes are in many cases problematic. Their efficiency is slightly lower than that of disc brakes. They gradually consume the rim material, which can then collapse when eaten too much, and they also heat the rim while braking, thus heating the inner tube, which may explode in an extreme case. This is a problem especially with 20 "wheels, which rotate faster and thus heat up faster. All about the disadvantages for now. The advantages include a very easy adjustment, a uniform globalized brake pad clamping system, so you can use virtually any that you can get, and that's basically all. Among the advantages, we could include the fact that the V-brakes are mostly quiet and you will not receive any clinking or rustling. And even with a completely misaligned wheel, you can quickly release the brake and continue with just one.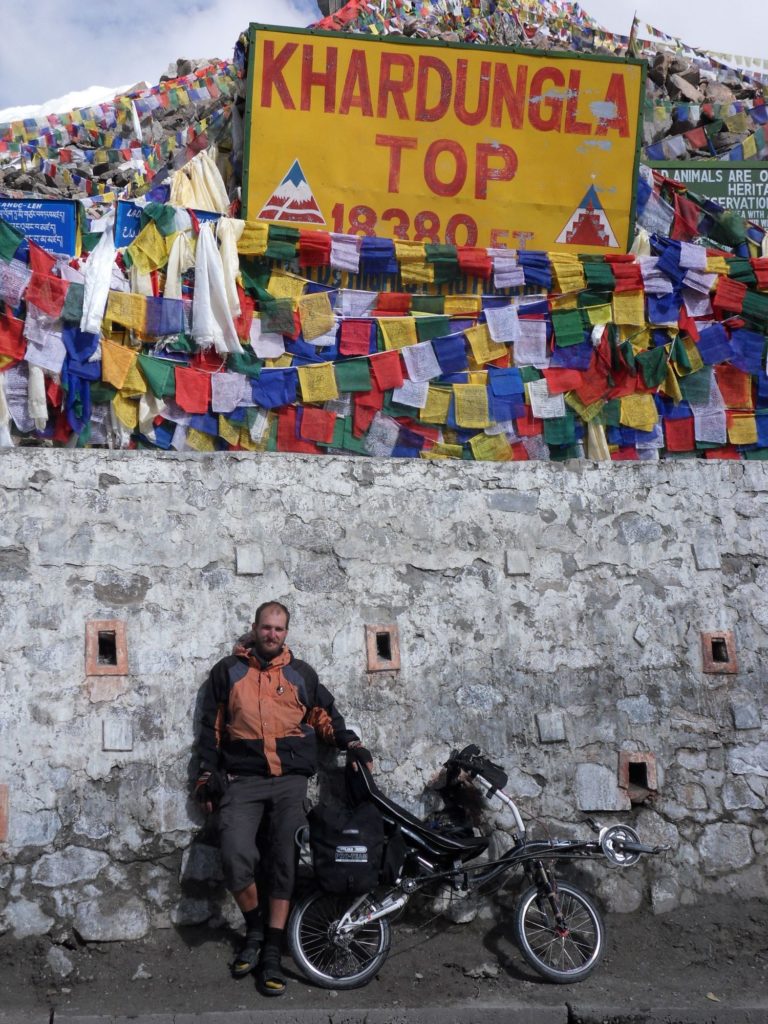 Yes, I like V-brakes!
For me, V-brakes are simply a better option, although I have to admit that in recent years I have slowly prepared my mind for the fact that I will have to switch to discs, which I do. But my experience is rather bad. After a relatively short time, there was a problem with every try. Whether clinking, braking, having air in the lines, etc. Repairs are not easy and even fellow mechanics do not want to work with some of the systems.

I also experienced some problems with V-brakes and those were mostly the one people usually mention as drawbacks like overheating the tubes. On a 20 "front wheel tandem, my inner tube exploded twice in the downhill, but we always could stop without falling. And it has always been on a very loaded bike, with extra brakes that were not even V-brakes, but Magura HS33 hydraulic rim brakes that have much more power. But that's all. Otherwise, in the Himalayas, I have crossed several passes over 4.000 meters / 13,000 feet above the sea level, and I even climbed the world's highest motorized pass. or better to say one of the highest through which regular traffic runs. This is Khardung-La at an altitude of 5.359 m / 17,582 feet. The road from Leh at 3.500 meters / 11,500 ft. is 39 km / 24 miles long and it took me 9,5 hours. Down then only one hour and twenty minutes. Awesome downhill! And the brakes? No problem. Even with 20" wheels.

And what about you? What is your experience with brakes? And what do you ride? What do you like and do not like? Let us know in the comments.