Cody is a jewelry designer, so art is his whole life. And this is also confirmed by his recumbent creation in the form of a carbon trike he calls Predator. Wondering how such a Predator arise? Just cross the aquatic monster with Widncheetah.
Project introduction: I call this the Predator trike. Mainly because it looks like some sort of predatory aquatic creature to me. This trike began life as my graduate thesis project at the University of Iowa long, long ago. One of my instructors had a Windcheetah, which is what inspired me to build a trike. I used his trike to get basic angles and dimensions. It has gone through a few different versions over the years until its current iteration. It is made from hand-laid carbon fiber, foam, aluminum, stainless steel, and plastic 3D printed parts.
Inspiration: I suppose the idea for it began with three things ( I don't recall the exact order): A summer internship where I first learned about carbon fiber layup, a 3D modeling class and the teacher's recumbent trike. That summer while at internship I learned that one could build carbon fiber objects at home (or school in my case) quite easily. When I started taking 3D modeling classes, (around the same time) I discovered recumbents in general because of the trike that my instructor had. I became obsessed with recumbents and in my research came acros the RQ Riley Groundhugger carbon fiber XR2 as well as some homebuilt carbon fiber projects. From that time on, I determined to have a recumbent. I first made a steel SWB recumbent (which I no longer have). After building that one and later trying out my instructor's Windchetah I decided to switch to trikes and specifically to do the carbon trike. Inspiration for the actual design came from looking at lots of then extant recumbent trikes and especially trikes with fairings. In my own artwork, I've always had a very sci-fi style so this naturally carried over to the trike design. Since I was working with a carbon fiber process, I could get really organic with the design aesthetic. I wanted the thing to look otherworldly and predatory but also be aerodynamic and practical. After lots of research, drawing and CAD modeling I came up with its final form.

Future of the project: I would like to build a front fairing for this trike. I've also been thinking about how I might convert it to indirect steering.
Time spent on it: It's hard to say how much time I've spent on the Predator. I started building it about 18 years ago. The initial build took about a year to get it rideable. Then I probably spent another 12 to 15 months worth of time over the succeding years with frame modifications and repairs.
Past experiences and similar projects: In my youth I worked as a bicycle mechanic and have built up several of my own bicycles. Prior to building this trike I constructed a two-wheeled SWB recumbent from scratch.
Additional questions
Is it only one unit or have you built several of them? It's only ever been one physical frame. Over the years I've changed various aspects of the build such as the wheels (started with 451's and Sturmey Archer drum brake hubs instead of 406's on disc hubs), steering (started with spherical rod-ends instead of fabricated aluminum knuckles) and the boom length (started out about 3 inches longer) as well as numerous iterations of the seat cushions.

Do you still have the SWB recumbent bike? No. It was made of a bent high tensile steel pipe welded to the rear triangle of an old bicycle I found somewhere. I fabricated a sling seat out of cheap aluminum pipe and the usual recumbent seat fabric. Taught myself how to sew with that one. I don't remember what I did with it though. I think I gave it away.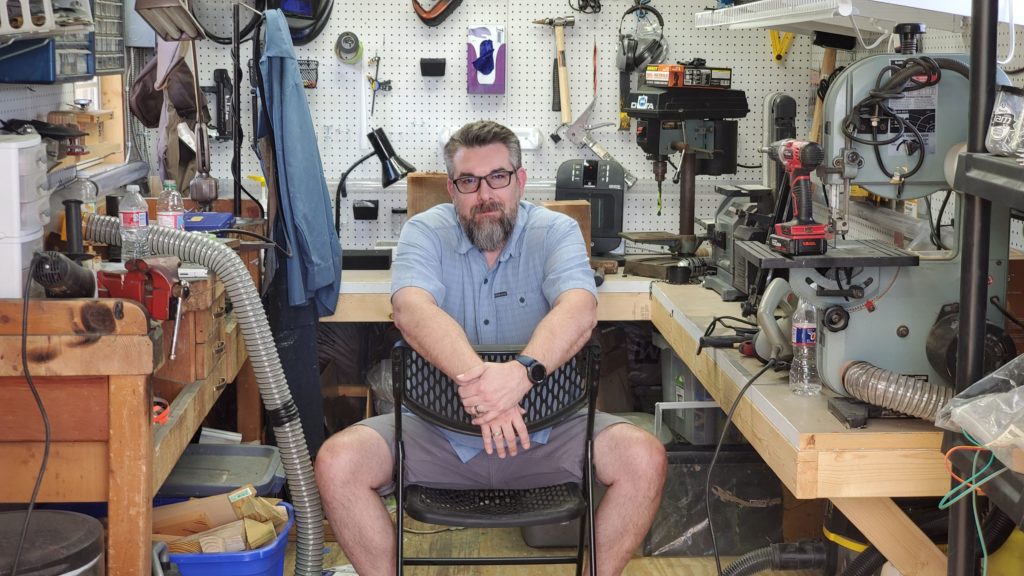 Builder's CV
Name: Cody Bush
Year of birth: 1975
Occupation: I'm a jewelry designer, CAD operator, 3D print-meister, sculptor, and a general craftsman and maker.
Education: Bachelor of Fine Arts from Texas Tech University, Master of Arts and Master of Fine Arts from University of Iowa – all in Jewelry Design and Sculpture.
Job: Technical Designer at James Avery Artisan Jewelry
Bike(s): Predator recumbent trike, 2004? Bike-E SWB recumbent, 2019 Fezzarri Cascade Peak mountain bike, 1997? Marin Bear Valley mountain bike, 2002 Trek Fuel 100 mountain bike.