Very interesting news came to me from Germany. HP Velotechnik is preparing the world premiere of its new delta trike, which will be presented live at the Eurobike fair in Frankfurt in just 14 days. It will be the first delta trike from this German manufacturer, and although it can't be described as a full recumbent trike, it is still interesting in many ways. So, to begin with, here is the press release that HP Velotechnik has so far only published in German on its website. Below you will find some of my notes and comments.


The E-Chopper for the Comfort Generation
The world premiere from HP Velotechnik at the Eurobike trade fair: The Delta tx chair bike combines e-mobility and ergonomics with high-quality design and smart technology.
With the Delta tx, HP Velotechnik presents a chair bike with a high-comfort seat and particularly easy access. The first units can be seen at the Eurobike trade fair (June 21-25, 2023) at the stand of the recumbent bike manufacturer (Hall 8, B57). Extensive test rides with the electric chopper trike will be possible on the test course of the fair (outdoor area F100 /D28).
The Delta tx was developed specifically for people who want a lot of support and comfort when cycling and therefore need a stable vehicle with a low entry height. Managing Director Paul Hollants says: "Our goal was to take the concept of a senior tricycle to the next level." But during the test rides, he says, they quickly discovered that "there's a lot more riding fun in it!" Whether cruising in the city or shopping with plenty of storage space: "The Delta tx is very well received across all generations. There's no minimum age requirement for the casual riding position on a chopper."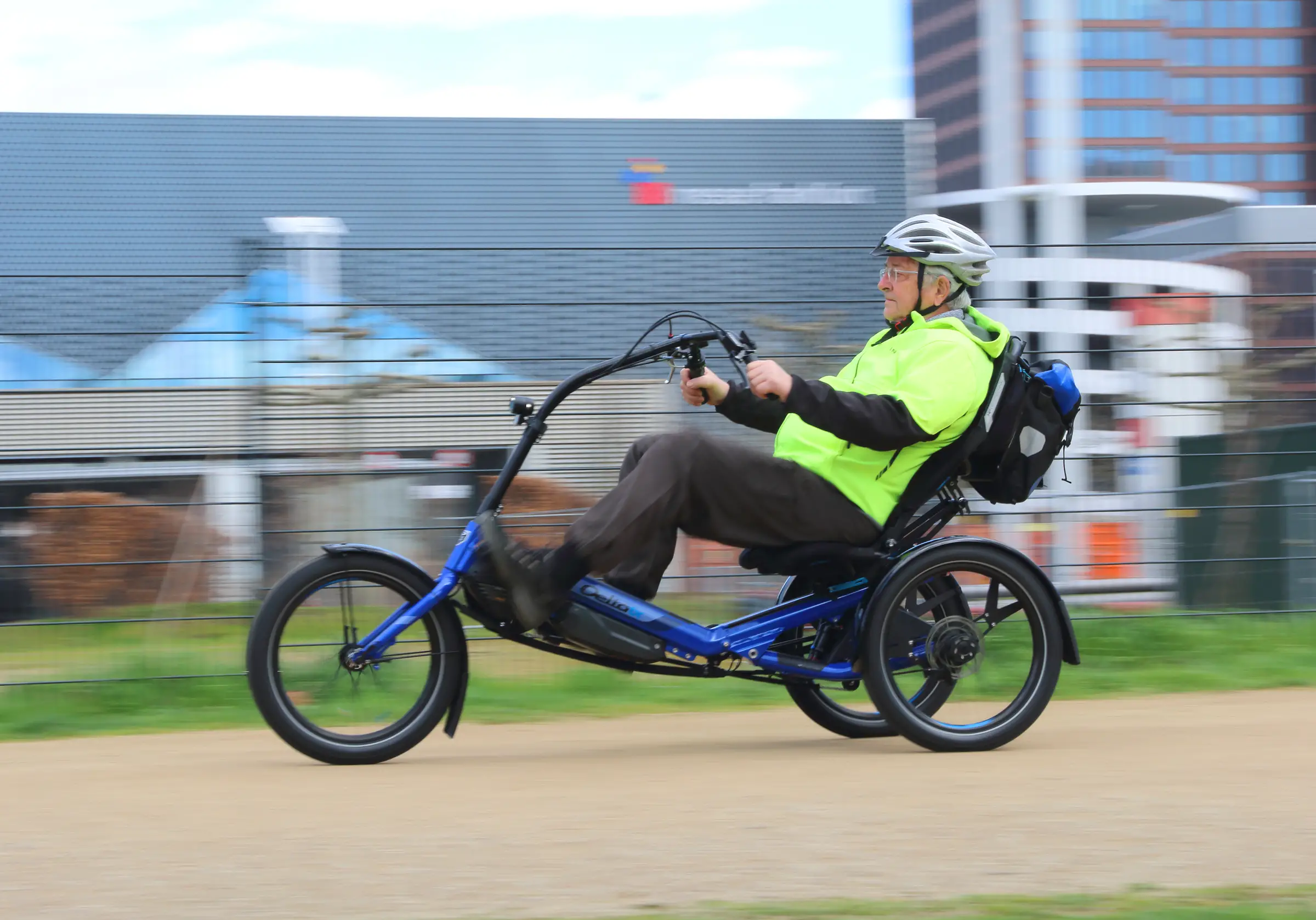 Space-saving and lightweight
The design is just as convincing as the riding characteristics: the Delta tx with its suspended rear end is an absolute lightweight (from 32 kg / 70 lbs) in the e-chair bike class. For transport, it can be disassembled into three parts in a matter of minutes to save space. The sturdy aluminum frame, together with the wide tires, makes a clear statement: This is a reliable, highly stable, and solid vehicle that can also carry plenty of luggage. The platform carrier in the rear is designed for a payload of up to 25 kilograms and transports full beverage crates, for example, with a pretty low center of gravity.
The customer has a wide choice of components. Three electric motors from Shimano and one from Bafang (the M300) are available for the Delta tx. Those who want things to be really easy can choose a fully automatic gearshift as well. With the WingBling, HP Velotechnik also offers a StVZO-compliant bicycle turn signal. The two different mesh seat types are each available in two heights and widths. The Delta tx in the colors Blue flash or Sparkling iron gray will be available from bicycle dealers starting at 5,990 euros from the beginning of 2024.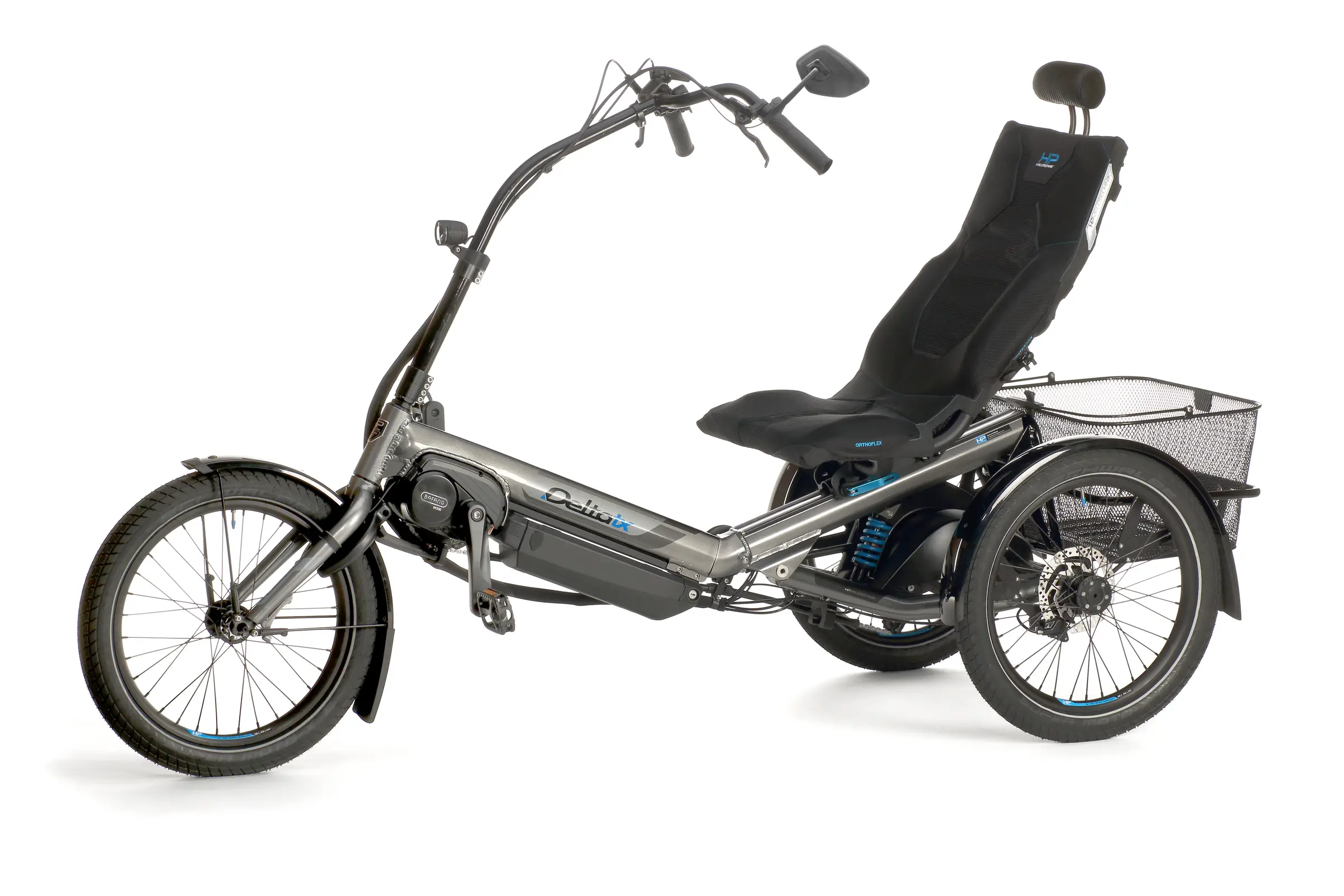 A few remarks on my part:
As I said, this trike cannot be called a fully recumbent trike. HP Velotechnik itself calls it Sesselrad in German instead of Liegerad (recumbent bike), which really corresponds to the English translation of "Chair bike". You can even find the term Sesselrad on Wikipedia, where this bike is described as just a sort of step between a recumbent bike and an upright bike, offering a more upright and higher seating position. One of the two photos on Wikipedia also shows the HP Velotechnik Spirit, which in my view, was an excellent recumbent bike for urban use whose production was discontinued by HP Velotechnik many years ago. So the Delta tx actually continues the spirit of the Spirit, but in a three-track and electric-only version.
With this trike HP Velotechnik is trying to enter the market that recumbent bike fans would describe with the Lepus model from HASE BIKES in mind, but much better known are, for example, trikes from the Dutch brand Van Raam, or the German company Pfautec. Van Raam is a much bigger company than HP Velotechnik, so there is definitely room for growth.
Even though this season is not going well for cycling manufacturers and retailers, cycling as such is forecast to grow steadily in the coming years, supported by people's interest in environmentally friendly transportation and also, at least in Europe, by the EU's support for cycling infrastructure and cycling as such. Companies that have suitable products on offer, i.e. bikes that are designed for everyday practical cycling and commuting, will have a much easier life. Add to this the aging European and American populations, who need the stability of three or four wheels, and suddenly there is a clear explanation as to why HP Velotechnik has gone down this particular route. The Delta tx is very precisely targeted product. Good job, guys!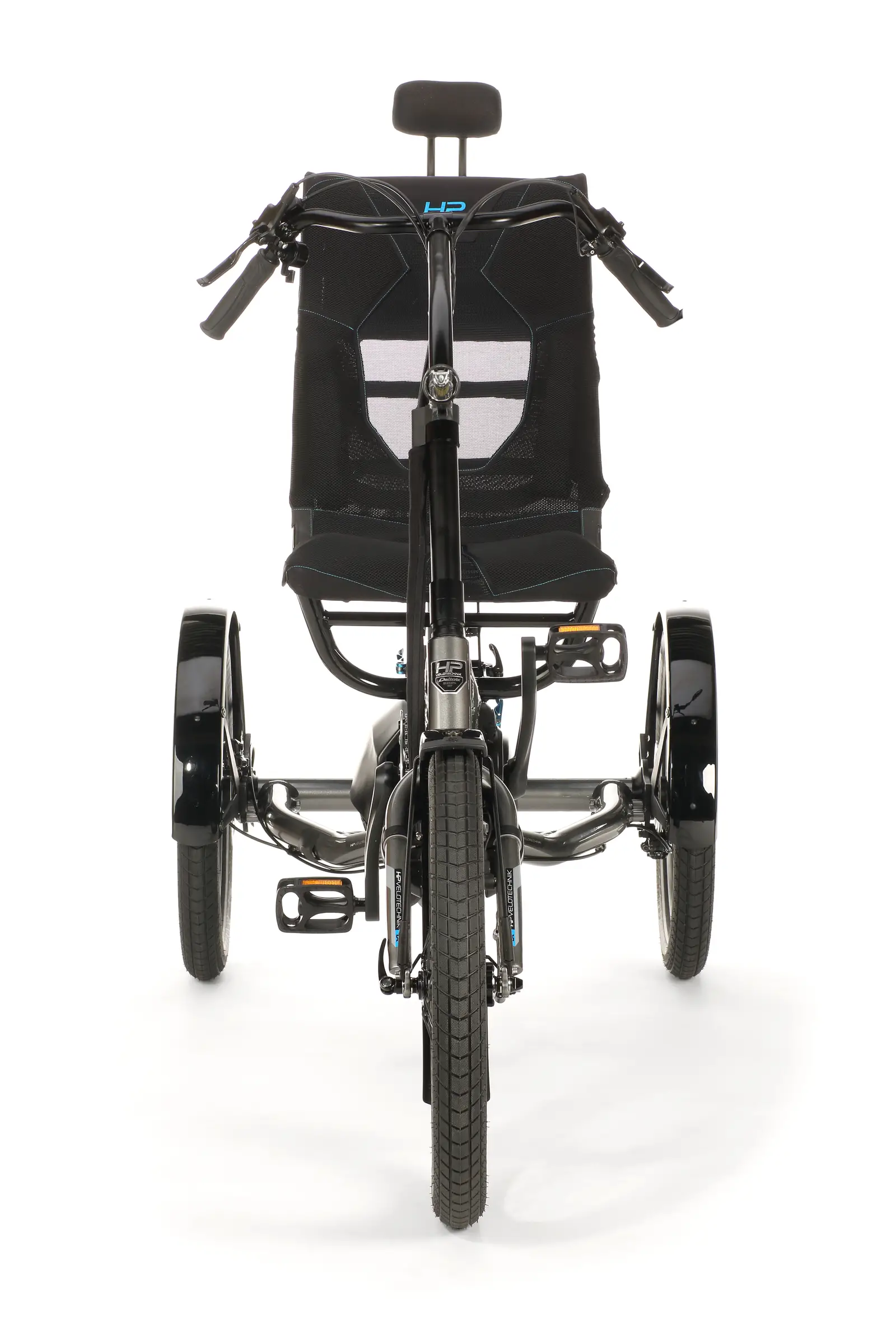 Here is the photo of the CLWB (Compact Long Wheel Base) HP Velotechnik Spirit that had both 20″ wheels at the end. The previous versions had the front wheel 16″ only. It is kind of a long-forgotten predecessor of the Delta tx. And I have to say I am glad to see the Delta tx coming.