Alve Henricson has been slowly becoming a recumbent and mainly velomobile celebrity. And he is also a kind of hero for me. His winter velomobile expedition to the very north of Europe to Nordkapp in late 2019 immediately caught my attention for two simple reasons. I know the story of Françoise and Bernard-Régis who cycled there from Paris, France in winter 1990, but I have also tried to cycle to Nordkapp in winter 2006 (and sadly failed due to too warm weather and also because I was not mentally prepared for this task).

There is no surprise I was amazed by the chance to meet Alve while he went through Czechia about a month ago during his 202020 Velomobile Challenge. He tries to visit as many European countries as possible in 2020. This expedition started in February 2020 but was soon interrupted by the Covid-19 crisis. Although he had to stop the journey he started it again and is in Greece now. You can follow him on his Facebook page here.
Alve's velomobile is the Quattrovelo from Velomobiel.nl and has many interesting details. Not only that it is equipped with Bafang mid-drive motor with 250 W, but it has also a connection to solar panel on a trailer which charges the battery. Since the moment Alve has started to use the solar panel he didn't need to charge the battery from the wall. It is needed to say he uses the motor only for speeds till 25 km/h (16 mph) as where the european regulation restricts the speed and is mostly riding above that speed. He actualy push himself hard to stay above that speed and to save his battery. The solar panel is the best one you can get now, comes from SUNBEAM system, measures 106 x 54 cm / 42 x 21″ and gives 125 Wp. You can see that the all vehicle is very efficient if Alve can ride it without a need to charge it from a plug. And you may rise your eyebrows

When he appeared right in front of AZUB I was surprised and I was honored he was looking for help here trusting our skills. His trailer attachment was slowly bending and we have managed to repair it within less than one day. I had a chance to examine his bike in detail during that time. So here is a photo gallery and some of my notes related to his solar velomobile. Many of the details might be very interesting for future Sun Trip participants.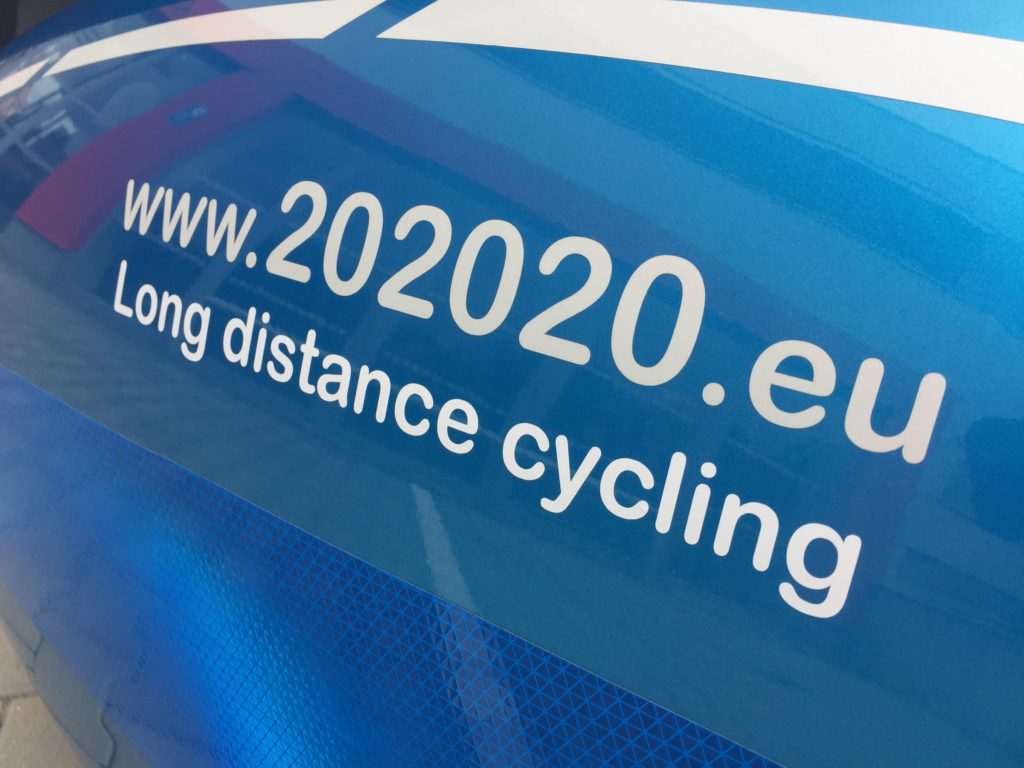 Besides the web page and official FB page, you can follow him at Alve's blog as well. It is probably the best place to do so as his photos there are just stunning!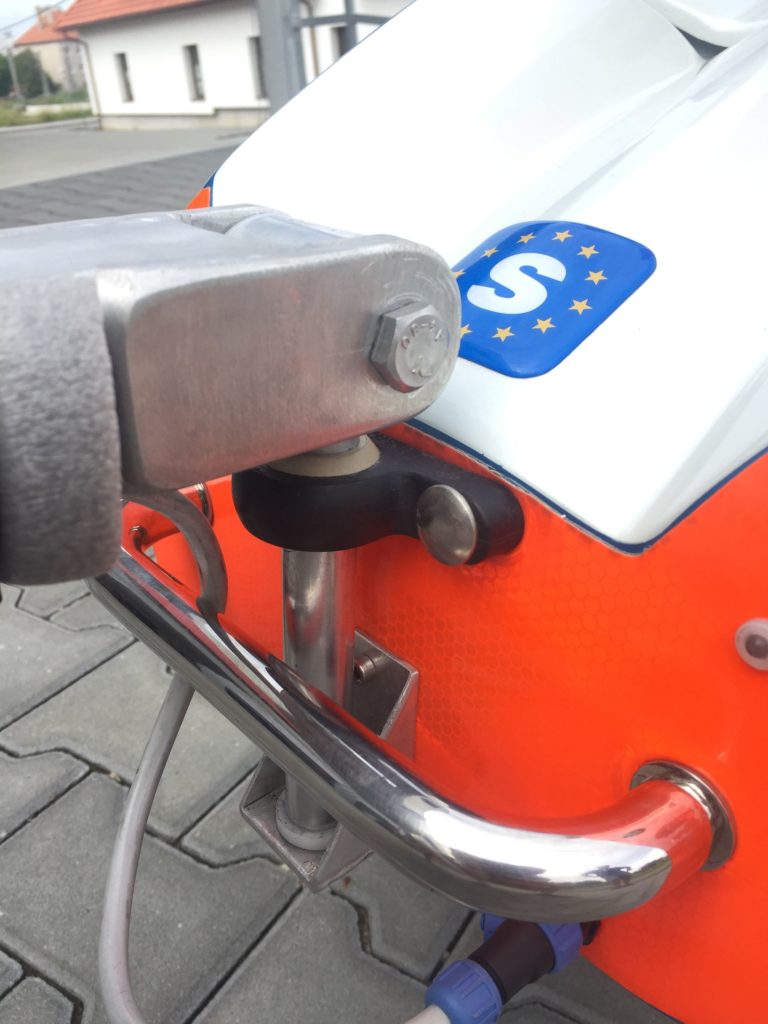 Very well thought out trailer attachment which caused Alve's visit to AZUB at the end. Well, all parts need some testing and some of them fail sooner or later. This one did so later, but after some little improvement, we believe will work safely till the end of the journey.
There are many custom-built details, like this entrance into the nose. It allows the rider to use some cargo space in the front as well as easily do some maintenance if needed. Built by Denis Bodennec from France.
Or the specially reinforced Quattrovelo rear axle with two disc brakes and an air suspension. The Rohloff hub is used as a mid-drive here.
The cockpit speaks for itself. Thermometer, speedometer, Bafang display, but also velomobile brake levers for front and rear brakes.

Alve knows that visibility is a key factor of his safety so he has far more lights and reflective stickers on the Quattrovelo than is common. The large-size highly reflective stickers are positioned so that they prevent the velomobile from scratches. Very clever!
The single-wheel trailer is very simple but very clever as well. The main tube is 4×4 cm so Alve could use standard brackets used in velomobiles to attach the bottom brackets, but he uses them to attach the rear wheel. So the 16″ rear wheel can be adjusted if needed. Also, the tilting of the panels is super simple. There are two nuts to which Alve welded screws so they could be attached to the mainframe. No, those are not rod ends as I thought at the beginning, those are custom produced nuts. Through the nut goes a 5mm screw with and on the screw there is a heat shrink sleeve if I remember well. On the sleeve is a piece of hose and over the hose a clamp attached to the solar panel construction. All the tightened so that it holds the panel firmly in place tilted or not. I have found this detail the most interesting for me.
The solar panel is connected to the well known Genasun covertor and the power is run through a cable and very nice connector to two batteries inside the velomobile. As mentioned there is a Bafang motor in the front with 250 W, custom chainwheel and even custom cranks. Alve says there is no friction coming from the motor when he pedals over 25 km/h (16mph).
The bike is full of little details here and there. Inside and outside. You can spend long time watching it and admiring them.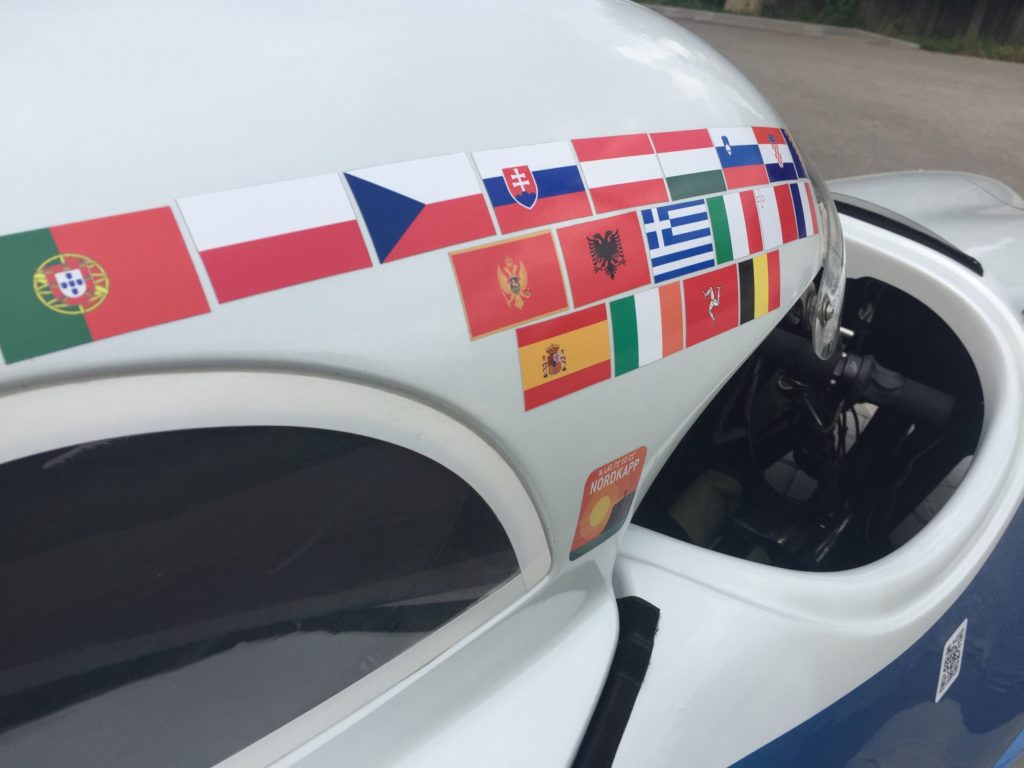 Safe travels, Alve!