Swiss David Brandenberger had to stop his amazing journey which could be considered as one of the longest expeditions on an electric bike and maybe the longest ever on a solar-powered bike. The reason is simple. COVID. This tiny little nothing has stopped David and his huuuge vehicle to continue the epic travel which was already 40.000 km / 25,000 miles long. Read his answers in my new series of interviews called 10 to 1.

What recumbents mean for you?
Recumbents mean for me more comfort and the ability to enjoy the landscape I drive through. 

Can you remember when did you see a recumbent for the first time?
Maybe I saw one before I was searching for a good machine for my project, but I can't remember. For sure as I sat on my first test drive it was love at first sight – or ride.

What was your first recumbent?
My first one was and still is, the AZUB T-Tris 20″.

Do you prefer trikes or two-wheelers and why?
I prefer trikes, as I only have a trike. But I like the stability and that it's nearly impossible to tip over – nearly.
Which bike do you ride now?
Still ride the AZUB T-Tris 20″

What do you think about all the e-assist boom we have around us now?
If you like it – why not? I like to have it, as I carry heaps of luggage and without e-assist, my project wouldn't be possible. E-assist also enables people to get on the bike again, especially if they have disabilities or other health problems. I see an e-assist as a car-less and not as a competition to a bike without an e-assist.

Where is your favorite place to ride?
On well-paved roads through interesting landscapes.

And the most unforgettable ride?
The whole ride of my 40'000 km from Europe through Central Asia, China, South Korea, around Australia, and through New Zealand.

How do you think recumbents will evolve in the next 5 or 10 years?
I think they will get better and better, even if they're already at a high level. More specialized as well and also more sold.

What is your other hobby besides recumbents? Do you even consider recumbents as a hobby?
My biggest hobby besides is photography and telling stories through them. I can't say if I consider recumbents as a hobby, it's my main source of transport to get to the stories at the moment.

AND ONE MORE: Anything else you would like to tell our readers?
When I started my project five years ago (2015), with the aim of cycling as far and as long as possible, I never thought about coming all the way to New Zealand – even when I dreamed of it. It started with the first kilometer and unfortunately ended at 40'000km at the moment due to the COVID-19 pandemic. For my project, I was looking for an environmentally friendly means of transport, preferably a bicycle, and found the right solution with a recumbent trike. My E-Assist is charged by solar panels, which I carry on a big trailer. This way I can transport heaps of luggage and at the same time attract attention to alternative energies. The other message I want to carry around the world is to protect our environment, to preserve the beautiful world created by God, and to inspire people to think outside the box… and how else can I do that other than with an unusual solar-powered e-assisted recumbent trike? I hope that one day I can continue my journey to the next continents.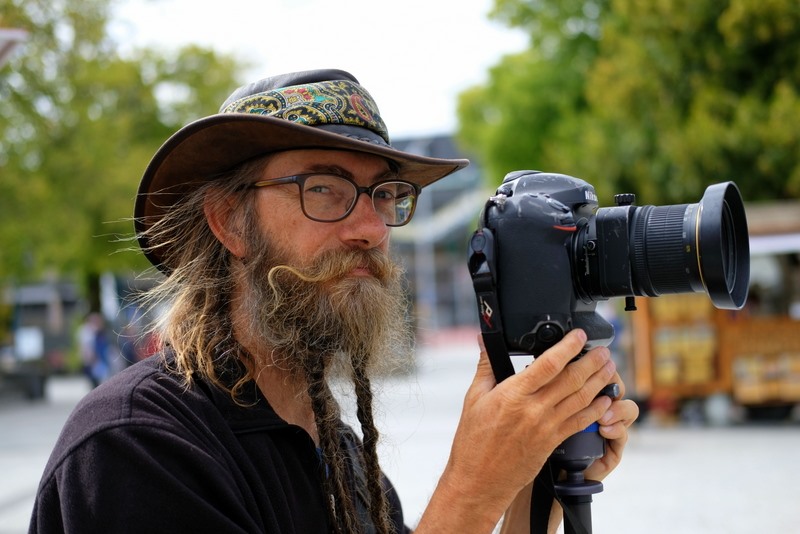 Name: David Brandenberger
Year of birth: 1970
Residence: Switzerland
Education: Optician
Job: Optician, Photographer, Dogsled-guide, Traveller
Bike(s): AZUB T-Tris 20″
Motto: If you want to make God laugh, tell him your plans.
Web: https://www.d-t-b.ch