Jim is known thanks to his Youtube Channel called The Flaming Eyeball. His now red velomobile corresponds to this name. He captures almost anything recumbent related in his life and even some non-recumbent topics. His videos together have tens of thousands of views.

Jim also prints T-shirts with recumbent graphics and can make you some great custom vinyl stickers as well. So his work and link to his website should be included in the article I have published on Monday. The one about Christmas presents for recumbent enthusiasts. This time, please, look at Jim's site.
What do recumbents mean for you?
I've been cycling since I was 3 years old. The picture has been lost over time, but I had my first 2-wheeled bike at 3 after my mother saw me riding her adult bike! I never used training wheels, just got on it and rode it. I've had numerous bikes through the years. As a kid, I was Evel Knievel, and have many scars to prove it. As I grew through BMX, then on to Mountain Bikes as an adult, I was always in search of the most comfortable seat. I loved to ride, but hated the riding. I just could not go much more than about 30 miles until I just had to get off the bike. I tried ALL of the seats I could find. NONE of them worked; and nothing helped my back or wrists.
At one point we had 5 trikes in the family and all but one of my children rode trikes with me. For Father's Day they bought me my first GoPro, but more on that in a minute.

Can you remember when did you see a recumbent for the first time?
I don't remember the first time I saw one, it may have been in a movie or TV show, but I remember the time I saw one and said: "That is what I need to find!" It was on a trail in Rockton, Illinois, in March or April, 2005. I had my first one a month or so later.
What was your first recumbent?
I spent $280 to buy a used Infinity LWB, USS, for my first 'bent. I loved that bike, and rode it for a long time. It was very upright, but was so much more comfortable than a traditional bike. I was able to visit The Hostel Shoppe in Stevens Point, Wisconsin during that time and tested out a SWB, USS, and a couple of trikes, but I don't remember the makes or models. I only remember thinking they were so expensive! I tried to build some bikes and trikes from Atomic Zombie plans, but alas I'm not a very good welder, and I enjoyed riding much more than building. I did make a few models that the kids enjoyed for a short time, but eventually I discovered I liked to ride more than build. I saved up and bought a used Rans Status XP XL. Now I was really riding in comfort. It was also at this time that I started riding with other recumbent riders and was really submersed in the recumbent scene, and I was well into the internet years now, and had discovered 'bents were as varied as people.

I asked if my wife wanted to ride with me, and we bought a used 2004 Catrike Speed. It was not set up for her to test it out and it almost fit me perfectly, so I got to test ride it. It was that test ride that I figured out trikes were for me. I liked my 2 wheeled 'bents, but this thing felt like a go cart. It reminded me of when I was a kid living in Germany, where some of my friends had Kett Kars. Those looked really fun, but my family could not afford such a vehicle. But that memory never left me. It came back when I rode that Speed. Next thing I knew I had a Catrike Road, and then moved to a Catrike 700. At one point we had 5 trikes in the family and all but one of my children rode trikes with me. For Father's Day they bought me my first GoPro, but more on that in a minute.

Do you prefer trikes or two-wheelers and why?
I'm not sure I have a preference really, but I don't currently own a 2-wheeled 'bent. A couple years ago I took a vacation to Texas, and rode with some friends from when I lived there. I borrowed a Performer low racer, and it was very nice, and a lot of fun. I'd been riding trikes or several years by now, and getting on that 2-wheeler, I was shaky for the first few yards, but it smoothed out rather quickly. I had almost forgotten what it was like to have to lean to turn or balance. But it was fun, and we rode about 60+ miles that day. I made a video for my YouTube channel of that ride.
Which bike do you ride now?
As of this article in 2021, I ride an ICE Sprint X 26 and a carbon Quest velomobile.
What do you think about all the e-assist boom we have around us now?
Well, it is getting people out riding more, but I fear it may just be a fad. People who didn't really ride a lot before batteries were so readily available, might find they spend a lot of money to buy a new e-bike or e-trike, and then it sits unridden, because that is not what they really want to do. I can see evidence of this in the used market already. It amazes me how many almost new e-assist vehicles come up for sale when the owner discovered they don't really want to get out and ride. There is also the political football of all the batteries, how they get recharged, how they are stored, and how they are disposed of. On a regular bike, trike, or recumbent under your own power, none of these are concerns.

I do however, think it is a great option for those that do want to get out and ride, but have a little trouble or need just a little help sometimes. It seems to have brought awareness to cycling more, at least in the US. Maybe that will be a good thing, as I see more and more trails opening and expanding, keeping many cyclists off the roads when possible. In the US we don't have the cycle friendly infrastructure that is available in places like Holland.
Where is your favorite place to ride?
I live close to the Virginia Capital Trail, and away from the city. I enjoy the Cap Trail as much as the country roads around Virginia. I ride them because it is where I live. My favorite ride was when I purchased my first velomobile. I was living in the UK and flew to Germany to buy it. I then took the next week to ride the Rhine river trails and through Holland to catch the ferry at Hoek van Holland. I also made a video of that, but was not filming the entire ride. I really hadn't tried YouTube yet for publishing. But that was to come.
And the most unforgettable ride?
Definitely the first long ride in my first velomobile, and that trip through Germany and Holland. But I also remember the first time I cycled almost 100 miles in one ride. The route was actually shortened a few miles due to flooding, but I rode 98 miles that day and it felt like a real accomplishment.

I also had a great time when I rode with 3 other velos in London. That was a lot of fun.
How do you think recumbents will evolve in the next 5 or 10 years?
Things seem to be moving so fast. There are many new ways to use old material, and velomobiles are also gaining in popularity. I'm just not sure where it will all go, but for me, I hope to be riding a lot more when I retire in about 5 years!
What is your other hobby besides recumbents? Do you even consider recumbents as a hobby?
I have so many things I like to do. Probably too many hobbies. For me, cycling is a hobby. I say that because for me, cycling is not a lifestyle. I still enjoy my car and air conditioning or heat! But I do like to ride and am becoming a better filmmaker in the process. Filming most all of my rides for my YouTube channel has become a hobby in itself. But sometimes it takes away from the ride. Some days I go out to film, while riding a trike or velo. Other days I go out to ride, and happen to take the cameras along.
AND ONE MORE:
Anything else you would like to tell our readers?
I will share something that has helped me when it comes to cycling. My first attempt at riding an Imperial Century (100 miles) was the 2012 Hotter-N-Hell Hundred in Wichita, Texas. This ride is held in August, so it really can be quite a hot day on most occasions. I had been training for the metric century (about 62 miles) and was still riding my Stratus. This particular year the temperature was only expected to get to about 92° F, so I was encouraged by some fellow riders in my Texas group (Recumbent Bike Enthusiasts of North Texas – RBENT) to go for it. I had previously done 70 – 80 mile rides. I could do it. I made 90 miles that day. I felt I failed, but I still had fun. Talking it over with my friend Dave on the way home that evening, he told me something that stuck. He said it didn't matter if I was slow or fast, if I finished or not. "Just ride your ride" he said. And that has made all the difference.
I ride with many different people, who ride many different bikes or trikes, both recumbent or uprights. Some are fast, much faster than me. Some are slow, much slower than me. Some can ride much further than I can. Some don't ride nearly as far as I can. But they are out riding.
2020 and the world-wide crisis that has left many riding trainers indoors by themselves, has actually kept me off the bike a lot. It was a particularly cold winter in Virginia this year, I have a lot of maintenance on my property, including raising chickens and quail, and cleaning up debris from all the trees. I like to ride with others. Not against them or against the clock or map. I do enjoy the occasional ride by myself, but for the most part cycling for me is a social event, and I pray that we will all be able to get back to that part of cycling soon: riding together.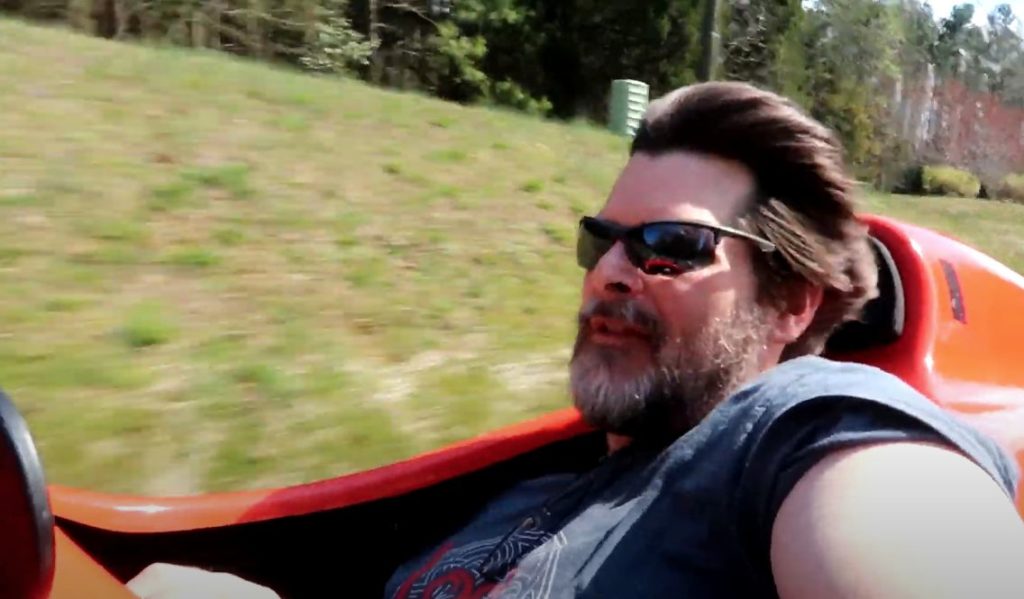 Jim Nielson
Year of birth: 1968
Residence: Virginia, USA
Education: lots, kind of like hobbies
Job: Can't tell you 😉
Bike(s): ICE Sprint X 26, carbon Quest
Motto: It's for fun.
Web: https://www.youtube.com/c/CatrikeTheFlamingEyeball