Seeing recumbents racing and being in front of the pack is always great. Also seeing them improving the records. Cliff Federspiel recently managed to improve the 12h recumbent record during the 6-12-24 World Time Trial Championship so I have asked him several questions. Here are his answers.

When and how did you get to recumbent cycling?
We bought a Cruzbike Sofrider for my wife Elisa in January 2015 because carpal tunnel syndrome was preventing her from riding her diamond-frame bike. After riding with her for about six months, I decided to try a recumbent myself, and bought a Cruzbike S30.
Which type of bike do you ride and why?
A couple years later, we both upgraded. Elisa bought a S40, and I bought a V20 frameset. I bought the V20 because I wanted to try competitive cycling. The S30 is fast, but the V20 is faster. My S30 now is permanently on my Tacx Neo trainer.
At the beginning of this year I bought a Specialized Epic XC MTB. I like getting out on trails, away from cars, and seeing some nature.
Have you made any special modifications to the V20?
Here are some modifications I've made to it, mostly to make it more aero:
1. Wheel covers: can use one on the front when wind is less than 12 mph
2. 650B rear wheel: lowers my head and improves comfort because it takes a wider tire
3. Short cranks (145mm): legs and feet sweep through a smaller area
4. Mid-foot cleats: raises feet
5. No seat pad above the waist: lowers head
6. TT brake levers: eliminates brifters that stick up (also improves visibility)
7. Curved slider: lowers bars and hands (also improves visibility)

How does your racing history look like?
After purchasing my V20 I did some local, short TT events (e.g., 10 miles). I also entered the HPV Fun Day at the Hellyer Velodrome. My first serious competitive race was the 6-hour race at the 2019 6-12-24 World Time Trial Championship. I rode 145 miles / 233 km, placed 2nd overall, and broke Jim Parker's recumbent category record.

This summer I did two XC MTB races, Mother Lode Epic and Tahoe Trail 100 MTB. I placed in the middle of the pack in both races. My climbing ability is pretty good, but my descending skills need a lot of work.
I feel pretty good about my performance, especially considering it was my first 12-hour time trial and just my second ultra.
Explain the discipline in which you have broken the record.
The race is a non-drafting, 12-hour race. The first 10 hours are on an 18-mile loop. The last two hours are on a 4.75 mile / 7,6 km finish loop. Both loops are on open roads with vehicle traffic. The objective is to accumulate the most distance in 12 hours. Only complete laps count, which is why the finish lap is shorter.

I think the 12-hour race is more than twice as difficult as the 6-hour race. Success in a long-distance time trial takes a lot of training and planning. It also requires a crew to provide support and encouragement.
How did you prepare for the race?
I hired a coach, Nathaniel English of English Endurance. Nate put together an excellent training program for me. Here are some stats on training, comparing 2019 with 2021.
fitness score (CTL) 57% higher in 2021
TSS/month 55% higher in 2021kJ/month 32% higher in 2021
training time per week 15% higher in 2021
serious training duration 50% longer in 2021
races prior to Borrego Springs: 0 in 2019, 2 (MTB) in 2021
double centuries during serious training: 1 in 2019, 2 in 2021

I did all of my indoor training on Zwift. I also have a Pilates reformer (an Allegro) and a TRX that I use for core exercises.

Have you experienced any issues during the ride, or was it a smooth event?
Yes, there were issues. I felt great until after my first pit stop at 5 hours 15 minutes into the race. I made a tactical error and gulped down too much food at that pit stop. It made me a bit nauseous, reducing my power and making me not want to drink. Also, the wind was gusty, which limited the places where it was safe to take a hand off the bars to reach for my hydration tube. So I ended up very dehydrated by the end of the race, and needed medical assistance at the end. I received an IV with saline solution, which brought my blood pressure back up and allowed me to head back to my hotel to recover without further problems.
What was your final result?
My official distance was 272.4 miles / 438,4 km: See the results here. I broke the recumbent category record. The previous record was 248.4 miles / 399,8 km, set by Kevin Gambill in 2016.
What does that mean for you?
I feel pretty good about my performance, especially considering it was my first 12-hour time trial and just my second ultra. I have some room for improvement with respect to hydration and fueling. I want to do another 12-hour time trial where I finish strong and without incident.

One, especially an avid recumbent rider, would expect a recumbent to win such a race due to more comfort and better aerodynamics. Would you comment it anyhow?
Lower CdA and improved comfort will undoubtedly help a racer go farther. And so does more power. Just imagine how far Christoph Strasser could go on a recumbent.
How do you feel about the mid-foot cleats and their efficiency and protection against numb feet? Also, do you use them only to improve your aerodynamics or also due to the above-mentioned reasons?
In 2019 purchased Lintaman Minimal shoes because I was getting hot foot during long training sessions. The Lintaman Minimals provide a mid-foot cleat position that I figured would help, and they did. Later I bought adapters for my road shoes so that I could move the cleats toward my heel. Those adapters also helped with hot foot. But given enough time and enough heat, I find that I still get hot foot with either pair of shoes. It just takes longer for it to develop with mid-foot cleats.

Thank you for the interview!

If you want to read an even closer report from the race, read it here on a Cruzbike blog.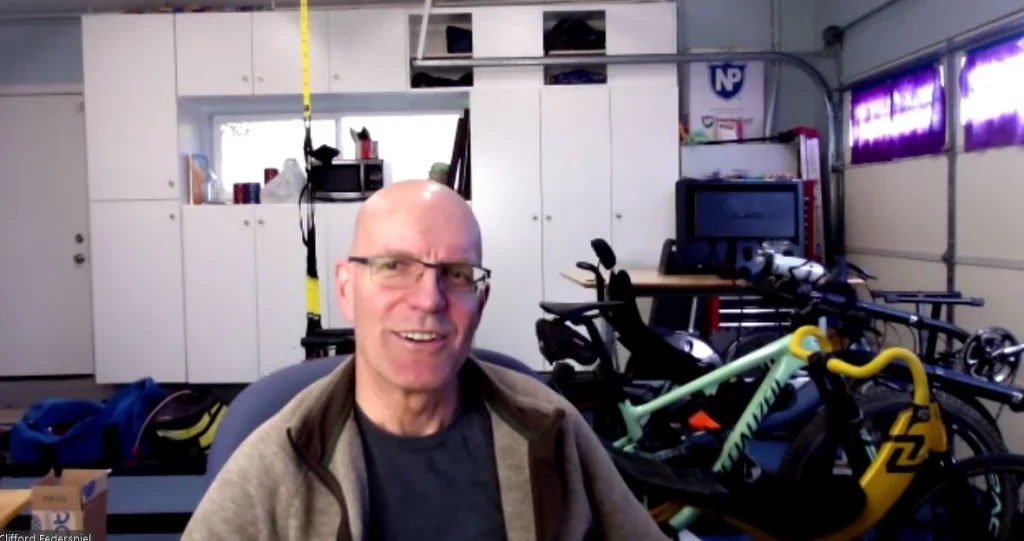 Cliff Federspiel
Year of birth: 1963
Residence: El Cerrito, CA, USA
Education: BSME, Cal Poly San Luis Obispo; SMME and PhD, Massachusetts Institute of Technology
Job: President and CTO, Vigilent Corporation.
Bike(s): Cruzbike V20, Cruzbike S30, Specialized Epic, Cannondale Quick
Motto:
Web: https://www.strava.com/athletes/8524529