After the long break due to the Coronavirus, the SPEZI 2023 – international special bikes show will finally celebrate its 25th anniversary. At least, we hope so. Let's have a look at what we can expect from the 2023 event that will take place in April 29th and 30th in Lauchringen, Germany.
Lauchringen
What we know for sure is that SPEZI will no longer be held in Germersheim in western Germany. That lovely little city between Karlsruhe and Mannheim in the Rhein valley was where all the hard-core European recumbent enthusiasts met each other for 24 years. First organized by the team around Haasies Radschglag recumbent shop, later by Hardy Siebecke and his crew. A great location, a fantastic team, and an amazing, although crowded, atmosphere. However, corona hit SPEZI and Hardy hard, and the show could not be organized for three straight years. Hardy was tired of that and, at one moment, decided to hand the fair over to new organizers. He finally chose guys from Wolf und Wolf, a small german manufacturer of recumbent two-wheelers. They are located in Switzerland but have a workshop in Germany as well. The place is called Lauchringen. Yes, for those who don't speak German very well, it is a little tricky to remember and pronounce it correctly, but I strongly recommend you save it in your memory. We all should hope that SPEZI will continue its history, and Lauchringen seems to be the place!
So where is it? Like Germersheim, it is located in the Rhein valley, but you must go 300 km / 185 miles upstream to Baden-Württemberg. At the border with Switzerland, just about 50 km / 30 miles from Zürich, an old abandoned industrial area, "Lauffenmühle," is located, and Wolf und Wolf has its own workshop there. They even organized a little recumbent show in that venue this year in Spring. Lauffenmühle is a historical area with solid, inspiring potential, and it has a size of 7,5 hectares / 18,5 acres. The good thing is that the new organizers have immense support from the local municipality of Lauchringen, enabling them to realize this special event.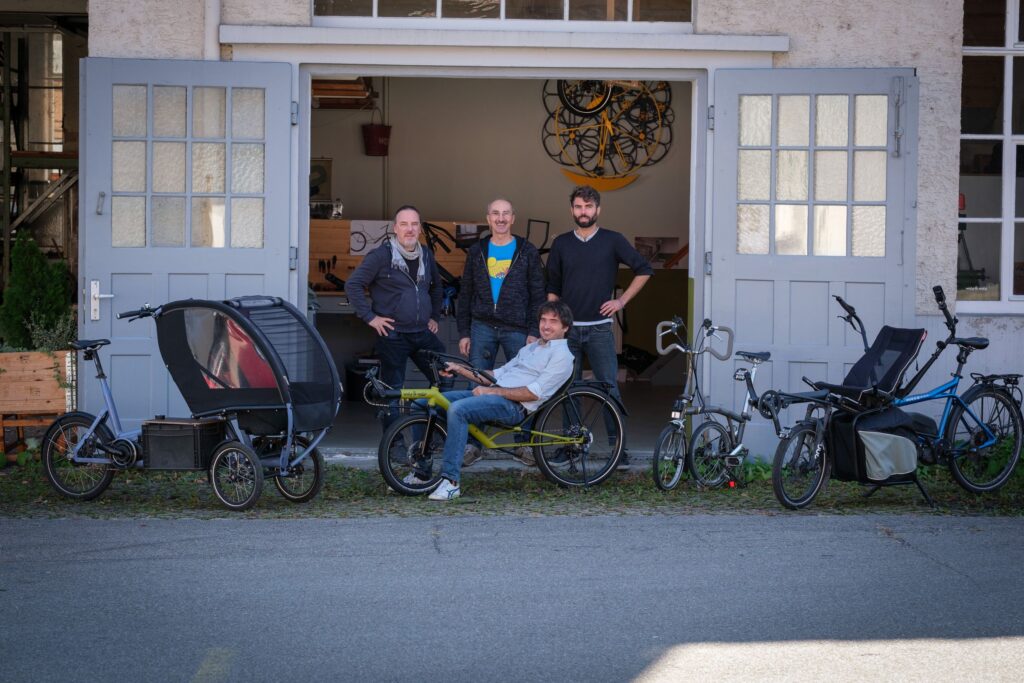 Wolf und Wolf
OK, but who are the Wolf und Wolf guys, you may ask? They are three: Gabriel, Florian, and Franz, and they have been exhibiting their recumbent bikes at SPEZI since 2016. They produce sporty touring recumbent bikes in their two workshops in Muttenz, Switzerland, and Lauchringen, Germany. Every year, in cooperation with a local school, they instruct, supervise and accompany the production of recumbent bikes with a group of teenagers to ride with them across the Alps to the Mediterranean.
As well as in the previous 24 years, SPEZI will be designed to show the variety and diversity of cycling vehicles built for specific and individual preferences. The fair will present recumbents, trikes, quads, velomobiles, cargo bikes, tandems, folding bikes, and many more on an international level. There will be exciting presentations and many possibilities for start-ups to present their innovative ideas in the inventor lab. However, SPEZI is not only a fair but also a festival and a meeting point that was able to attract around 10 000 visitors and more than 100 exhibitors. And it seems that exhibitors are interested in coming and showing their products again.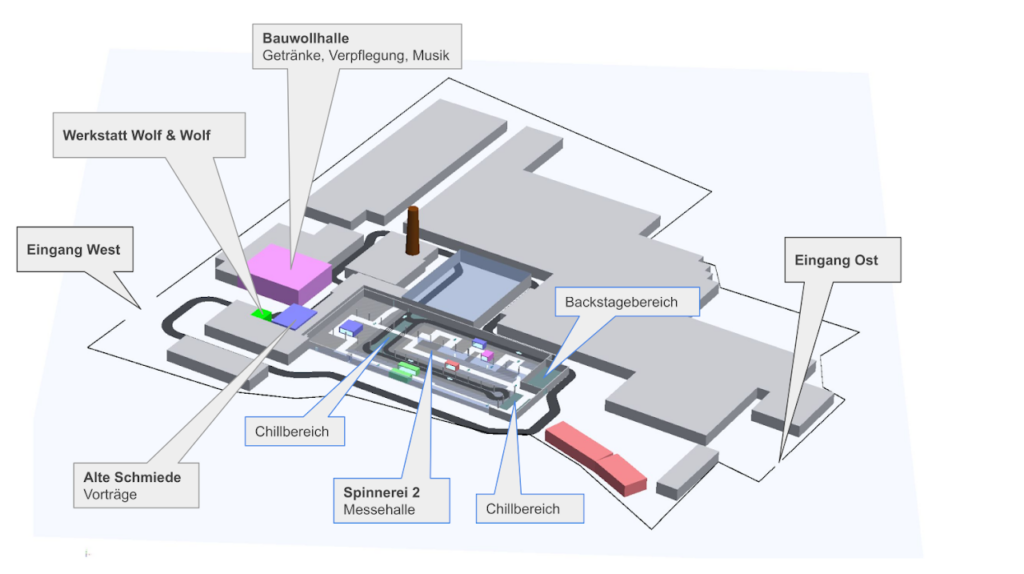 Long in and out-door test track
The "Spinnerei 2" (Spinning Mill 2) hall with 5 500 square meters / 60 000 sqft offers enough space for all exhibitors. Compared to the Germersheim location, where there were three halls and an open-air exhibiting area, it is a significant improvement. The "Baumwollhalle" (Cotton Hall) is a building where all the visitors will eat and drink, and also a Saturday party will be held there. Yes, a party for everybody! There will also be lectures that will take place at the "alte Schlosserei" (old locksmith's workshop). And now, the icing on the cake! A 700 m / half-mile long test track running not only around the hall but also through it so that visitors will be picking up and returning the test vehicles right at the main booth of the exhibitor. That means just one track for both non-electric and electric bikes but also a fun and interactive way of test-riding all the possible bikes, trikes, quads, and velomobiles. The organizers are even working on permission for an extended test track of four kilometers / two and half miles and 120 meters / 400 ft difference in height.
Official program of the SPEZI 2023
Saturday, 29 April 2023
10 a.m. SPEZI Opening
The opening ceremony will take place at the east entrance with our special guest Hardy Siebecke, the founder and previous trade fair manager.
10 a.m – 6 p.m SPEZI
The exhibition hall (Spinnerei 2) will be closed at 6 p.m.
'6 – 11 p.m Fair Party with Music, Food and Drinks
We welcome visitors and exhibitors to the party on the fairground.
Sunday, 30 April 2023
Getting there will be easy for many
Lauchringen is a small family-friendly village with around 8 000 inhabitants located near the Swiss border and at the foot of the Southern Black Forest, one of Germany's most beautiful holiday areas. There is a railway stop (Lauchringen West) and a railway station in neighboring Tiengen. The village can be reached by car via the A8 Stuttgart/Singen, exit Donaueschingen, or via the A5 to Freiburg, crossing the Black Forest. The closest airports are Zürich and Basel in Switzerland.
A shuttle bus to/from the train stations at Tiengen and Koblenz (Switzerland) will be provided for quick and easy access to the fairground. Local cycle paths will also be explicitly marked within the appropriate distance.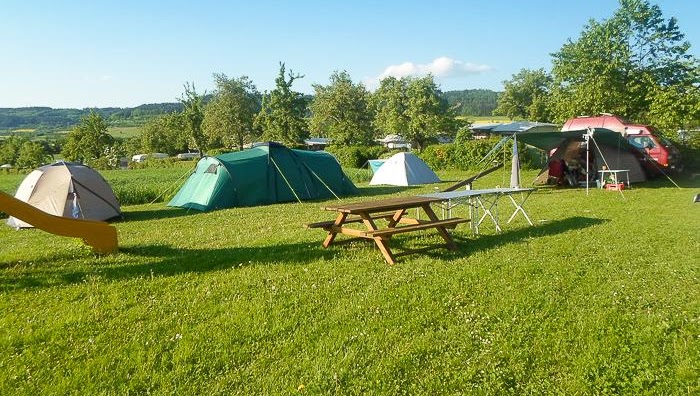 Accommodation
There is a list of options for accommodation for visitors and exhibitors including a camp ground right next to the fair and a caravan site within walking distance. The area will be enlarged for the fair.
There are numerous holiday apartments in Lauchringen and the surrounding area. For further information please use this list.
More info to come soon
I have to say I am looking forward not only to the show itself but also to the following weekend when I will be heading to the Lauchringen to interview Gabriel, Florian, and Franz and also to make some photos and video presentation of the fairground, so you have a much better idea about the location. I will take a night train from Vienna to Zurich with a return ticket costing me only 65 EUR plus 70 EUR for the couchette, which I find more than affordable. It is a 40-minute train ride from Zürich to the village of Koblenz. Seems pretty easy to get there in general. So stay tuned!