Vehicles such as the Podbike Frikar, Quadvelo, CityQ or Iris eTrike are, in my opinion, the right direction for urban and suburban individual mobility in the future. However, they are taking too long to develop and put into production that can at least partly meet people's demand. We have already read too many press releases and promises.

And I can't help feeling that this report from Grant Sinclair is one of many more. Because we don't see a real velomobile, or if you prefer, a LEAVE (Light Electric Assisted Vehicle) in the pictures or the video. Again, these are just renderings. Moreover, we can read that the prototype is on display at a car show until April next year. So I'd rather see it in the workshop as Grant works on it to get it into production.

The project is at least six years old, and we haven't heard much about it in the last few years. Of course, COVID has changed the situation dramatically, and the uncertainty in the supply of bike parts made any development much more complicated, but other similar projects were moving forward. Still, it always makes sense to report on such activities, so you can read the press release I received a few days ago below.
I'll try to interview Grant Sinclair in the next few days, and hopefully, we'll all learn a bit more about the project.
CARDIFF, UNITED KINGDOM–May 3, 2023–Grant Sinclair, nephew of the late serial inventor Sir Clive Sinclair, today previewed teaser images and video of his futuristic IRIS eTrike® which has an exciting updated (interior & exterior) design and is being prepared for mass production.
IRIS is the first enclosed eBike to have been test ridden by an astronaut on prime time television! Tim Peake, who is also a test pilot for Apache helicopters and has traveled at speeds of over 4,000mph, quoted:
"That's a nice pickup. A lot of acceleration. Surprisingly fast. A lot of fun!" Tim Peake, astronaut
With 300+ media signed up for test rides, Tim has requested to be the first to test the production model after driving an early prototype on BBCs The One Show which was filmed with Grant in lockdown & broadcast to five million TV viewers.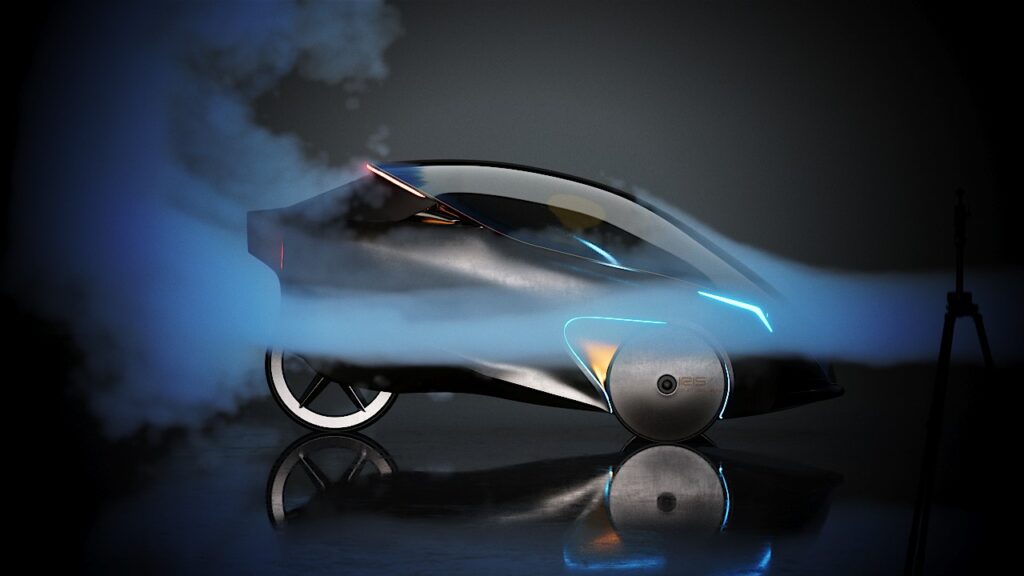 When Grant took IRIS to Eurobike trade show in Germany, it was coined "the Tesla of bikes" – coincidentally the same year that Tesla previewed their Roadster2 and Truck prototypes, also due for production soon. Grant has been contacted by established automotive and bike distributors from all over the world, has a manufacturing offer from Sony and has designed a dedicated 150 sq/m IRIS showroom for a Norwegian distributor where all four wheel road vehicles are due to be heavily taxed. Norway has more eVehicles than anyone else in Europe so an ideal market for eTrike's.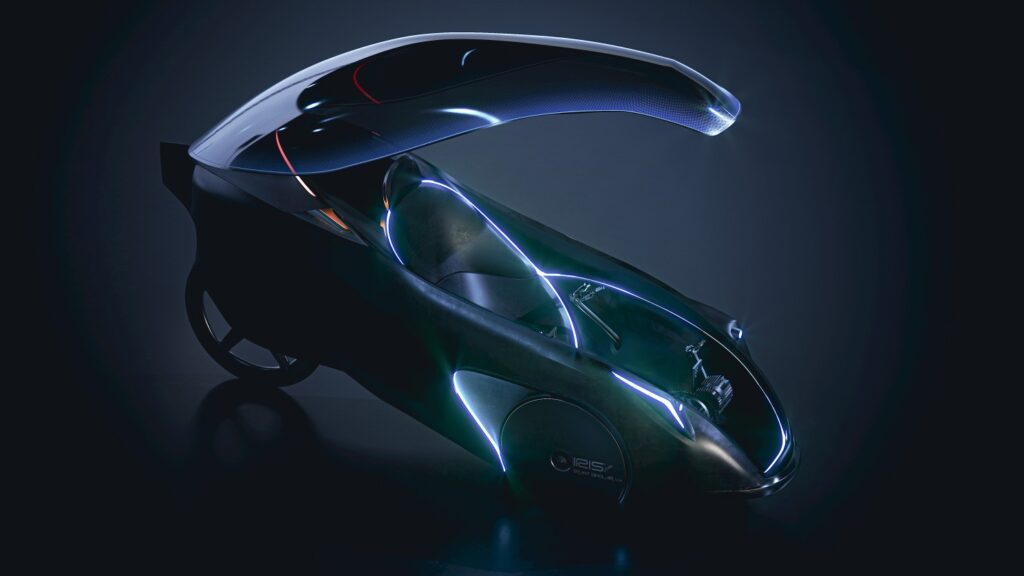 IRIS eTrike, now with HEPA air purification is designed to be safe like riding inside a large crash helmet and can be ridden on a road or cycle path by anyone aged 14 years or over without the need for road tax, driving license or insurance.
"Due to the climate crisis, fossil fuels are being phased out and major cities are imposing low speed limits or banning cars altogether. The average car has one occupant and people are put off riding bikes in extreme weather. I believe IRIS is part of the urgent solution !" Grant Sinclair, inventor
Faster – futuristic aerodynamic shape makes the trike much faster than regular bicycles. Speed: 30+ mph. Range: 30+ miles (on single low cost battery charge).
Safer – updated EPP foam body construction has replaceable and recyclable sections. Ultra tough with high visibility due to 128cm (50") height and multi-color LED strip lighting (headlamp, brake & indicators) around periphery.
Cleaner – Far less polluting than driving a car and great for keeping fit. IRIS now comes with a built-in cooling system which channels filtered air inside the cabin via replaceable HEPA filters.
Comfort – new Ergonomic seat is great for commuting and now folds so 100+ litres of cargo storage is accessible from inside the cabin. The weatherproof canopy is made from aviation acrylic and includes a de-mist function.
Test ride – future public test days will be held in various locations worldwide, starting in London. Find out more and sign-up on grantsinclair.com
An IRIS eTrike prototype is on show from 20 May 2023–14 April 2024 in prime location at the National Motor Museum in Beaulieu, UK for their MOTOPIA Exhibition – go and see!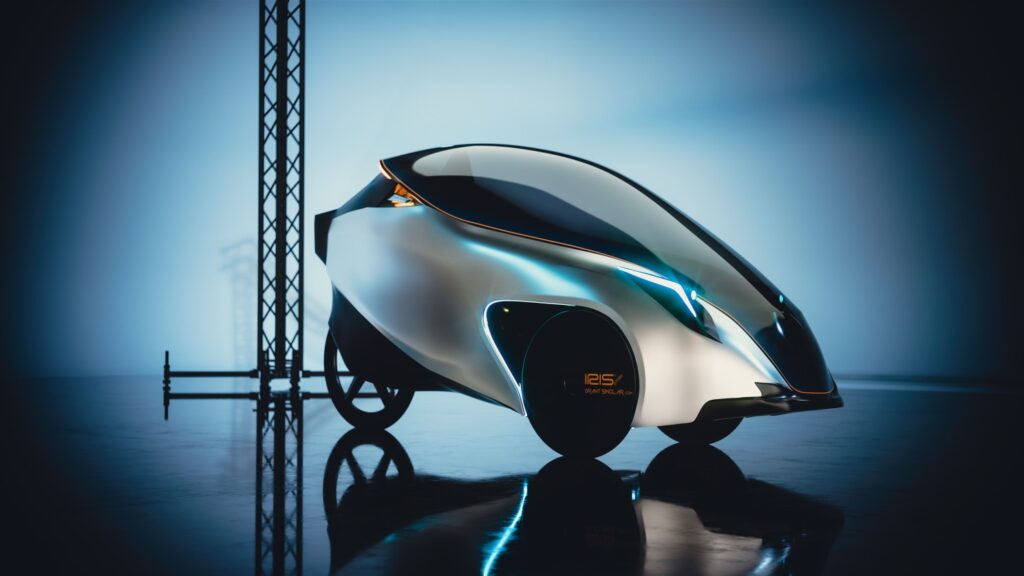 Early bird – pre-order new improved production design at grantsinclair.com. © Grant Sinclair, Cardiff UK 2023
Read about other similar vehicles like the Quadvelo, Pedilio, Podbike Frikar or the CityQ in the following article.