Photos by: Jörg Basler
Source of information: Droplimits

Last weekend, in not very suitable weather conditions, an event was held that attracted the attention of many recumbent and velomobile fans. 9 riders wanted to try to break four world records on the ATC test track in Aldenhoven in West Germany. These were the 6 h, 12 h, and 24 h records in fully faired bikes, i.e., velomobiles, and the 6 and 12 h records on a non-faired recumbent. And the names involved in this event promised we would see some exciting results. In the end, it really happened, and four records were broken. One, even twice.
The main organizer was Holger Seidel, who became famous last year for his record-breaking ride from the south to the north of Germany, during which he managed to cover 1,055 km / 655.5 miles in 29 hours and 57 minutes with an average speed of 35.167 km/h (21.85 mph). And all this in full traffic and on normal roads. This year he wanted to try to break Christian Ascheberg's 14-year-old 24h record of 1,219 km / 757.5 miles on a closed circuit and top-quality asphalt. And because it is not only financially and time-consuming to arrange a similar circuit and organize everything, he invited other riders who could take advantage of the prepared conditions to participate.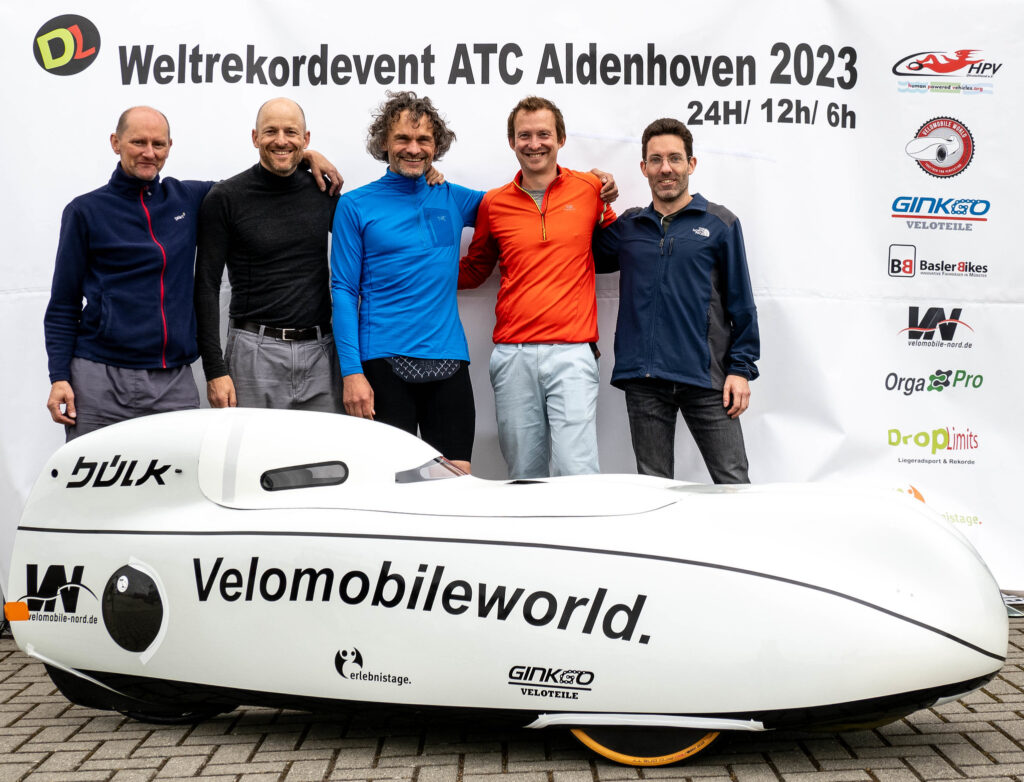 Although there was interest from 12 people and one even from Australia, in the end, nine riders wanted to break those four records mentioned above. Among the most notable riders was Matthias König with his Velomobiel.nl Snoek, whose goal was to break the 6 h record. Officially, the record was 376.05 km / 233 miles, but the maximum recorded in Australia was 429.917 km / 267.1 miles, which Axel Fehlau managed. Next up on the ATC test track was Nici Walde, the 24-hour women's world record holder at 1,130 km / 702 miles, looking to break the 12-hour women's record of 601.05 km / 373.5 miles. Her partner and renowned velomobile designer Daniel Fenn brought his new creation called Pippi to show off, which he claimed was much faster than the record-breaking velomobile that Nici rides in. Daniel wanted to potentially break all the 6 h, 12 h, and 24 h records. Melchior Poppe wanted to try to break the 12 h record for a non-faired recumbent bike with the M5 Carbon HighRacer. According to WRRA rules as of 18/02/2006, the current record was 432 km / 268.5 miles. And let's not forget the promising young rider Ruben Schütz with the Milan RO SL MK7, whose goal was to break the 24 h record. Other riders were Wulf Kraneis, Ralph Würtele and Heinrich Neumann.

Holger Seidel has said: "Record-breaking riding on closed race tracks is actually the highest art in muscle-powered motion on two, three, and four wheels. Why? Quite simply: at every race, at every record attempt, there are countless influences on the course: race events, accidents, traffic, drafting or not. At record runs on closed tracks, the only thing that counts is the fight against the clock over 6, 12, or 24 hours. There is no drafting. Each and everyone fight for him/herself, obstructions by traffic are excluded, and it is normally about tracks with "fast" asphalt. These conditions allow for top speeds and distances. When these record attempts are approached on an HPV, the notions of top performance can be expanded once again.
10 to 15 years ago, there was a very active record scene and related events in Germany. This tradition had somewhat fallen asleep or was only pushed by individuals. The best example is the record rides of Nici Walde in the last few years.
A small group led by DropLimits and the HPV set a goal at the end of last year to hold another record weekend in 2023. Fortunately, the Testing Center Aldenhoven (ATC) has agreed that the event can take place at its facility. Thus, the best conditions were created for a top-class record weekend!"

Six hours into the event the weather was not favorable, but the riders were making the best of it. All 9 riders started and unfortunately, some had to end their rides prematurely.
Daniel Fenn, Wulf Kraneis, and Heinrich Neumann were not able to reach the targeted riding times. Daniel's "Pippi" was unfortunately not adapted enough and still needed some working time. Heinrich Neumann stopped, because he had no more fun at the ride. Heavy downpours made the visibility of the track very difficult. Wulf mainly wanted to test his fitness and had to fight with several technical problems, but was basically very satisfied with the event for himself.
Both Holger and Ruben had their first pit stop and both appeared very fresh for the performance they had given and were sent back on the track fully supplied.

Matthias König was the fastest on the track and was setting lap times of over 70km/h (43.9 mph). However, he was aiming for "only" the 6 hour record, while the others on the course had their sights set on longer records. He eventually managed to set a new world record with 388.2 km / 241.2 miles and an average speed of 64.7 km/h ( 40.2 mph).

During the night, three remaining riders Holger Seidel, Ruben Schütze, and Melchior Poppe continued riding their laps while number of helpers temporarily decreased. There were about 30 of them not counting the support teams of every rider. Many took advantage of the night for a break. Due to the excellent supply, the mood among the helpers was perfect and there was always applause and cheers for the riders when passing around them.

After 16 hours, Ruben was still keeping an average speed of about 55 km/h (34 mph) which he commented by saying: "I'm slowly starting to feel my legs."
Melchior had to take a short forced break due to an empty light battery. The rear light was also replaced to ensure that the two overtaking velomobiles could always and at all times see him well. He finished his attempt at 04:14 AM and did 463 km / 287.7 miles in 12 hours what means he safely broke the record as well. On the way, he also broke a 6 h world record for unfaired recumbents that is now 255,6 km / 158.8 miles.
Holger came to his pit stop after about 17 hours with an average of about 52.5 km/h (32.6 mph) and said: "I'm fine, I'm not tired or anything." However, he had some stomach issues after he had a black coffee and water, and had to stay longer than expected in the pit stop before he could start again. But he still spent less time in the pit stop than Ruben.

Finally, Ruben has managed to beat the 14 years old world record by 30 km / 18.6 miles and rode unbelievable 1,256 km / 780.4 in 24 hours averaging 52.3 km/h (32.5 mph). Holger broke it as well, but did "only" 1,225 km / 761.2 m and his record won't be recorded at the end.

All in all very successful weekend with 4 new world records. There is a plan to organise similar event in 2025, but there are other important races coming soon, like the HPV World Championship in Lustenau next month.

Read the full report in German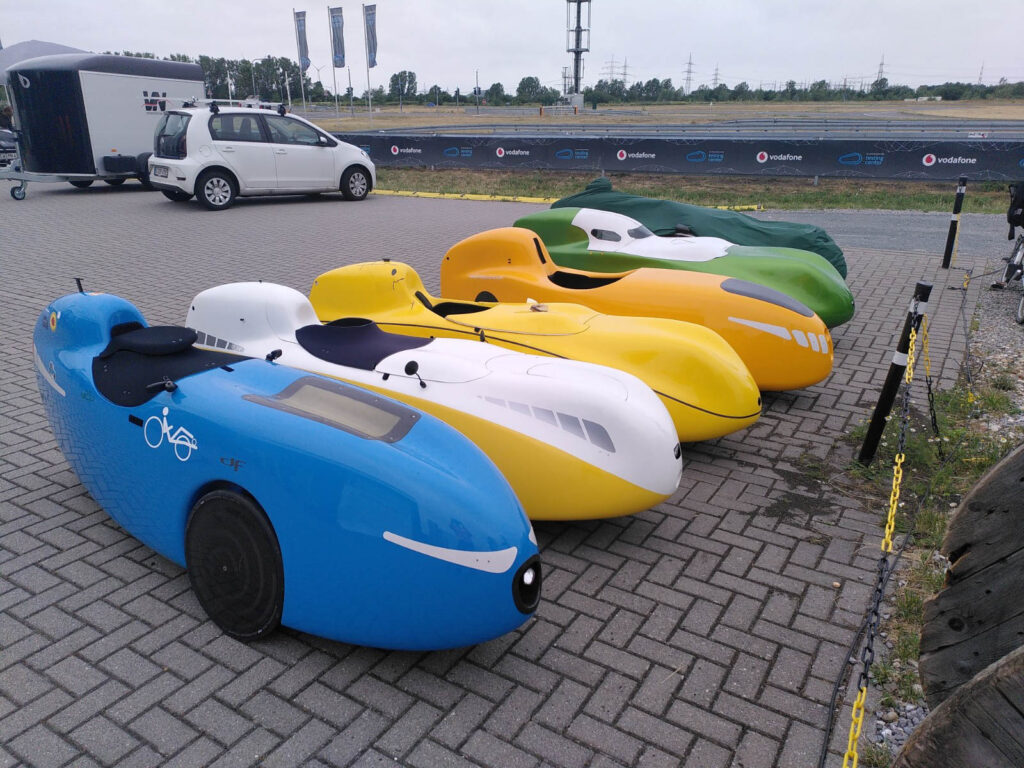 Complete photogallery

We have two more interesting facts for you. Ruben had technical problems with his red Bulk at the end of his attempt, so he used his green backup vehicle, which is allowed by the rules.
After all the record runs were completed, one more machine appeared on the track. The blue SeventySeven streamliner of British rider Russell Bridge, who had the unique opportunity to test his bike on top quality tarmac with plenty of room to go really high speed. This will be Russell's third year competing in the World Speed Challenge at Battle Mountain in Nevada. The second time with his homebuilt SeventySeven streamliner you see in the photos. In this case, it's a camera bike, where the rider doesn't have a direct view of the bike out the window, but uses two cameras and displays to view the area in front of the rider. Both cameras are built into a strictly aerodynamic "house" on the top of the bike. The brown wrapping on the sides of the bike is only used during testing and protects the bike's top smooth paintwork from scratches in the event of a crash.