Exactly ten years ago today, I flew home from Astana, Kazakhstan. I had completed the first edition of a challenging cycling event and was slowly piecing together in my head what this event meant to me. A nearly 50-day-long solar bike race from France to Kazakhstan, the first edition of the Sun Trip, at the time. You all know that I am interested in the Sun Trip a lot, I have written many articles about it, done several interviews related to it, and the reason is obvious. I participated in it myself, and it was probably the greatest adventure of my life. With my friend and fellow AZUB team member, Karel, we were on the road for 46 days, traveling through ten countries, solving dozens, and maybe hundreds of bureaucratic, mechanical, electrical, and also medical issues. We had a lot of funny moments, hardly any boredom, a few unpleasant situations, and surprisingly, even after 50 days together, we did not experience hostility between each other.
And since I haven't written anything about my experience on this trip on RECUMBENT.news, 10 years seems like a good time to look back on this voyage.



The Sun Trip is a solar bike race that had its first start on 15 June 2013 in Chambéry, France and finished in Astana, the capital of Kazakhstan. From thirty-three participants, only fifteen made it to the end, with our two-men team finishing in fourth place.
A solar bike as a concept is already known, mainly thanks to the Sun Trip, I would say. In 2013, however, it was something completely new and people could only vaguely imagine what it was. Yes, it is an electric bike whose battery is charged by solar panels. We first thought of building a solar bike in 2010 when we were pondering how to cover thousands of kilometers as fast as possible on a bicycle only. Eventually, we built a recumbent tandem with loooong solar trailer which we took on a 2,200 km / 1,370 miles long trip around Europe. Then, it was only a small step to start preparing for the race to Kazakhstan.
Edmund Hillary once said that one should seek a challenge that would be right for them. And once a decision to do it has been made, try and see it through. Dan Přibáň, a famous Czech Trabant-adventurer (he drove the old small East German Trabant car all over the world in the craziest possible places), says that an adventure is an affair that has a chance to fail. That is exactly what the Sun Trip was for us. An event unlike any other in the world, requiring both physical and mental strength, as well as skill and technology, in this case, electro-technology which can be pretty unreliable at the end.
Eighteen months of preparations
and changing rules
My partner in the Czech Solar Team was Karel Šebela, with whom we had already completed two solar journeys. When we discovered that there was a solar bike race from France to Kazakhstan, we couldn't resist and fell head over heels in love with the idea. We thought we could be one of the favorites to win only by calculating that it would take us just 35 – 40 days to reach the finishing line. So, for the whole expedition, including transport to France and the journey back home from Astana, we "applied" for 50 days off work and families. The organizers reckoned about 45 days at least, as the total length was meant to be 7,500 km / 4,660 miles , travelling expedition style. That meant no support vehicles and no contact points with spare parts waiting. The only checkpoint was at Sochi in Russia, which turned out to be an a bit ill-thought decision, due to the building frenzy there ahead of the Winter Olympics.
The sun was shining, and we soon got into a daily rhythm, covering 240 to 260 km daily.
The experience from our previous solar journey proved to be absolutely crucial in the preparation of the technique and the whole strategy. The rules for the first year were being made up pretty much on the go, and it was clear that Florian Bailly, the creator of the whole event, had no idea how many different approaches participating teams might take. His own plan was based on his experience with a journey on a solar bike from France to Japan in 2010. He had used an ordinary electric bike with a trailer carrying two solar panels. One directly facing the sun, one underneath and used only during breaks. However, we decided to go for an extreme solution and have the biggest solar panels we could as well as batteries with the highest capacity, despite the extra weight. The reason was simple. Karel is not a great cyclist or athlete and I also spent more time in the office than on a bike. We just needed to harness as much power as possible from the massive ball of fire above our heads. Though it should be noted that our antics with solar-powered travel don't mean we wanted to avoid hard graft, but that we wished to travel long distances in shorter time.To be able to still enjoy the relatively slow speed of cycling but reach much wider horizons
To the starting line in the foothills of the Savoy Alps in the middle of June, we brought two almost identical solar trikes. They had by far the largest surface area capable of generating electricity, and what was more, thanks to the panels being placed above our heads and on the trailer, we could generate maximum power even while on the move. Saying that, we needed the sun to shine.
Another unique feature of our trikes was their involvement in research into the production of functional solar cells made from cuttings that could no longer be used, and further optimization of their performance by defining some sort of black holes that form in them. All that using laser technology. This technology is called Reptile and the panels were built for us by a Czech company Solartec. Our task was basically to test this kind of recycling technology, and keep the people at Solartec informed throughout the race of the functioning of the whole charging system. Getting ahead of the story a bit, everything worked fine and the Reptile panels did not show values worse than standard panels.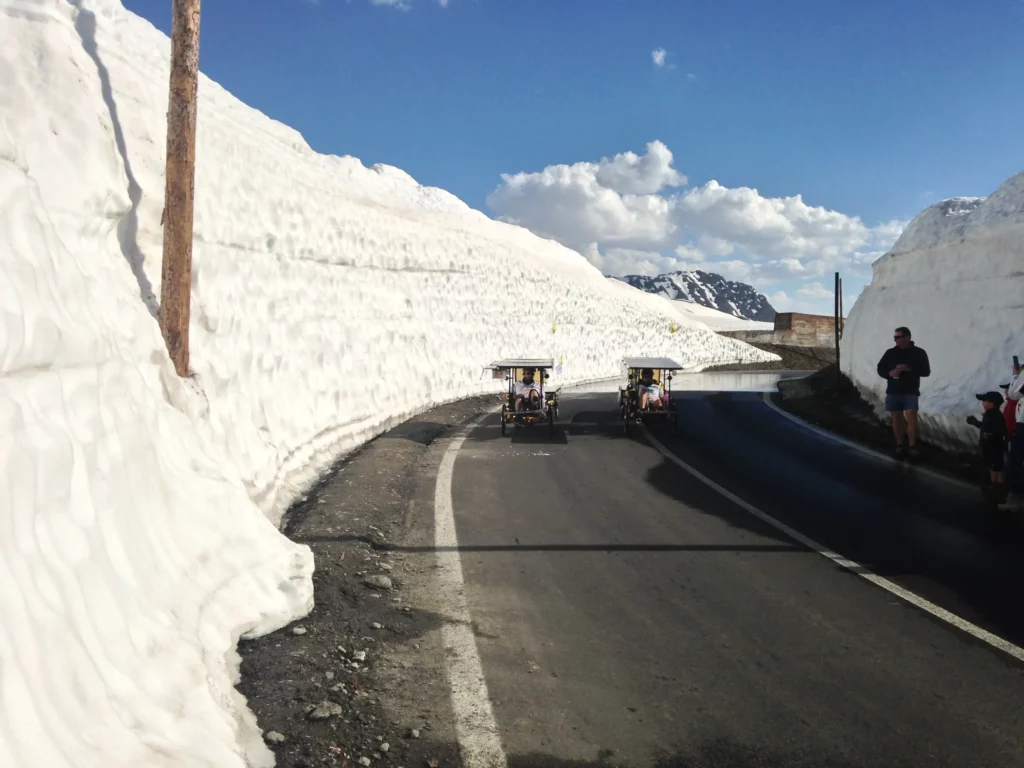 Starting in style but no racing yet
The first two days after the official start of the race were spent by a promotional ride through France. The real start came on Sunday, 16 June 2013, at four o'clock in the afternoon, 2,280 m / 7,480 ft above sea level on the Petit St. Bernard mountain pass, with five-metre / 16-feet snow drifts around. It had been clear that this contest would not be decided in the first few days, not to mention hours, so we took our time to arrive to this France-Italy divide. We got there just after five, enjoyed dinner, chatted a bit with a Canadian solo participant, Anick-Marie (who in the end finished 33 days later than us), and then set off towards our adventure.
We passed through Italy and Slovenia without any major complications, the sun was shining and we soon got into a daily routine, covering 240 to 260 km / 150 to 160 miles a day. Despite the fact that all participants were continuously monitored via GPS and satellite, with everybody's position visible online, we forbade ourselves to check how we were doing for the first four days. When we finally did look, we discovered we were in the fourth place. Immediately, we began to plot and scheme how to move further ahead, we cut down on our stops and made them shorter. Our minds were completely consumed by racing madness, we stopped enjoying ourselves and became quite tense. So, after a few more days of this, we issued a proclamation that we did not want to ride on like this and that our chief aim was to finish the race. The burden lifted a bit and it soon became apparent that winning would depend on preparation and fair amount of luck. In Serbia, we were not only hit by a massive hailstorm but we also had to fix the axles of the solar trailers, which cost us five hours.The subsequent kilometres went pretty briskly, from the cycling point of view. After all, it took us only half a day to get from Belgrade to the Romanian borders, and the following day we managed to ride along the Danube River past the Iron Gates dam while enjoying the beautiful paths through the gorge, with me reminiscing about the wonderful days spent roaming through Banat and local Czech villages hidden somewhere in the forests high above.
The biggest surprise was waiting for us in Cherson. As we were coming down a hill, two guys stood in the bend, holding a sign with the words "Honza et Karel, coffee break".
Pleasant and unpleasant surprises
However, in the foothills of the Fagaras Mountains, near the city of Pitesti, we ran into a bit of bad luck. When looking for a place to park our trikes, from behind and without warning, I got bitten in the ankle by one of the three and a half million stray Romanian dogs. It wasn't a deep bite but enough to worry about rabies. Luckily, we were both vaccinated, but even with that, one must receive at least one more jab. Not many people are aware of this, it's not mentioned anywhere and no one warns you about it. For us it meant two days rest for me, meaning we were held back and although we didn't lose our place, the head of the race disappeared into the distance. To make matters worse, the first few days in Ukraine meant rain, cloudy skies and strong headwinds, our daily mileage was no more than a hundred kilometres / 60 miles.
The biggest surprise was waiting for us in Cherson. As we were coming down a hill, two guys stood in the bend, holding a sign with the words "Honza et Karel, přestávka na kávu". Yes, it was written in Czech and it meant "coffee break". We couldn't believe our eyes. What were they doing here? How did they know about us? We kept asking ourselves. But it was obvious really. They had been following our GPS position online and this road was more or less the only one that would lead us to a suitable bridge across the Dnepr River. By the way, the Ukrainians call this mighty, gargantuan river simply "riječka" – a stream. And yes, that bridge is the 1,366 m / 4,482 ft long Antonivka Road Bridge known from the battle over Cherson during the crazy current war there. It was a second time to cross it as I did cross it with my wife Eliška on a recumbent tandem in 2005 on our way to still-Ukrainean Crimea peninsula. Those two had been waiting for us for some hours. By then, they didn't have much time to spend talking with us as it was late. But they sent us on to their friends, who were waiting 10km / 6 miles down the road and sorted out accommodation for us. Miracles do happen. This remarkable band of mates took care of many other solar riders who came after us as well.
In Crimea, we finally got back up to speed. One of us would always get up at six, turn the panels towards the east and go back to sleep for a bit longer. We would then roll out of the tent at about half past seven, have some tea and by eight we would be back on the road. We would ride, with short stops, until about five in the afternoon when we would have an hour long break, turn the panels towards the last of the sun, because by then, they would not get anything in a horizontal position. During this time, we would cook ourselves a simple meal, sometimes have dinner in a pub along the way, and then we would carry on for a bit longer. The time needed to find a campsite was determined by one of the rules of the race, which stated that participants weren't allowed to ride at night, only one hour before dawn and one hour after dusk. For every country, there was therefore a set period of time we weren't allowed on the road. The cut-off time for the night was usually 10 p.m., so we would normally finish at 9:54, 9:58 and so on. Because of this, we could hardly pick and choose where to stay and there were many nights when we didn't get much sleep becuase our camp was near a main highway or important railway.
We crossed the Crimean Peninsula in no time, getting to Russia via the Kerch Strait and then following the Black Sea coast down to Sochi. At the time, we were keeping in the third place and Karel's fervent wish was not to have to enter the Olympic city. The idea of a narrow coastal road with obscene amount of traffic, and a sprawling, dusty city that would be hard to navigate, did not appeal at all. And then we got the brilliant text informing us that instead of a detour from Tuapse to Sochi and back, we could stay in Tuapse and have a mandatory 40 hour stop. The thing was that riders in the first and second places, Raf van Hulle and Jorge Molita, reported back to the organizers that the coastal road in question as well as the city really were dangerous. So Karel's dream came true and it gave us time to carry out some repairs and prepare for the second half of the race.
Travelling through Russia was like slicing a knife through butter. The roads were good quality, often with a smooth tarmac surface.The kilometres passed by in a flash. We were rushing to Astrakhan where the Silk Way Rallye was finishing at the time. We really wanted to meet up with Aleš Loprais (a famous Czech Dakar truck driver) and his team but we didn't get any replies to Facebook or e-mail messages and they whizzed past us on the way back, just 60 km from the city. The Kazakhstan border was a stone's throw away. This was the last country to ride through, yet still a third of the entire distance.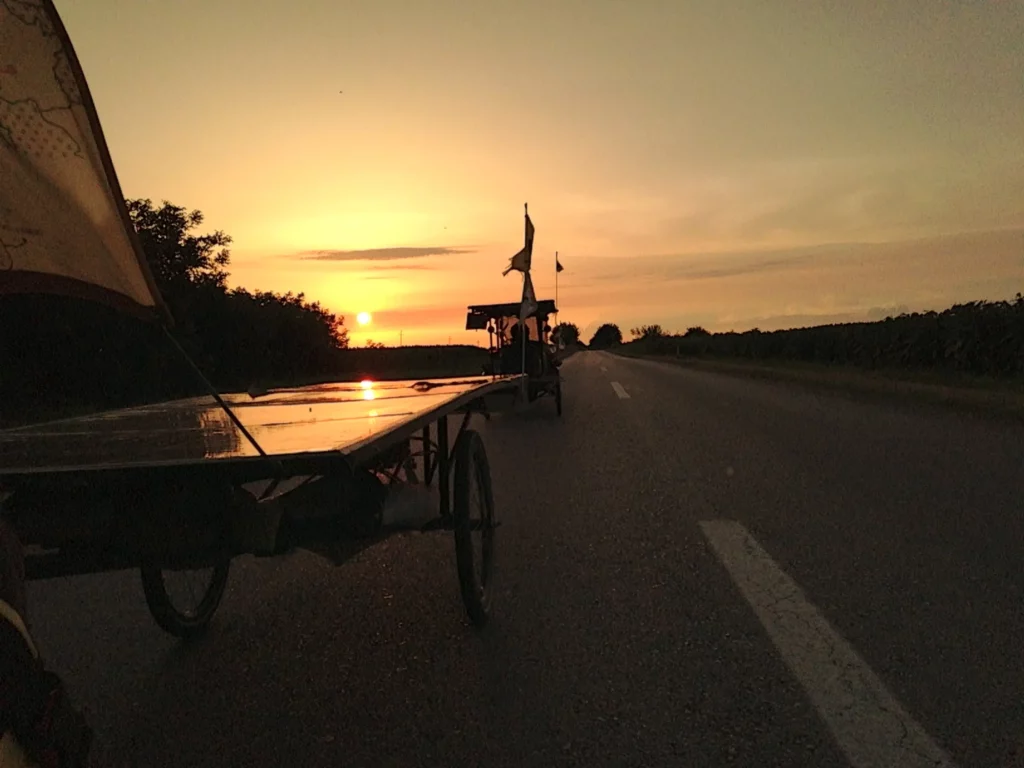 The last country, the last third of the race
Right after crossing the border, having been in Kazakhstan all of five minutes, something happened that had not happened before to us in none of the other countries, yet was to happen few more times here. One of the women who were working in the bureau de change attempted to sit on our solar trailer that was held together only by a sheer force of will. Police officers who would stop us several times every day often tried bashing the solar panels or the trailer to see if they would cope with the local crumbling roads. But what could one say to them? Nothing. Talking about roads, the first hundred kilometres in Kazakhstan were horrendous.Pothole next to a pothole, trucks nearly toppling over, all sorts of vehicles swerving or jumping over each and every rut. All at the high speed of thirty. And this was on a main road signposted E40. However, things slowly got better and we reached Atyrau on a reasonably good road that was also completely straight and therefore fast. Unfortunately, cars also go faster there and now and again, someone would decide to undertake us on the gravelly verge. But that happened to us in Ukraine and Russia too and this habit of post-soviet era drivers was the worst experience of the entire race.
This was the last country to ride through, yet still a third of the entire distance.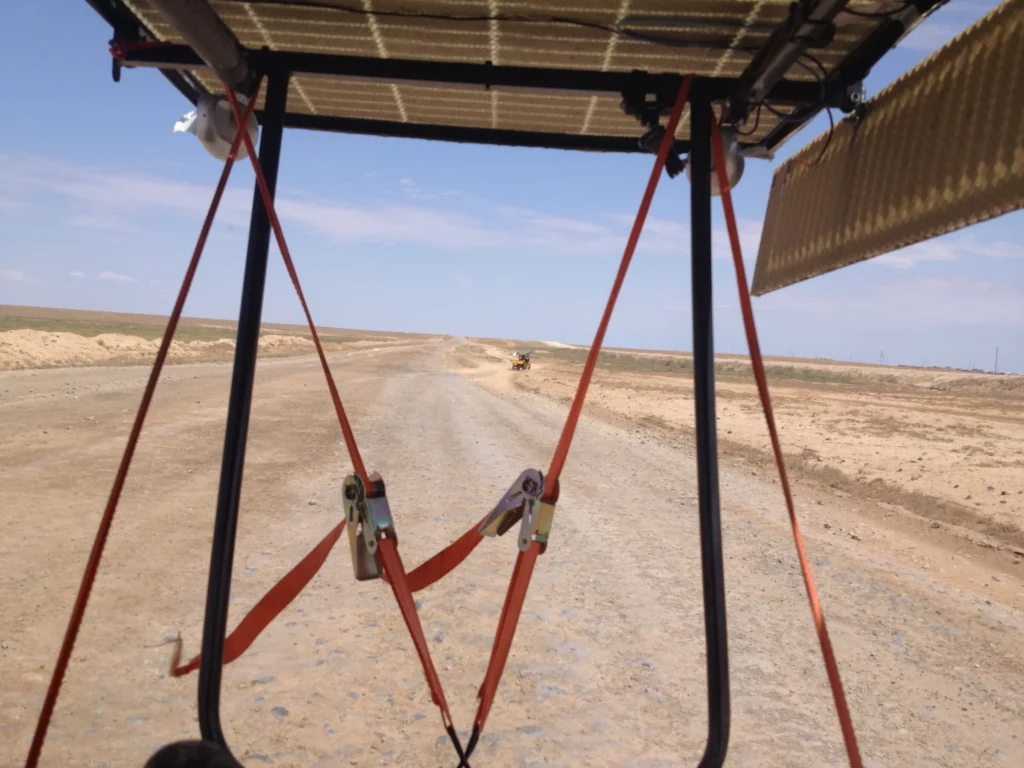 After Atyrau, we decided to get to Aktobe by riding north towards Oral, across vast Kazakh plains. We arrived in Astana, the most bizarre capital city in the world, two weeks later, on 31 August, in the fourth place overall and as the first team. Our time at the finish was 46 days, 10 hours and 35 minutes, while the winner, Raf van Hulle from Belgium, beat us by almost 8 days.
This is basically a complete article, but Premium Members can read more about the race itself, about the trikes we used during the Sun Trip 2013 and also see large commented photo gallery.

PREMIUM CONTENT
If you want to read the full article, you have to be a Premium Member.

⭐️ Become a Premium Member! ⭐️

Are you Premium Member? Just Log-in!