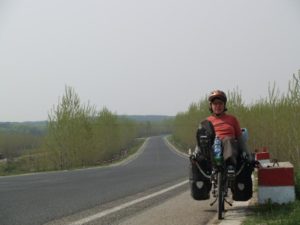 Marija Kozin is a brave slovenian girl. One of those few who cycle alone for long journeys. Marija cycled from Slovenia to Beijing by upright bike. More than 17.000 km almost alone. There she has decided to try recumbent and thanks to partnership with AZUB she cycled back from Beijing to Slovenia by recumbent bike. Next 15.000 km.
On the way home she had couple of troubles with knee and also with war in Georgia, but finaly she is at home.
Read more about her on www.marijakozin.com
We hope to do an interview with Marija and publish it here soon.