Chris Malloy used to write for RecumbentJournal.com, and he has a vast experience with all different kinds of recumbents. He is preparing himself for an ultra-endurance biking race across the US. He was kind enough to share his setup and plans with us.
I am signed up to ride in a race across the US this summer called Bike Non-Stop. I am 68 years old so I hope to just finish. The race is 3,500 miles (5.600 km) long and about 1/3 is off-road, that is 1,150 miles (1.700 kilometers). I wanted a bike good for road and gravel with suspension. I got a used Challenge Seiran. This is my third Seiran, I like the bike, and since it is used I feel free to drill holes and change things around. One Seiran is a superlight model with no suspension which I thought might not be sturdy enough for gravel road touring. The second I just bought and I am using it in the race. The third was another light model I broke in half when using it to pull a bike taxi with three or four people inside. They were jugglers on their way to a show at Burningman. It seemed completely normal at the time.

The race rules require two headlights and three tail lights. I have a SON 28 generator / dynamo hub paired with Busch und Müller front light and battery-powered Fenix front light plus Princeton Tec rear lights. Two headlights and three tail lights are required. I have flat pedals so I can ride with comfortable walking shoes. I have changed the Seiran boom with a triple chainring for an Optima Baron boom with a Schlumpf Speed-Drive. I prefer Schlumpf because I always have problems with derailleurs on recumbents. My Seiran SL is the only bike where the front derailleur has always worked. Plus I like the easy gear change when stopped and the clean lines on the bike.

Also, HP Velotechnik headrest and air horn are installed. An air horn is its own justification, and with hundreds of miles on bike paths I might need to alert people wearing headphones along the trail). I got an underseat steering bike because arthritis in my hands makes holding OSS handlebars painful after many hours.

I also use ICE panniers designed for a fat trike plus an underseat bag from a Linear limo. The Seiran rack came with a tail bag and I hung a waterproof roll-top bag underneath (from my kayak). I am trying to advertise recumbents so I want the bike to be as aerodynamic as possible. I cut down and resewed an old canvas backpack (Mountain Smith) to cover the rack, tail bag, and kayak bag to make something like a tail fairing. It works pretty well. I can feel a difference and my top speed in a headwind is about 2 mph (3 km/h) faster. Over a race of 3500 miles that should add up to a significant number of miles.

I will carry light camping gear. A bivy bag (Black Diamond) and a down sleeping bag (REI). For a sleeping pad, I will use the seat pad from the bike. No cooking but bringing a cup and spoon just in case. I will stay in hotels when the timing is good. On long rides it is tempting to stop riding early because the hotel is available where you are and the next town is five hours away. If I can ride another three hours on most days by camping between towns that will give a few days faster time over the length of the race. I have been camping most of my life so this is not difficult. Who needs soap?

TerraCycle is helping a lot. One front light and the speedometer are on T-cycle adapters, I have a new return chain idler. I am using the frame clamps from their low rider panniers to hold water bottles.

For navigation I have a Garmin Fenix watch with a very long battery life. Many bike navigation systems require a smart phone and daily battery charging.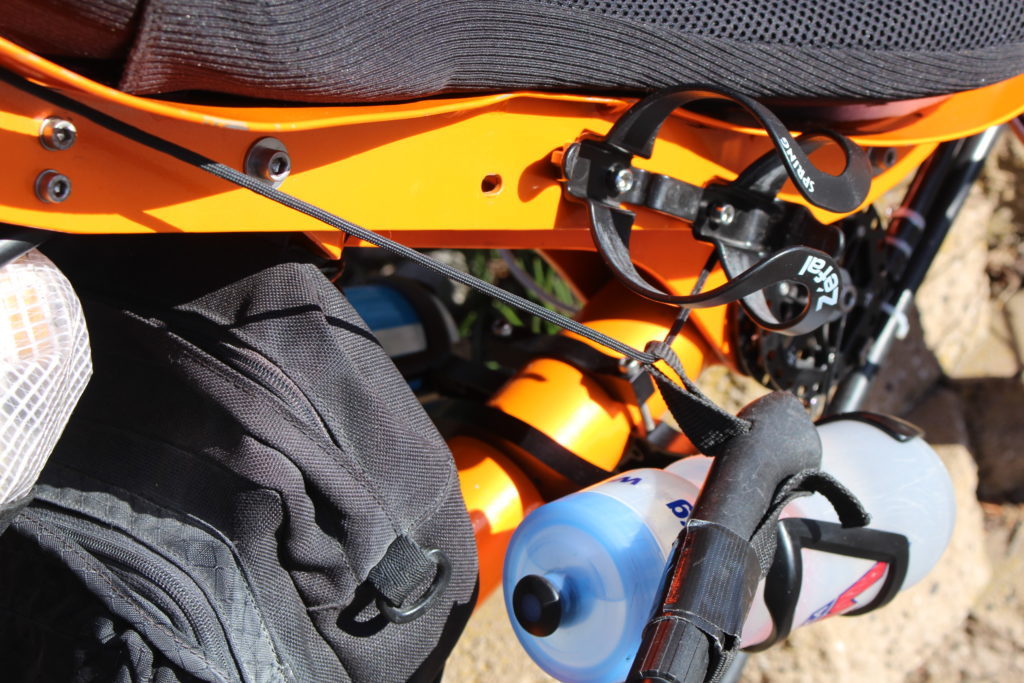 This photo shows where I drilled holes for water bottle holders on both sides. Where towns are close together I will not fill all four water bottles. I thought of many variations of bags and bottles and decided drilling holes in the actual frame was just stupid. I drilled holes in the rack for the rear lights and other ideas that didn't work. I was trying to get the center of gravity as low as possible while being as aerodynamic as possible and carrying as little weight as possible. I think I got the aero well enough but the COG and weight will both be a bit high. Part of my mind game is to do all of this using only gear and parts I have lying around the house. So when you start a sentence with, "Why don't you just get…." it is because I already have rooms full of junk I want to use.

You can also see I had a ski pole for a bike stand. It didn't telescope to shorten so I tied a cord to slide the handle up and down to get it out of the way. It still stuck out behind the bike by about 20 cm. In the end, I just put on a walking pole I can shorten. It is heavier but safer.
The race will be on trackleaders.com starting June 27th. All the riders carry a GPS tracker. I am old so I don't have a smartphone and I will not be blogging or filming. I will have enough work just riding the bike.

For people who might become interested in long races, there is the "Bikingman" website. The website is in several languages.