When she saw a recumbent for the first time, she thought it is awful. The first ride – a year later – has changed her opinion and, in the end, her life as well. She is a CEO of a world-known recumbent manufacturer and a respected racer and record-holder. A winner of the Race Across America and also a mother of four. Maria Parker of Cruzbike describes her recumbent journey in the following interview.

The 10 to 1 series of interviews has been very popular among the RECUMBENT.news readers and this is the first exclusive one with an additional set of 10 very interesting questions & answers for our Premium Members.

What do recumbents mean for you? 
 Comfort and pleasure.  Recumbents bring back the joy of cycling that I experienced as a 7 year old without any of the distracting pain. 

Can you remember when did you see a recumbent for the first time? 
My husband brought home a mountain bike that he had converted to a front wheel drive recumbent bike in 2005.  At the time, I thought it was awful. 

What was your first recumbent?
A year later we were riding together, he on his front wheel drive recumbent, me on my traditional bike.  He was having so much more fun than I was. I asked him if we could switch bikes and my life changed….. It was so much fun. He bought me one just like his and we began riding further than we ever had. 

Do you prefer trikes or two-wheelers and why? 
I only ride two wheelers because I like the speed and maneuverability. I am grateful that trikes exist and some day may own one, but I want to stick with two-wheelers as long as I can.  

Which bike do you ride now?
Any Cruzbike. My bike for around town is the T50e. I love the throttle for starting from a stop at stop signs and traffic lights. I ride the Q45 when I am doing paths or gravel or riding around parks. I ride the S40 when I want to ride with traditional cyclists in a group.  I ride the V20 when I want to race or go really fast.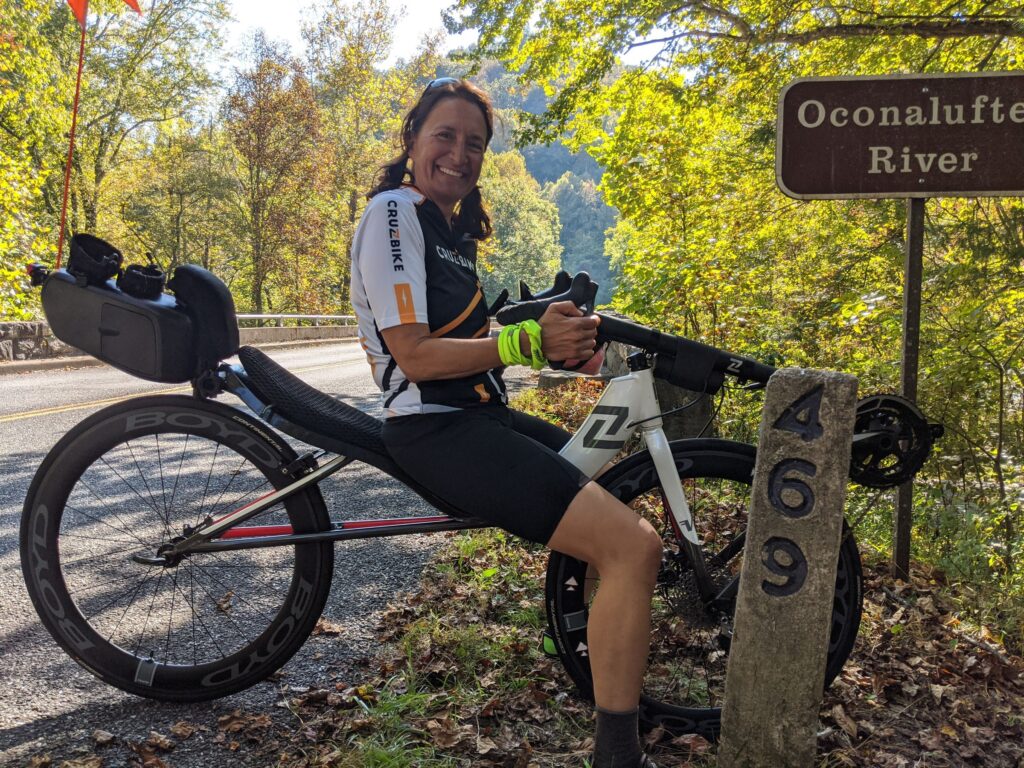 What do you think about all the e-assist boom we have around us now?
I love it. It is making bicycling accessible to everyone.

Where is your favorite place to ride?
That's a hard one. I guess anywhere where there is limited car traffic, but I will endure car traffic to get where I want to go. I have ridden all over the US and in the Netherlands and Germany. I'd like to ride in other countries too.

And the most unforgettable ride?
I have had so many unforgettable rides! I remember riding through the countryside of Pennsylvania in the summer and it was sunset and then the fireflies came out and the weather was perfect and the scenery was magical. Even the tough rides are unforgettable. I rode with a friend once in a 12 degree winter morning. The whole world sparkled. I've ridden through driving rain and been forced to take shelter in a horse barn. Being on your bike is almost always an adventure. This morning I rode to the beach and swam in the surf and then rode home. The feeling of the salt drying on my skin, the sun and wind on the ride home and the gratitude I felt for being able to ride and experience the beauty of nature was incredible.

How do you think recumbents will evolve in the next 5 or 10 years?
I hope the niche will continue to grow. I would like to see our reach increase and for upright riders to consider the comfort of a recumbent before they become completely disabled by their traditional bike. I hope our bikes become even more comfortable and faster and more refined.

What is your other hobby besides recumbents?
Do you even consider recumbents as a hobby? Recumbents are my profession and my hobby. I own and run Cruzbike, so recumbents are more than a hobby. I also love to walk, run, swim, read, hike and enjoy my family and friends.

AND ONE MORE:
Anything else you would like to tell our readers?
I'd like to express gratitude for this publication and all the people in the recumbent community. It's a pleasure to be part of a group of open-minded generous people.

PREMIUM CONTENT
If you want to read the full article, you have to be a Premium Member.

⭐️ Become a Premium Member! ⭐️

Are you Premium Member? Just Log-in!