This is a special report from Olivier G., who recently moved to Helsinki, Finland from South of Germany. Olivier has been for 15 years a keen observer of the active mobility market and developments in Europe. He completed the Sun Trip tour in 2019 on a solar tandem Hase Pino ebike. He has also tested many innovative recumbents and ebikes, including one of the first Podbike prototypes at the 2018 SPEZI as well as the commercial refined version in Eurobike 2022. He was a beta-tester during several months for work/family commuting of a quad-ebike prototype even before the French "eXtrême Défi" (XD) challenge that is supported by the national regulator started.
I learned of the Kinner-Car thanks to the great article on RECUMBENT.news, and I also learned about the Finnish kinneri term as well as the early innovation and epic adventure of Finnish riders with another article there. So with the opportunity to test-ride one of the first evolution versions of the Kinner-car in Helsinki, it is a "thank you" to Honza and the RECUMBENT.news community, to report back here about it.
The man behind the Kinner-car, Ari Jukka Luomaranta (AJ in the rest of the article below), started to update the Kinner-car website with 2023 updates:
– Starting composite part serial production
– First Kinner Cars almost ready
– Test drives
– and a Youtube video
So on the sunny morning of August 3rd, I had the chance to finally meet AJ, see his Kinner-car for real, and test-ride it. You can see me me on the right of this instagram picture. I did have an INSTA360 action camera on a stick. INSTA360 has 2 opposite fisheye lenses stabilized, hence please note this is why most of the videos are in wide or even ultra wide/"tiny planet" modes, which do not necessarily show the realistic dimensions.

Here is a video to attempt to virtually "put you in my place".
Please note that often it's not understood that the Kinner-car is still "under construction", as the demo "zero-series" vehicle I had the chance of testing, is looking so good and refined to a great level of details. AJ still has many things under construction: the hood will be replaced, as they have tested different kind of solutions to fix the windscreens, so the screws for example will be not there, also the company who makes the subcontracting using AJ's moulds to make the fiberglass parts, wants to replace the hood, as it has visible dents and they don't want that one to be used on pictures if this is not mentioned. I had made a 2nd video how to get in & out of the Kinner-car. It shows how easy it is, like sitting and standing, without any stretch of your back. In other words, anyone of any age could do it. However, on that video, it is clear the hood closing is not yet what it should be. AJ told me they have already solved this issue in the 2nd Kinner-car being finalised, because he knows that you can judge the good engineering of a vehicle by the way its doors get opened and especially how they are getting closed. So, to be fair, let's wait for the better hood, before making & publishing a video of getting in & out.

On the next pictures, you may notice that the rear part of the hood doesn't sit perfectly, this is because the demo Kinner-car is missing the latch that locks the rear part of the hood to site perfectly on bottom part.
AJ is on the right of this picture below & there's no denying his Kinner-car is a beauty that grabs the attention.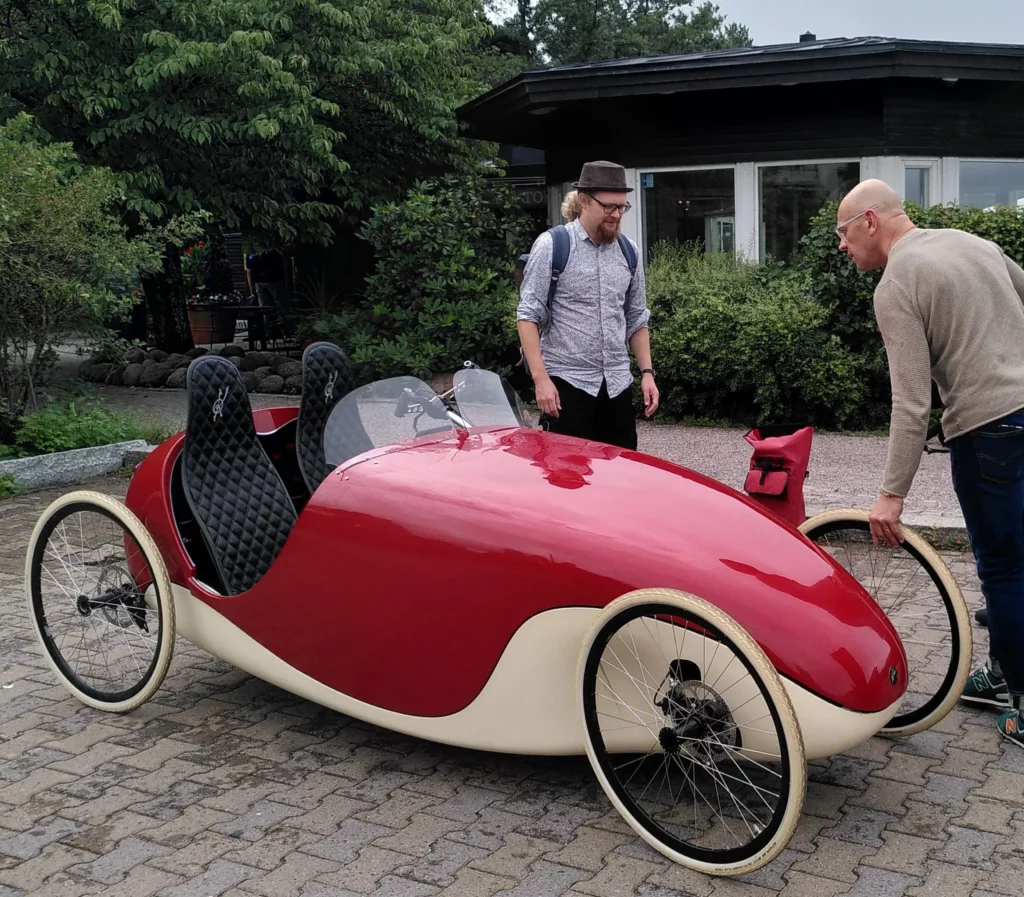 The wonderful seats are more upright than in most other recumbents, but I did not find it to be an issue during the test-ride
As can be seen from the next pictures taken, it is equipped with a Finnish Revonte ONE integrated mid motor with an automatic gearbox, that should be capable of very strong torque (as it is already on board in heavy cargo bikes) and of reverse gear too. AJ mentioned that he would also have alternative in Europe with an ongoing cooperation with Valeo and their [Effigear] Cyclee motor+gearbox. It has a traditional and mechanical transmission via chains between the two independent cranks (right and left riders, one can pedal while the other doesn't) and the rear wheels. The demo Kinner-car I tested has chains, while production cars will have belts.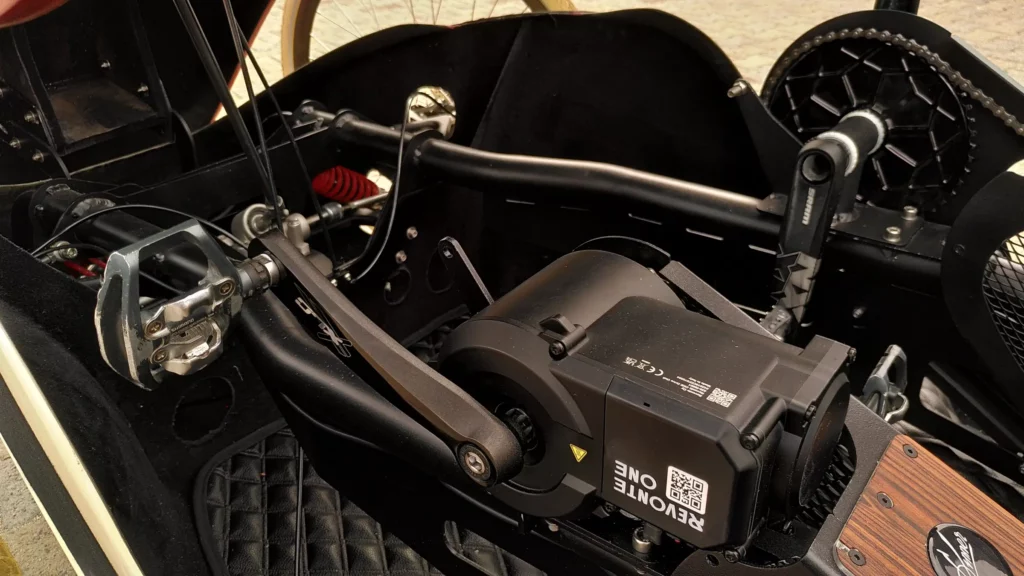 The Kinner-car is currently planned and registered as a bicycle – no driving license is needed (so the motor assistance would behave like on a normal ebike: be activated on pedalling and helping up to 25km/h (16 mph) – higher speeds still reachable on pure muscular power).
The overall dimensions of the Kinner-car are already indicated on the website. Wheelbase is 220 cm / 86.6″, total length 285 cm / 112.2″ and is width 100 cm / 39.3″, but the big question was of the weight. AJ did not have a confirmed measured weight of the Kinner-car with motor & battery, but we had no difficulty to raise it and carry it fully together to the trailer. AJ would recall that without motor, battery and no extra accessory, it does weight around 60 kg / 132.3 lbs, which would make it possible to have a fully equipped Kinner-car with motor and battery possibly around 80 kg / 176.4 lbs which is my body weight overall, so 1 to 1. Quite an achievement for such a two seater!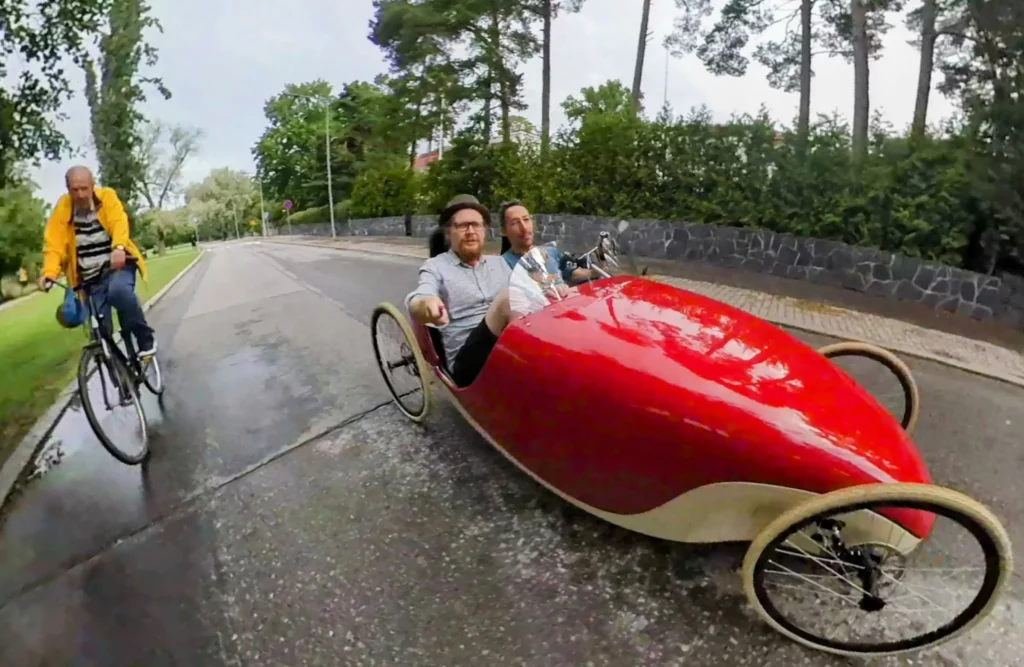 It is equipped with four 700cc/28" road bike wheels with light but strong rims. What I did not know and discovered was that the steering front wheels do tilt when turned right or left, achieving then a shorter turning circle and allowing a better grip on the road during turns.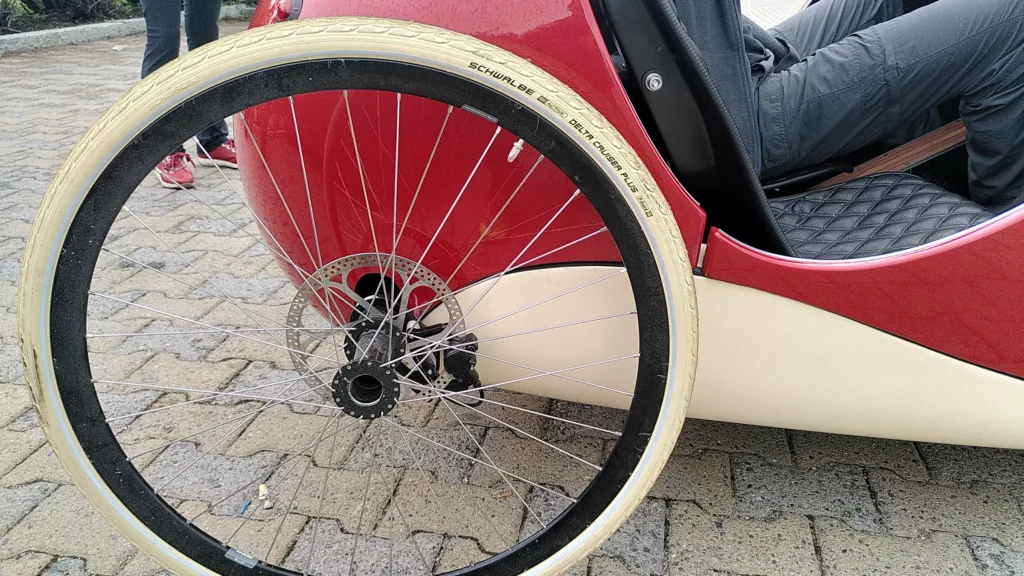 The wonderful seats are more upright than in most other recumbents, but I did not find it to be an issue during the test-ride, while pedalling. It is only a bit more complicated for taller riders in term of having enough room for their knees. I am 177 cm / 5'10", and there was Daniel who was between 180 and 190 / 5'10" and 6'3″. For him, AJ had to put the seat at the complete end of the rear. BUT- there's possibility to also assemble the crank set to three different positions, so there should be no problem for taller riders as it can be pre-set for their respective size.

The Kinner-car is fully suspended, and has maybe 20 cm / 8″ of space between the bottom of the chassis and the road.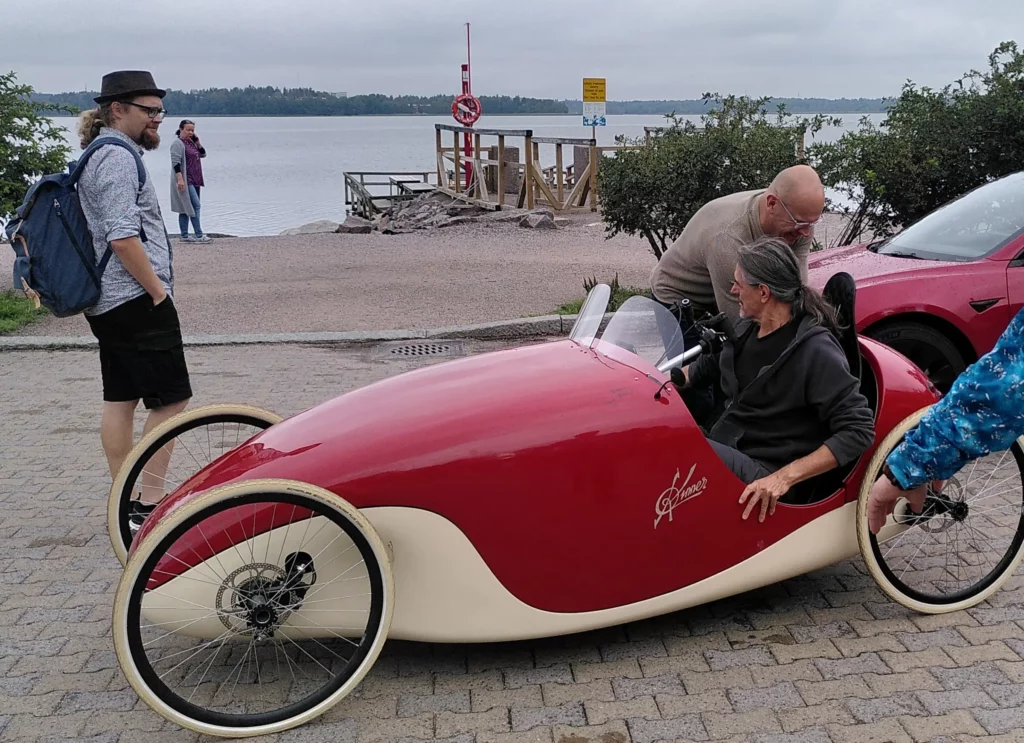 The chassis is made of fiberglass, and is produced by a Finnish expert company, that can make all the parts on request very quickly as well as in different colours too. See AJ's blog post about that. But that same company could also make it out of carbon fibre or even out of biomaterial like Flax fibres! The Fuselage, as AJ likes to call it, inside the chassis is made of aluminium.
What about weather protection you may ask? Well AJ sees it very much like I do myself: it should not be a fully enclosed car / vehicle, it remains a bicycle with that connection with the outdoor environment that is only possible on bikes. The overall visibility (being seen, and wide vision + hearing around of what is happening on the road and beyond) is outstanding, as you seat upright, and your head is not too low. And there is obviously the overall cabriolet experience. The hood is still providing wind/cold/rain protection for the legs (there could easily be a rain cover inside too). The top part of the body could do with a rain jacket (and gloves, scarf & hat).
My opinion after the first test-ride of the Kinner Car

First of all, the usual fair disclaimer, that I tried one of the first Kinner-cars (before production starts) that would go to the buyers who prefers to have it as soon as possible (rather than waiting for the first production series and all small minor refinements). So in other words, it is far more mature than a first prototype, but it is obviously not yet a matured commercial product with years and 1000s of kms of road-savvy experience and maintenance proof-points.
I first rode it alone (no passenger) without filming nor GPS recording, then I did the second ride with Lauri Haapanen.
In few bullet points:
– It is truly the side-by-side social tandem I did not think would be feasible to make within a meter width. Lauri and I could so easily discuss and share the ride, and we could also both pedal and bring muscular power to the vehicle.
– I did not try too hard but could not feel any loss of grip for the wheels, even when doing sharp turn on the right, while being alone in the Kinner-car, as this is one potential issue considering the centre of gravity is shifted left with only one rider (the usual risk of tipping over during turns for trikes or 4-wheelers). Custom made wheels are using bike tyres, rims and pins, but hubs are wider to stand more force in cornering. AJ told me they have tried to corner it as hard as possible, without any issues.
– It had a comfortable sitting and pedalling position (although recumbent riders will likely find it too upright for their taste/habits). We could put effort and strength to the pedals, in the video you can see we're getting above 40km/h, without necessarily putting a sweat.
– Obviously, the overall mechanical chain transmission is making more noise than on a completely open bicycle. This did not bother me much on my side, but this will be improved as production cars will have belts.
– The steering and control felt reliable, and I could control the Kinner-car with only one hand.
– It could "climb" high side-walk step, the wheels and chassis would make some noise but nothing else (AJ told us that they already have solution for the noise from suspension and chassis). I guess having fatter wheels and tires would also make it even more comfortable on more difficult roads. Mudguards should also be added obviously (they are already planned; they were in the painting process in AJ's workshop).
– Braking is good with disk brakes on each of the wheel, I tried an emergency braking at roughly 25km/h (16mph) and could completely stop within short distance and time.
– We did not have an indication of the level of assistance from the Revonte motor. This should be possible directly from the mobile phone app, to be fair. In the short 5% uphill we did, a bit more assist would have been welcomed, although you have to consider, we were above 200kg overall. AJ clarified later there is remote control for the assist, it will be installed the center console.
In a nutshell, a truly enjoyable ride and people are both looking and waving at your passing 🙂
So to conclude, what about the demand and next steps? AJ got buyers already which have fully or significantly covered the full price. And he would have around 200 interested further potential buyers waiting to try the Kinner-car. He is finalising the first series of 5 Kinner-cars, but they're now capable of starting the full production for more, which should happen this year still.
What is outstanding is that the manufacturing and production are very close to 100% made in Finland. Only the brakes, the differential and tyres are not coming from the country. Actually everything (except Revonte motor based in Tampere, Finland) is made within half hour of distance from Kinner hometown in Kokkola!