My name is Bernard Cauquil, I'm 62 years old, I live in Pau at the foot of the Pyrenees, and cycling is one of my passions.

The future of our planet worries me. In what state will we leave it to the generations that will follow? I try at my level, more particularly in the field of sustainable mobility, to make my contribution.

I am retired since September 2020. I used to teach at the University of Toulouse on the Tarbes Bastillac campus with young newly recruited teachers as well as in the industrial computer training of DUT (University Diploma of Technology) Mechanical and Production Engineering students.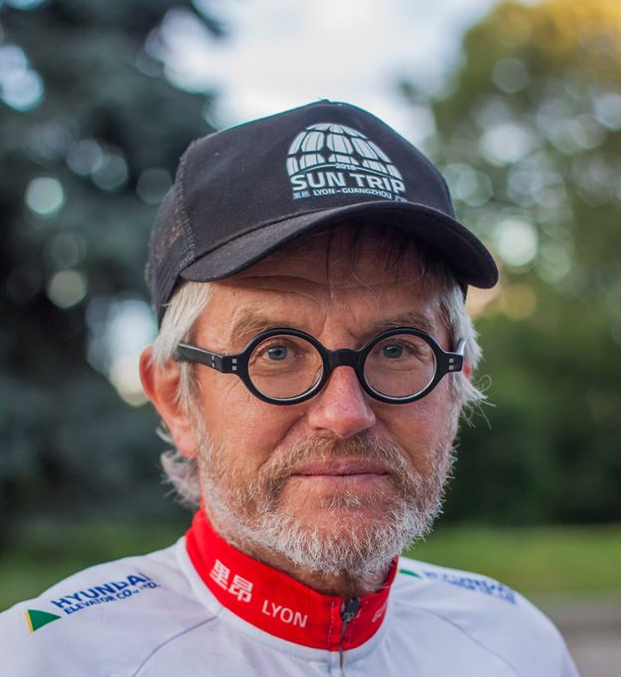 I was an amateur cyclist for many years and took part in several stage races. I then turned to triathlon and running, especially the marathon.

In 2011, after trying out a recumbent bike, I started to travel using this mean of locomotion, which is perfectly suited to long-distance journeys and which I really enjoy. I also enjoy "ultra-long-distance" adventures like the Suntrip in 2015 which I won on a solar bike of my own design or the Incadivide in 2017. The most motivating aspect of this type of event is the necessary complementarity of different skills to reach the end: human, technical, social, and sporting.
Technical experience :
I have always liked to tinker, to understand the functioning of technical objects that surround us. In my opinion, technological culture should be an integral part of classical culture. It allows us to better understand the world we live in, it is not only at the heart of the relationships between people, but also between societies and their environment.

I also sometimes regret that the current excess of standardization with the non-acceptance of the notion of "risk" that hinders our ability to innovate.

Having followed a multi-technology curriculum, I was lucky enough to be able to involve my students in my solar vehicle projects.

I like to create with the means at hand, by diverting objects from their primary function.


My Solar « Dragonflies » since 2014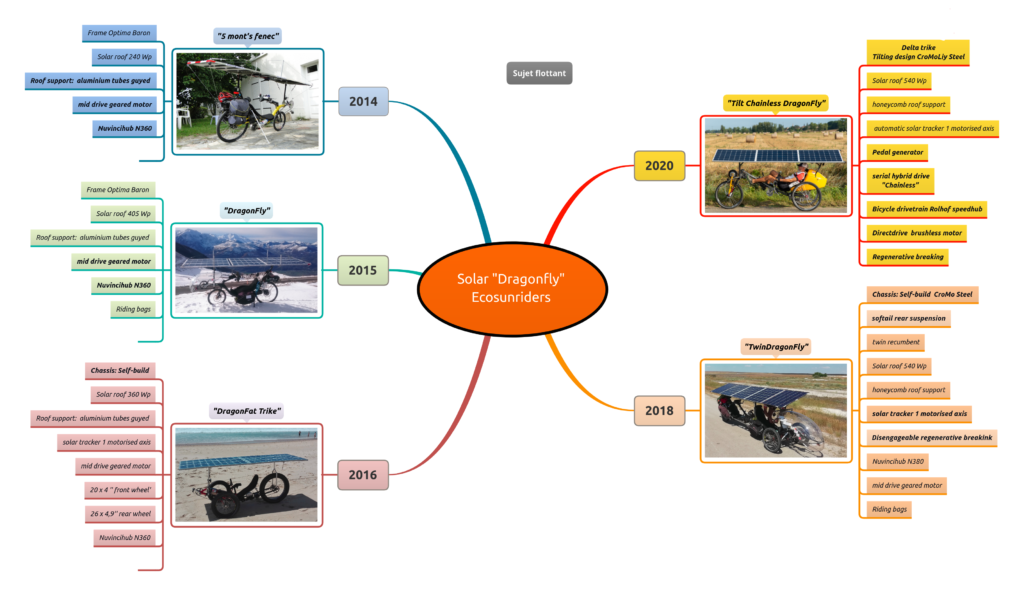 Delta TiltDragonfly (2020)
Studying the facts and data from my 2015 and 2018 Sun Trip experiences, I have now designed a tilting trike called TiltDragonFly.

It's a new machine that maintains the proven technical solutions already implemented as well as innovations to correct what failed in 2018 and had the EcoSunriders team to abandon halfway. In a nutshell:
A 3-wheel tilting chassis will suppress the radial stress which was responsible for the tandem rear hub failure,
A 100% electrical chainless serial hybrid transmission,
Using a pedal generator will decrease the amount of moving parts, allow the pilot to manage his physical effort and enhance his performance.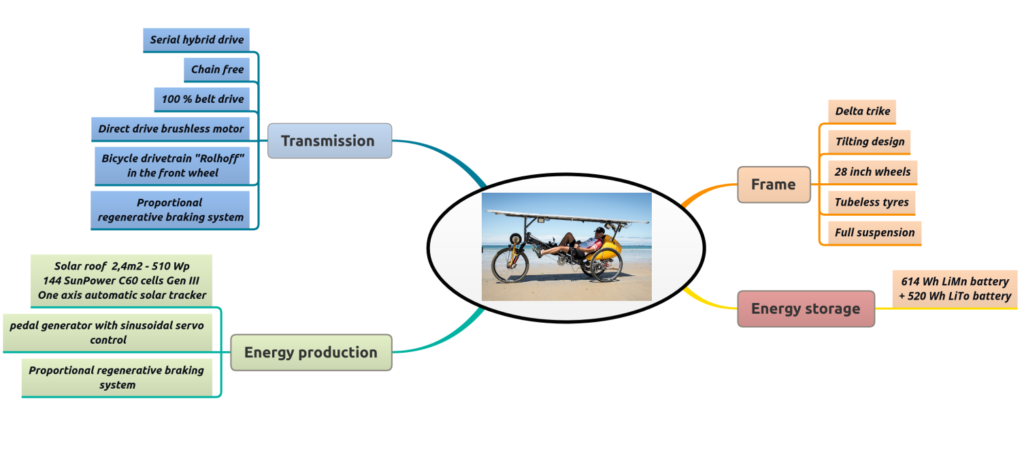 100% electric serial hybrid drive system
Paradigm shift: Replace the classic parallel transmission by a serial transmission.
The pedalling mechanism is no longer mechanically connected to the rear wheel. The muscle energy is used to drive a generator which, depending on requirements, either powers the motor directly or recharges the batteries. This system, which has been tried and tested in rail and marine traction as well as in some hybrid cars, is still at the conceptual stage for bicycles.

Generator efficiency : 82 % – Brushless motor efficiency : 80 % – Gearhub Rolhoff efficiency : 95 %
Serial hybrid transmission global efficiency : 63 %.

But then why persevere, since a conventional mechanical transmission is given as having an efficiency of 90%? In reality, the efficiency difference on a solar bike is much lower: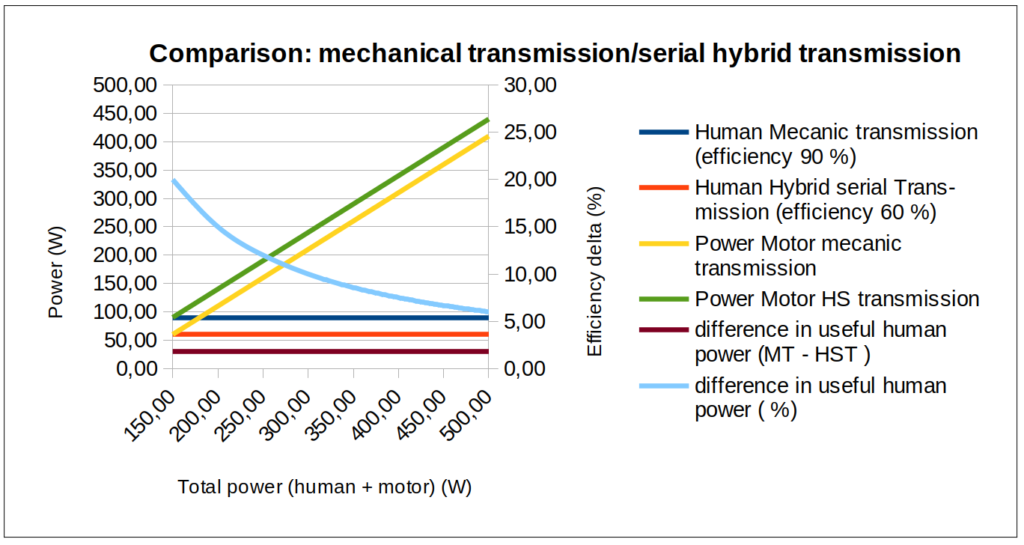 To drive at 30 km/h total energy consumption approx. 300 Wh conventional bike: human 90 Wh motor 210 Wh and VHS: human 60Wh motor 240 Wh, Efficiency difference (30/210) * 100 = 12%.

This 12% difference is partly made up by the physiological gain linked to better management of physical effort.

First tests in June 2019 with our solar tandem "TwinDragonFly":
| | | | | | | |
| --- | --- | --- | --- | --- | --- | --- |
| Distance | Elevation + | Elevation – | Average speed | Motor consumption | Pedal generator production | Solar production |
| 160 km | 1450 m | 1520 m | 26.5 km/h | 2954 Wh | 842 Wh | 1908Wh |
The most interesting thing is that by subtracting our electro-muscular production from the engine consumption we arrive at a net consumption of 13.2 Wh/km, which is close to our average consumption on the Suntrip 2018, which was 11.8 Wh/km.

This means a loss of efficiency of only 12% compared to a conventional mechanical transmission.

Last test in October 2020: Data analysis on a challenging 185 km route with the Col du Tourmalet climbed by La Mongie : Data recording analysis
Distance
ascending elevation
Average speed
gross energy consumption(1)
pedal generator production
regenerative braking
184 km
2335 m
26,6 km/h
2392 Wh
585 Wh
344 Wh
net consumption(2)
relative consumption(3)
relative consumption per km
2048 Wh
1463 Wh
7,92 Wh/km
As a comparison, in 2015 when I won the Suntrip, I rode 7000 km at an average speed of 28 km/h with an average energy consumption of 7,8 Wh/km…

I have finally weighed my trike, empty 70 kg all round.
Weight of « TitDragonFly » at the start (with full water and tools): 73 kg
Weight of the driver this morning at the start : 74 kg
(1): gross consumption: total consumption before deduction of energy recovered by regeneration
(2): net consumption: gross consumption – energy recovered by regeneration
(3): relative consumption: net consumption – energy produced by the generator.
On TiltDragonFly, 2 technological innovations explain this phenomenon on to a large extent:
The efficiency of the RH212 engine is optimal (around 82%) both on the flat road and on mountain roads thanks to the Rolhoff speedhub.
The variable regeneration that allows me to recover a significant percentage of the energy used to climb the passes.
Assessment of this new test day in series hybrid transmission
With Edgar Tournon, we think these results show that for cargo bikes, trikes or tandem bikes, serial hybrid transmission will be the technical solution for the future.Download Edgar Tournon's thesis: Associating supercapacitors with a hybrid series structure for light mobility purposes.


Tilting Frame
The analysis of the causes of the rear hub breakage on our tandem during the "The Suntrip 2018" led me to design a tilting frame to remove most of the axial forces on the axles. In a sloping situation or in a turn under the action of centrifugal force, the trike becomes as easy to control as a classic 2 wheeled bike. This technological solution already exists on several types of machines: cycles (LongaBike, EV4, …), scooters (Piaggio, Honda, Peugeot, Quadro, …).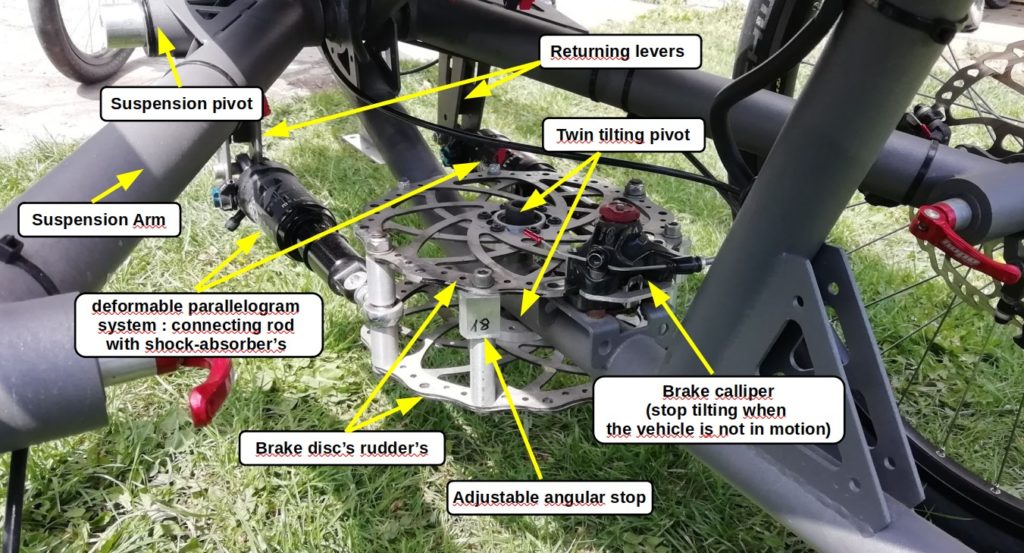 One axis automatic solar tracking
A 2.3 m² solar roof covered with 144 SUNPOWER C60 cells with very high efficiency. As on the 2018 "The Suntrip", the same 1 axis orientation device will be there to optimize the daily production.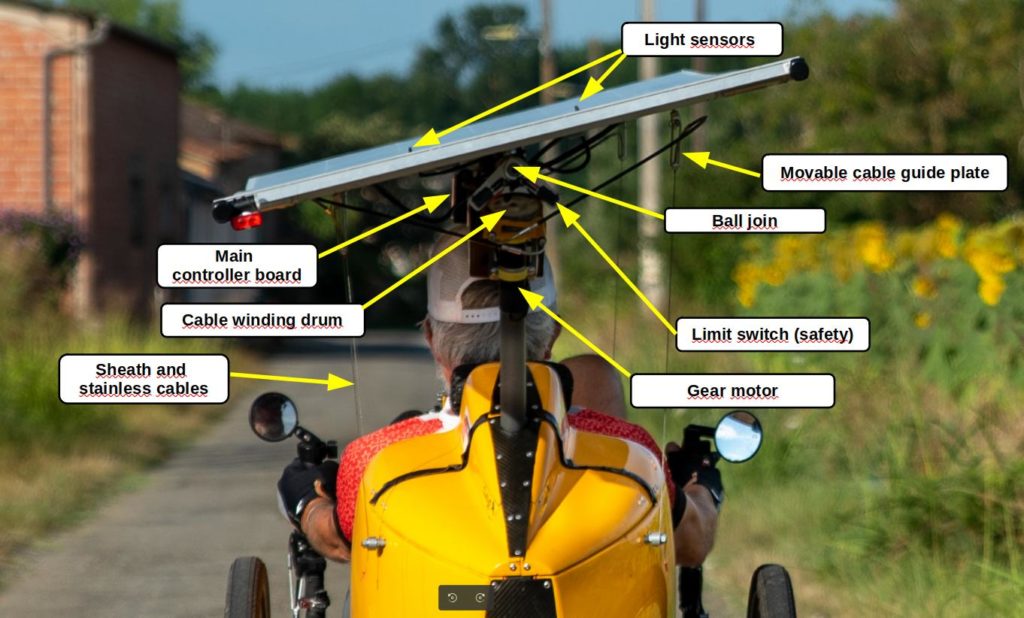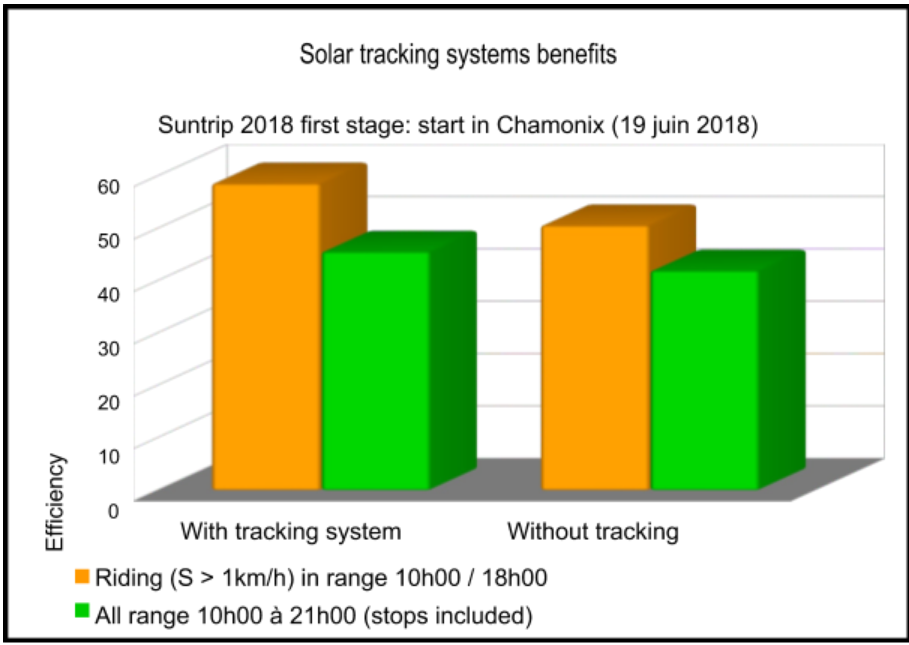 To travel during the summer season by solar bike, it is useless to make a more complex configuration with solar tracking (manual or automatic). Adding 10 % more surface to the solar panels will get better results.
During winter is different, I also ran some measures riding in February (very low sun trajectory), The solar production was more than doubled when I used the solar tracking system.


Engine, transmission and regenerative braking
High efficiency brushless direct-drive wheel motor combined with the most reliable integrated gear hub on the market, the "Rolhoff SpeedHub Tandem" customized with an innovative energy recovery system during braking. The toothed belt transmission has three important advantages: it eliminates maintenance operations, reduces weight and noise.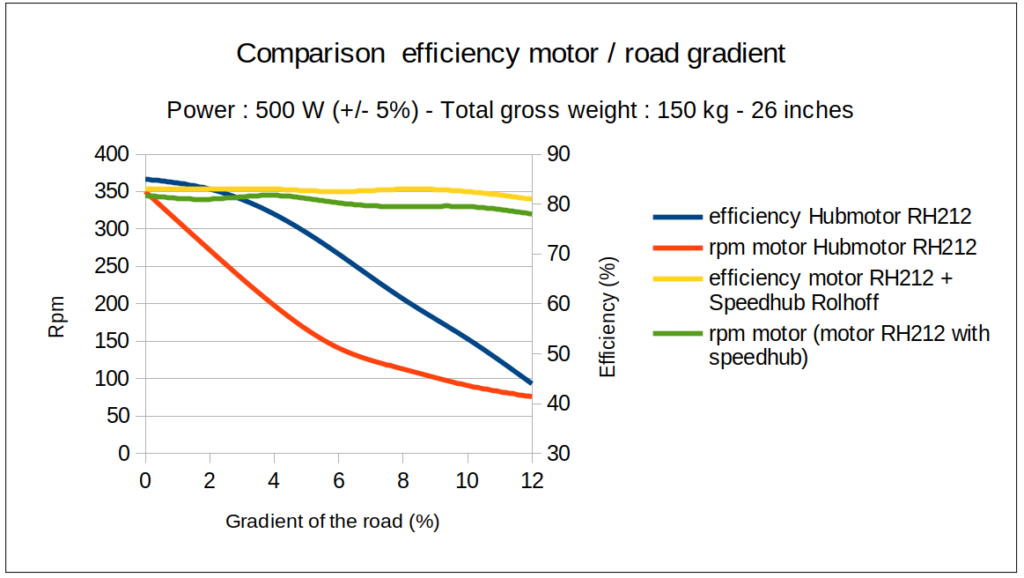 Regulation and data logging
Maintain the motor around its optimum efficiency point and control energy consumption and production over the day in order to be as efficient as possible. I prefer torque control with a digital PI type (Proportional integral) control.
Energy storage
I use a conventional Li-Mn battery (48V 22Ah).
Solar trikes with serial hybrid transmission: technical solution for the future ?
The results of this technological choice since the initial runs on our solar tandem in June 2019 and after more than 7000 km travelled in 2020 encourage me to continue the research and development work. Particularly for recumbents, cargo bikes, trikes and tandems, the serial hybrid transmission system is now becoming as efficient as a conventional mechanical system.

Additional photos and videos are available for Premium Members only, but are also publicly available on Youtube and Bernard's photo albums if you search for "EcoSunriders".

PREMIUM CONTENT
If you want to read the full article, you have to be a Premium Member.

⭐️ Become a Premium Member! ⭐️

Are you Premium Member? Just Log-in!